Gōjin Ishihara is a Showa-period Japanese artist who did ghastly illustrations of yokai in Illustrated Book of Japanese Monsters (1972) with a mastery of Indian ink for comic-esque vibrancy in absolutely mesmerizing scenes of chaos. Additionally, the artist offered his talent within many other educational books on monsters, and later produced weird fiction with strong eroticism incorporating strange icons from the likes of Charles Manson to Aleister Crowley.
Appropriate for his intricately dazzling style captivating attention easily, he would regularly complete the flamboyant covers of pulp magazine such as Kasutori Zasshi and even provided realistic illustrations in the magazine Shūkan Sankei of Yagyū Jūbē, with occasionally controversial scenes, as a romanticized samurai of Japan's history. Furthermore, he completed cover art for novels such as those of horror author Edogawa Ranpō However this proved controversial as he work was known contain spoilers within his elaborate artwork.
Ishihara formed an outlandish legacy of surreal juxtaposes of figures with eroticism, vivid violence meshed with folklore, in addition to contributing extensively to gay magazines with the alias of 'Hayashi Gekkō' in magazines such as QJ and Sekimatsu Club.
Undoubtedly, Ishihra was an exciting figure with a varied, colorful legacy, albeit controversial to a degree. With so much more to discover, the reader would be served to check out the plethora of his work on their own, but you can check out a slideshow below for a small sample.
More Manga Reviews: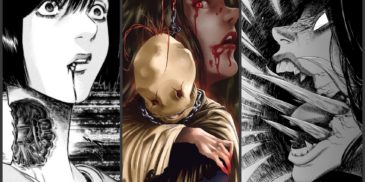 The vampire sub-genre in the West is one that is marked dull media with the odd standout title slipping through – the creatures seldom seeing reinvention or popularity of their…