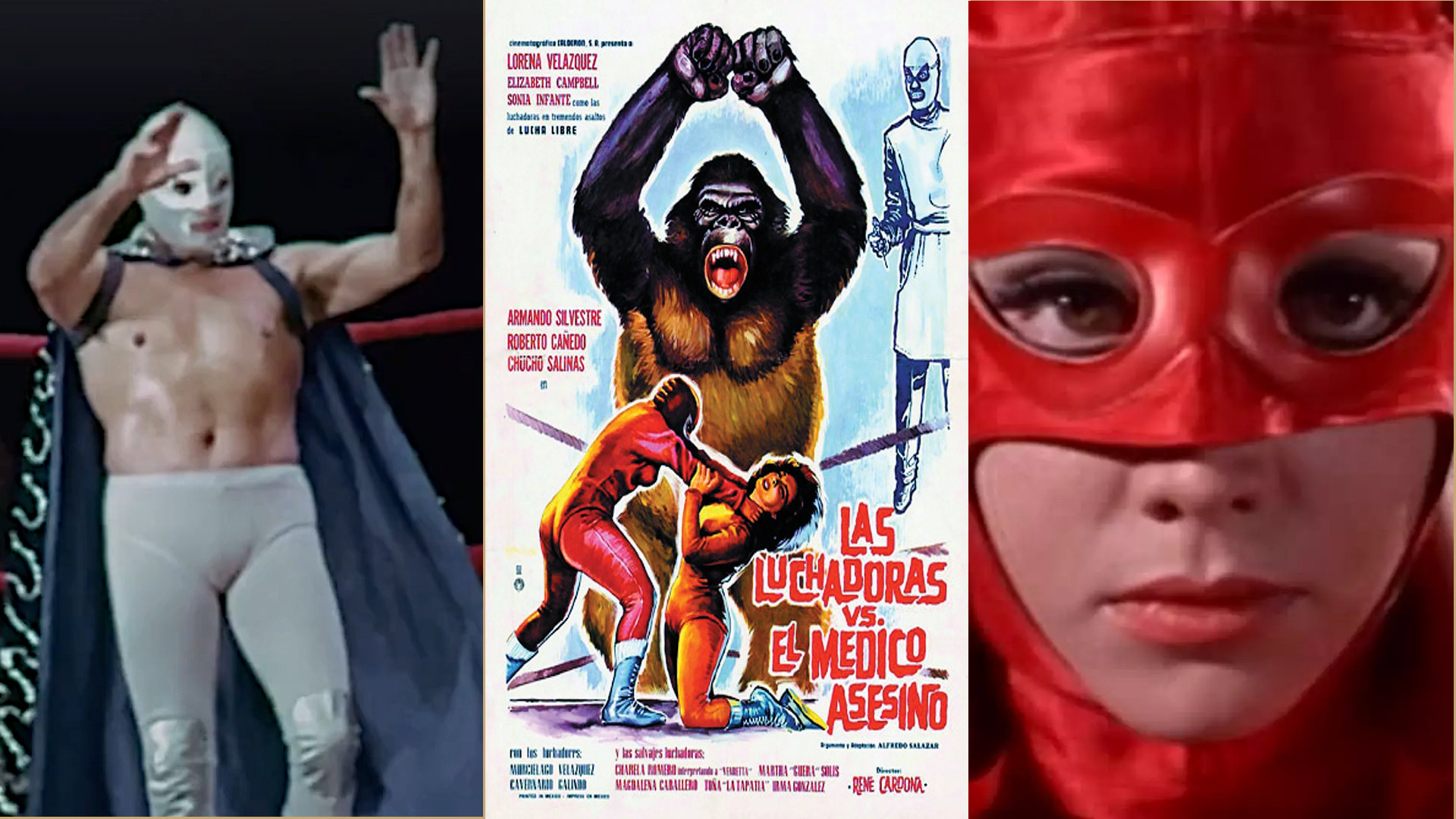 Everything goes in the world of luchador films! Luchador film is a popular genre based on the characters of Mexico's thriving professional wrestling circuit. Lucha libre (named after the wrestling style used by the wrestlers) films were prevalent from the late 1950s to the 1970s. While these films, with their masked, barrel-chested heroes and lithe heroines, might not be rigorous horror, they come with plenty of action! Characters with names such as Golden Venus, Mil Mascaras, and El Santo, the most famous luchador of them all, battle a myriad of famous monsters such as Frankenstein, Dracula, ancient mummies, mad scientists and killer apes.
The prolific El Santo (Rodolfo Guzmán Huerta) starred in over fifty wrestling movies between 1958 and 1982. Ever cautious of his privacy, Huerta never appeared publicly without his mask until shortly before his death in 1984. A perfect initiation to the genre is 1969's Santo en el tesoro de Drácula (Santo in Dracula's Treasure), wherein Santo and his entourage search for Dracula's hidden treasure using a time-machine.
The filmmakers of Santo en el tesoro de Drácula shot an adult version alongside the more family-friendly one. Believed lost for over 40 years, it was discovered and restored. Against Santo's family's wishes, the "Sexy Santo" (although the luchador does not appear in any of the nude scenes) premiered in 2011 as El Vampiro y El Sexo. This unexpurgated version is a wild ride – part Hammer horror style vampire movie, part Mexploitation wrestling story and plenty of nudity.
René Cardona was the man behind the camera of many of Santo's films. Born in Cuba in 1905 and moving to Mexico in the 1930s, he began working as an actor before switching to directing and writing. His output as a filmmaker was prodigious, according to Wikipedia he directed over a hundred films during his 60 year career.
Cardona created the Las Luchadoras (Wrestling Women) sub-genre, where women headline in the ring and out. In 1964's Las luchadoras contra el médico asesino, (released in the US as Doctor of Doom) Gloria Venus (Lorena Velázquez) and gal-pal Golden Rubi (Elizabeth Campbell) battle a mad scientist who is attempting to use las luchadoras to create a mate for Gomar, his human/ape hybrid. But these powerful (and empowered) lady-wrestlers do not need rescuing! In one scene, hearing the Mad Scientist's henchmen trying to break into their apartment, Gloria and Rubi set a trap and beat the snot out of their would-be kidnappers, sending them battered and bloody back to the mad scientist.
Cardona returned to female wrestlers versus mad scientists and human/ape monsters in 1969's La Horripilante bestia humana (Night of the Bloody Apes), co-written with his son Rene Cardona Jr. More of a horror movie than Lucha libre, it is a bizarre mishmash of Murders in the Rue Morgue, and a Dr. Jekyll and Mr. Hyde story. The female wrestlers were only a minor part of the film, disappearing about halfway through. With its gory violence, explicit nudity, and footage of real life open heart surgery, Night of the Bloody Apes has the added distinction of being one of England's Video Nasties.
With such a long and colorful history, this barely suffices as an introduction to the beloved arena of Lucha libre films. They are exciting movies where the masked super heroes are mortal, moral men and women who maintain a purity of heart. Through the discipline of their craft, they travel the world righting wrongs, protecting the weak and fighting for the innocent.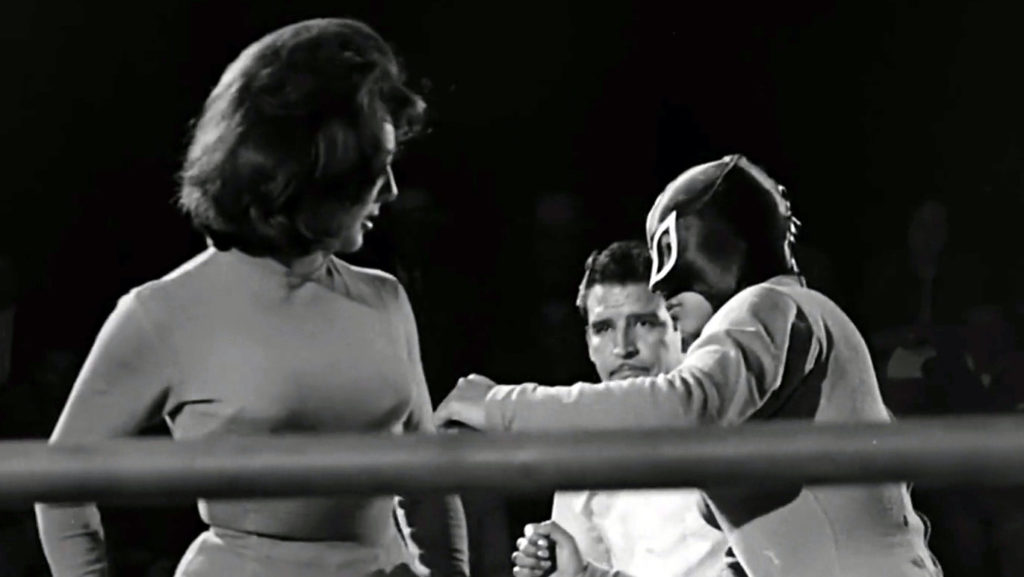 Most of the movies in this article are currently available for streaming on Amazon or Tubi.
More Lists
Francesco Picone's Dead Bride (2022) is not a live-action version of Corpse Bride, Tim Burton's animated, family-friendly necrophilic tale. Although it borrows many elements from beloved horror films, such as…
Sadomasochism (noun) : the derivation of sexual gratification from the infliction of physical pain or humiliation either on another person or on oneself. The term "sadism" has its origin in the…
Cocaine Bear is a 2023 American comedy thriller, written by Jimmy Warden and directed by Elizabeth Banks. The film is based on the true story of a drug dealer's plane…
Punk Samurai Slash Down is a 2018 Japanese period action/drama, written by Kankurô Kudô and directed by Gakuryû Ishii (formerly known as Sogo Ishii). The film is based on the…
For the past six years, Ronnie has worked selling merch for a perpetually touring band. Late nights, sweaty clubs, dingy motel rooms, endless roads—as rough as it's been, there is…
Despite being Japan's oldest film studio, Nikkatsu by the late 1960s was struggling: with TV quickly becoming the go-to source of entertainment, ticket sales for films were at an all-time…
At Grimoire of Horror, we want to celebrate both Women in Horror Month and International Women's Day by celebrating female trailblazers within horror who are paving the way for women…
Zero: Tsukihami no Kamen [零〜月蝕の仮面〜], or Zero: Mask of the Lunar Eclipse, was the fourth main entry in the Zero series and a switch from Sony's platform to Nintendo's. For the…
Candy Land (2022) is a religious-horror-themed slasher film that upends established genre conventions in unexpected and gripping ways. Writer-director John Swab (Let Me Make You a Martyr) tells the gritty…
The 17-volume horror manga Karadasagashi (Shōnen Jump+, 2014-17) began life as a web novel of the same name. With a story from Welzard and art by Katsutoshi Murase, it concerns…
I am a lifelong lover of horror who delights in the uncanny and occasionally writes about it. My writing has appeared at DIS/MEMBER and in Grim magazine. I am also in charge of programming at WIWLN's Insomniac Theater, the Internet's oldest horror movie blog written by me. The best time to reach me is before dawn.