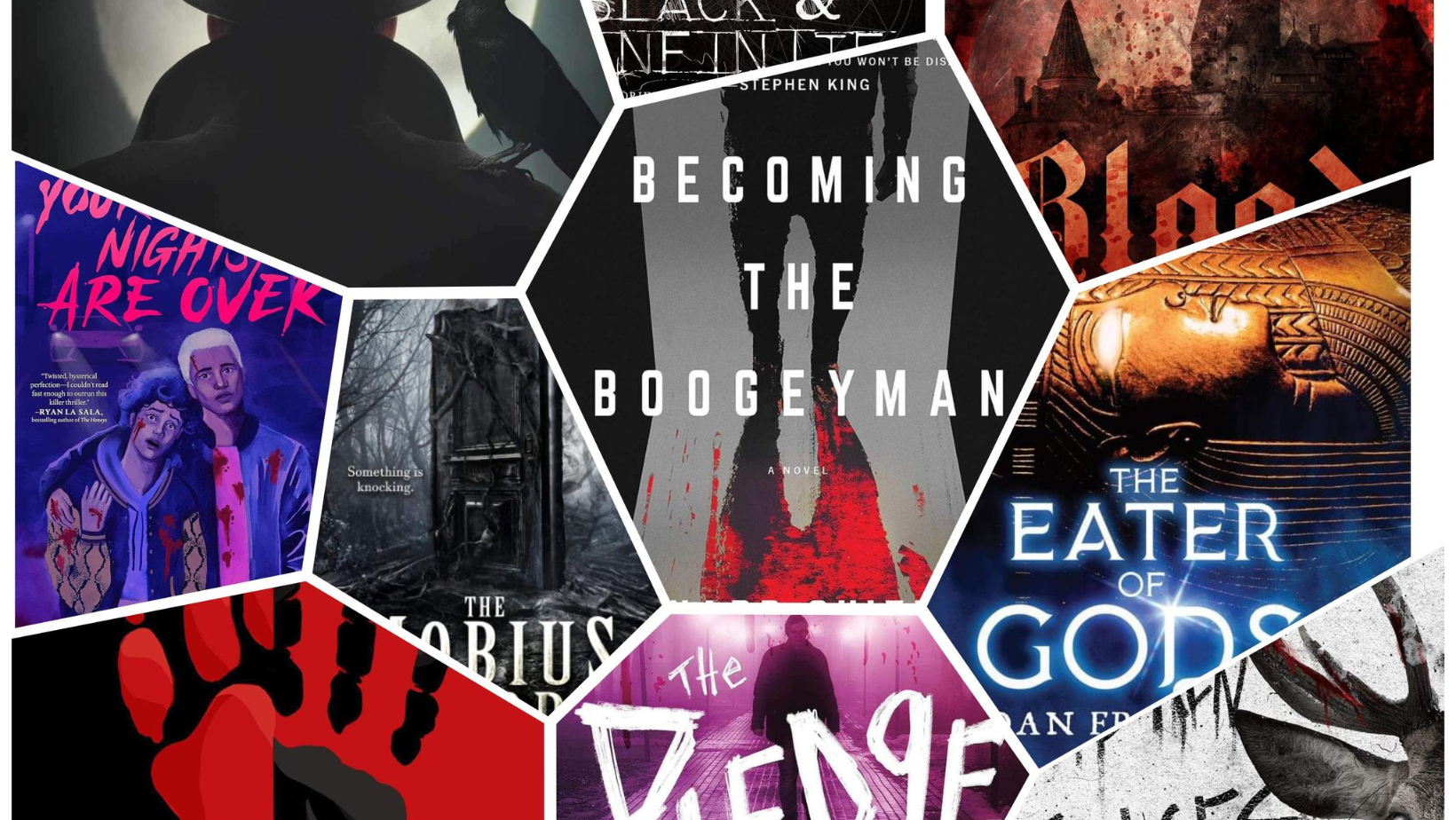 Bringing you a list of the most terrifying books we've read this past year. Hold onto your hats, it's going to be a bumpy ride.
List:
Starting off our list we have Becoming the Boogeyman by Richard Chizmar. Well known for co-writing The Gwendy Peterson series with Stephen King, Chizmar seems to have indeed been taking lessons from the master of horror himself. In what is shaping up to be a terrifying trilogy, we return to Chizmar's hometown in Maryland for the sequel to Chasing the Boogeyman (2021).
Released October 10th, 2023 from Gallery Books, this novel has already landed on the New York Times, USA Today, and Publisher's Weekly Bestseller List.
Hailed by Stephen King as, "A worth and frightening sequel … you won't be disappointed!" Chizmar is well known for his combined writing efforts with Stephen King on The Gwendy Peterson Series, as well as being the owner and founder of Cemetery Dance Publications. Chizmar continues the masterful Boogeyman series with his unique narrative, and we find a present-day, fictional Chizmar enjoying the success of his latest release Chasing the Boogeyman. A delicious horror/true crime blend that will leave the reader speculating just how much of this metafiction is happening in real life, Becoming the Boogeyman is our number one recommendation for the spooky season. Just be sure to lock your windows! – Lisa
Available in hardcover, kindle, and audiobook on Amazon here*.
The Eater of Gods – Dan Franklin
The Eater of Gods is a supernatural thriller that takes place when Norman Haas attempts to honor the wishes of his late wife by visiting the final resting place of the Egyptian queen Kiya-Aten. Released on March 15th by Cemetery Dance Publications, his little book packs a heavy punch of horror, and Dan Franklin debuts his incredible writing skills. Chock full of gore, body horror, and claustrophobia, Publishers Weekly says, "This neat little book, Franklin's debut, is much fresher than its B-movie premise might suggest. Franklin is a horror writer to watch."
This novella is a wonderfully fast-paced read and perfect for filling the reader with a sense of woe and dread for the spooky season. We must agree with Publishers Weekly, Dan Franklin is certainly a writer to watch for! – Lisa
Available in paperback at Cemetery Dance Publications, in ebook, paperback, and hardcover on Amazon here*.
Cold, Black, and Infinite: Stories of the Horrific and Strange – Todd Keisling

Another recent release this fall, Cold, Black, and Infinite is an anthology of horror from Todd Keisling that will not disappoint! Need a bite-sized pack of horror? This anthology from Todd Keisling will tickle your gory fancy throughout the dreaded months of Mariah Carey to come! Featuring a plethora of short horror tales, Keisling's compelling writing style will keep you covered. Do you want demons? He's got demons. Murderous bullies? You got it! There is even some holiday-themed horror to ease your mind in this troubling time of holiday cheer ahead.
This title gets our favorite quote of the year with, "Don't be so hard on yourself. Necromancy isn't for everyone, Karen!" – Lisa
Available in paperback and hardcover from Cemetery Dance Publications, ebook, paperback, and hardcover on Amazon here*.
The Mobius Door – Andrew Najberg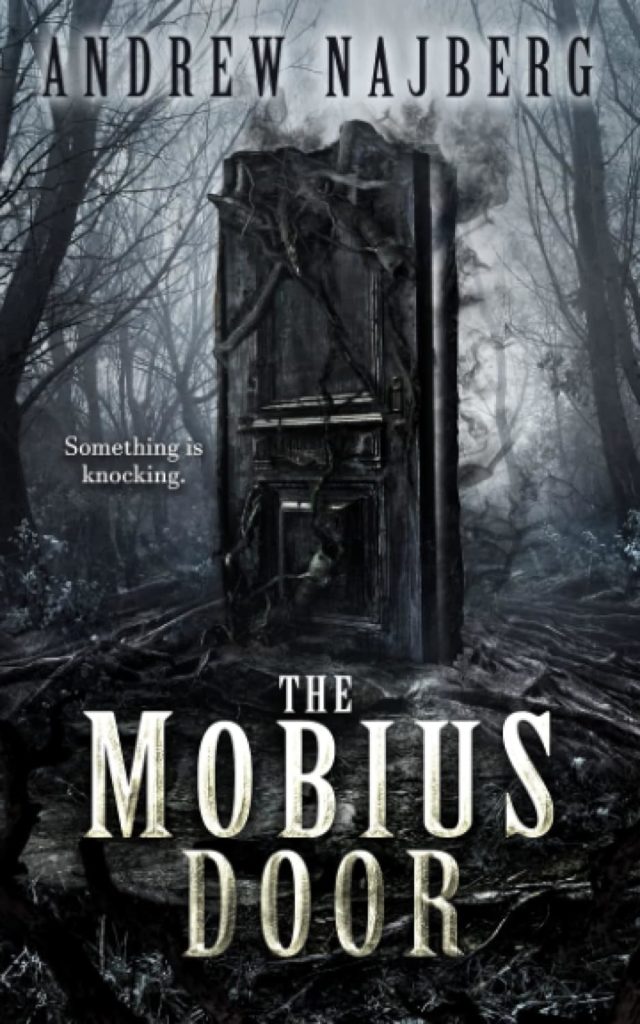 A spectacularly spooky, magnificently written novel by Andrew Najberg, The Mobius Door is a compelling read with a plethora of horrific creatures to make it worthy of the spooky season. Najberg takes the reader on a journey in this small-town supernatural thriller. When a young boy opens a door he comes across on his daily walk, he unleashes an evil that cannot be contained. While a story told through several points of view can become convoluted, Najberg makes a seamless transition between multiple characters and brings this tale to life. – Lisa
Released April 28th, 2023, Wicked House Publishing. Available in ebook and paperback on Amazon here*.
Blood and Verse – Jeff Oliver and Chris McAuley
Blood and Verse from Jeff Oliver and Chris McAuley will be released this Halloween! McAuley is well known for his work with Dacre Stoker and Stokerverse, and he comes together with Jeff Oliver to bring us this masterful interpretation of Dracula. Not just covering the original novel, this book continues the style of various journal entries and delves into the world of some of the cinematic interpretations as well. Add to it the talented work of Dan Verkys, this book has 26 original full-color illustrations to help bring the piece to life. This collection is certainly one that any horror collection will want to have on their shelves. – Lisa
Available for pre-order now on Amazon here*.
The Broken Places – Blaine Daigle

A stunning horror novel from first-time author Blaine Daigle, the creeptacular scenery and wildlife in The Broken Places earns it a spot on our list of best spooky reads for the season. A year of tragedy in the life of Ryne Burdette leaves him a family legacy that may have been better left unremembered. When he returns to the eerily small town in the Yukon wilderness with his two lifelong friends, it appears something is very wrong with this town and the animals deep in the woods of his family's cabin. With Halloween just around the corner, this book will definitely have you thinking twice before going outdoors at night! – Lisa
Released March 20th – Wicked House Publishing. Available in ebook, paperback, and audiobook on Amazon here*.
The Pledge – Cale Dietrich

Alright, let's get down to it! 2023 is overflowing with some very interesting readings. Unfortunately for your broke boy (Dustin here!), I'm still catching up to the hottest reads of previous years. That doesn't mean I wasn't able to sneak in a few standout fresh reads that made it to this list. Probably much to the dismay of my other books that have been in line for years!
Anyway, The Pledge is a slasher novel by Cale Dietrich, first published on February 14, 2023. A frat becomes the target of a killer's ire, as they take them out one by one. With slashers, you know the song and dance but in this case, there's a bit of a change-up from the standard formula. In all my years of slasher film binging, a college-set slasher usually centers on sororities and are more on the heteronormative side. In The Pledge, a fraternity is targeted and we have a gay lead take center stage. What follows is a down-to-business slasher mystery in the spirit of Scream 2 and '80s college slashers.
While those seeking horror-less YA need to look elsewhere, those who don't mind teen characters (and teen romance) mixed with their horror like myself would find this a cozy read. Well, cozy in the horror sense since there is still a killer running around with the frantic energy of Ghostface and motives that harken back to the good old classics. – Dustin
Available to purchase now on Amazon here*.

For the next item on the list, we are going to have to reach back just a little bit into the year 2022. Like I said, your boy's been catching up mostly on his backlog. That doesn't mean I have some fresh-ish reads for you all.
And, oh my. I do think this one comes just in time for the Halloween season because I think this might just be one of the most perfect reads for the season. I am, of course, talking about author, August Hill's Division X. First published on October 20, 2022, this one tells the story of a struggling young woman who finds herself in the clutches of a shadowy organization after being attacked by a strange beast. Held against her will, she must go with their top agents across the country to solve paranormal mysteries and return balance to everyday society.
Folks, I am telling you that this was a fun ride. The book is formatted all episodic-like and it felt like reading through a gritty, no-holds-barred version of The X-Files. You can just feel the love the writer has for the horror genre. I did feel that the tone was of gruesome fun for the holidays but I love that the author has a few nasty surprises in there just to let you know the stakes. I cannot wait to see what adventures our characters will get into next and I trust that August Hill can take us there. – Dustin
Available to purchase now on Amazon here*.

Up next on our is this piece of Giallo magic that is The Whistler by Matt Converse. I say "giallo" because that is how I felt reading the book.
First published on October 30, 2022, is a horror murder mystery that tells the story of a writer wracked with fear as a string of gruesome murders plague his neighborhood. Nothing can prepare him for the deaths to come, except for the killer's telltale whistling.
This was such an intriguing read. It got me going page after page as I wanted to find out what happened next. At the same time, I just think the author has framed the murders in such a way that all I could visualize in my head were the beloved Giallo classics from the likes of Dario Argento. I do feel like the spirit of Giallo is coursing through the veins of this read, or at the very least, Alfred Hitchcock. The final product just felt to me like there's a bit of both in there but also some Matt Converse trademarks from my previous read of his, The Four Corners of Horror.
Mr. Converse is such a busy writer, he's got a couple of newer books now that I need to catch up with. Given this outing and the previous one of his that I've read, I'm a bit of a fan! – Dustin
Available to purchase now on Amazon here*.
Your Lonely Nights Are Over – Adam Sass

Okay, see! I have another 2023 release for you all. Like, it ain't just one! And it is a top read to boot. I actually loved this one.
Admittedly, there was a bit of a stumble for me as this was marketed as a slasher but you all should know this is a horror murder mystery with heavy slasher influences. That doesn't mean the book doesn't have plenty of merit to it!
Let's take it from the top. Your Lonely Nights are Over is a YA horror murder mystery from author Adam Sass, first released on September 12, 2023. It tells the story of two queer besties who get sucked into this whole thing of a killer on the loose offing the members of their school's Queer Club. Being sort of pariahs in the club, they must work out the friction with the other members, band together, and try to save their necks from a killer who targets those who are lonely.
I love that the book is so uniquely queer, tackling the loneliness that queer people feel not just in a heteronormative society but within our inner circles as well. This is blended seamlessly with a murder mystery that gets more intriguing and gruesome as it goes along. The way it manages to tug at my heartstrings and say something relevant amidst the bloody mess is nothing short of a commendable feat. – Dustin
Available to purchase now on Amazon here*.
*Affiliate links
More Lists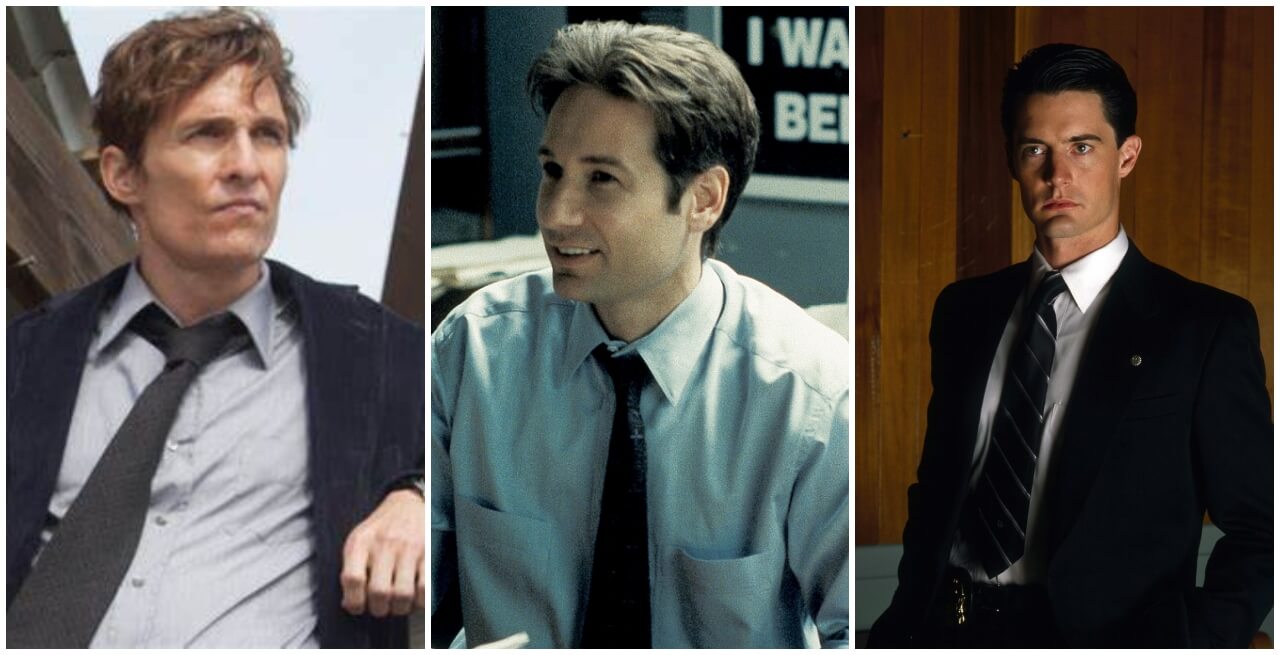 The police are a protective force, but their ineptitude is customary in any horror premise – they're either unavailable or incapable – an earthly power dethroned. This not only unveils…