Becoming the Boogeyman is the riveting sequel to the New York Times Bestseller Chasing the Boogeyman, both written by Richard Chizmar. Chizmar, who is the owner and founder of Cemetery Dance Publications, has also co-authored Gwendy's Button Box and Gwendy's Final Task with Stephen King; King having given Chizmar unprecedented creative license to write Gwendy's Magic Feather alone, taking place in the beloved fictional town of Castle Rock, Maine. He is also the author of The Girl on the Porch, Widow's Point (with co-author Billy Chizmar), The Longest December, and The Long Way Home, along with editing numerous anthologies.
This review may contain spoilers for the prequel, Chasing the Boogeyman.
In October of 2021, Richard Chizmar made headlines and rocked the world of horror fiction with his sensational novel, Chasing the Boogeyman. Chizmar is well-known for his combined efforts with Stephen King in the Gwendy Peterson Trilogy, as well as being the founder and owner of Cemetery Dance Publications. This metafictional masterpiece from Chizmar impressed horror hounds and true crime aficionados alike with an intimate blend of fiction and reality that left readers wondering just how much of this incredible story happened in real life.
In the prequel book, Chasing the Boogeyman, we follow Richard Chizmar on a first-person terror trek through his hometown of Edgewood, Maryland. Back in 1988, there were some sinister and possibly supernatural happenings in this normally quiet, rural town. The story takes place from an autobiographical standpoint, and fans of Cemetery Dance are delighted to hear some of Chizmar's teenage antics, as well as getting a peek into the start of Cemetery Dance Magazine. Richard Chizmar joins the hunt for the killer who is terrorizing his hometown, becoming so involved in the manhunt that he finds himself on the suspect list. This reviewer in particular, who is still looking for the word "gullible" someone wrote on their ceiling ages ago, was fervently convinced that at least ninety percent of the novel was non-fiction and had sincere concerns that Chizmar himself was the "Boogeyman" stalking Edgewood, Maryland.
Readers left Richard Chizmar at the end of Chasing the Boogeyman well-assured that the beloved author and owner of Cemetery Dance Publications was not, in fact, a serial killer. Having finally tracked down the culprit over 30 years later, Chizmar is granted access to interview the killer due to his personal involvement in the case over the years. But if you thought the case was wrapped up tidily, Becoming the Boogeyman will certainly muddy the waters of just who is guilty or innocent in this tale.
For the long-awaited sequel to Chasing the Boogeyman, we return once again to Harford County, Maryland. This alternate-reality version of Richard Chizmar is enjoying the recent success of his first true crime non-fiction, but not too many people are pleased with the results of his hard work and dedication that put Edgewood on the map for all the wrong reasons.
While Chizmar is living high and large as a New York Times Bestselling Author, many are angry that his success is based on the many victims of the serial killer who terrorized Edgewood in 1988. Having been accused of using "blood money" to assure his success, locals, as well as the families of the victims, are enraged at Chizmar's very existence. Richard Chizmar and his family find themselves at the brunt of a series of pranks that become more and more invasive as a result of the "Anti-Chizmar" campaign that seems to be growing by the day.
Adding more fuel to the fire are Chizmar's continuing interviews with Joshua Gallagher, serial killer and acclaimed "Boogeyman." It seems that this convict is just as obsessed with Chizmar, as Chizmar is intrigued by him. Not only that but murders with the same M.O. as The Boogeyman are starting to occur all over Chizmar's hometown once again. The citizens of Harford County find themselves back in the panic of 1988, with a serial killer loose amongst them.
Is it possible that Chizmar himself has set off this deadly chain of events with the debut of his true crime account, Chasing the Boogeyman? Just what is happening in those cozy conversations between himself and Joshua Gallagher? Could this all be a publicity stunt to get his book back on the Bestseller's List and on the front pages again? With all signs pointing back to Chizmar… the reader must decide on their own.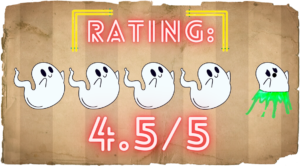 Becoming the Boogeyman by Richard Chizmar will be appearing in bookstores everywhere on October 10, 2023.
More Book Reviews
Hello there, GoH friends! This is Dustin here again with another edition of Recent Reads, where I usually share my thoughts on 3 books I've recently read. For this one,…
Lisa is a lifetime horror fan and Constant Reader originally hailing from upstate New York. She is certifiably obsessed with all things Stephen King, her love of reading and writing matched only by her love of dogs. After spending many years in the world of dog training and pet sitting, she has chosen to pursue her childhood dream of a career in writing.