Although psychological horror will always hold a special place in my heart, once in a while, everyone needs some blood and guts sprinkling the pages of their manga. Sometimes, it does not matter if the story is that good. If the author gets creative enough, even the edgiest story can catch the eye of even the most reluctant horror fan. If you need some recommendations, we bring you a list of 10 Most Gruesome and Gory Manga! If you are in the mood for gore, you can choose whatever suits you best!
10. Magical Girl of the End by Kentaro Sato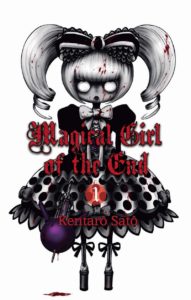 One day, young Kii Kogami makes the dumb decision of wishing for a more interesting life. In just a few panels, his wish is granted, it seems, since he witnesses a teacher's head being bludgeoned by a weird childlike gothic-lolita creature. As minutes pass, he sees how his classmates and fellow citizens die one by one by more of these entities, each one having very creative ways to kill their targets. Why is this happening? What are these? Does it matter? This manga is a no-brainer but goddamn it is entertaining.
9. Dokumushi by Yazu Michio
A group of people finds themselves locked up inside a school building. Every exit is closed, there is no food, and there is a single room covered in plastic with a stove, a pot, and a butcher knife. An ancient black magic practice might have inspired this death game, where poisonous insects are put together in a jar so they can eat each other until one remains. Do you see where this is going? This manga exudes edginess and shocking depravity you will get every cheap violent combination you can get in a context like this. However, one thing is certain, the killing methods can get very creative with each passing chapter.
8. Pupa by Sayaka Mogi
Pupa's anime adaptation did not do any favors to its source material, because it made many see it as a mediocre piece of work. Granted, it is a flawed manga, but it is not unredeemable. Actually, it has many interesting qualities such as stunning artwork that mixes gore and plant-based imagery. Also, its exploration of cannibalism is something that not many dares to touch. These topics are framed in the story of Utsutsu and his "younger sister" Yume. When they get infected by the Pupa virus, she becomes a flesh-eating monster and he gets regenerating abilities. To appease her hunger and help her retain her humanity, he lets her eat him alive. While the arrangement seems to work, things will get messier as the story develops.
7. Gantz by Hiroya Oki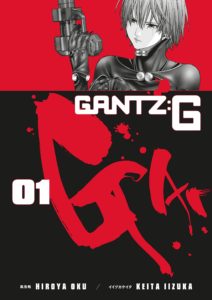 To say the Gantz surprised us is an understatement. Yes, it is bloody, gory, and often distasteful, but you have to admit two things: one, the art is superb and, two, it has heart. When estranged friends Kei Kurono and Masaru Kato die in an accident, they end up in an apartment in Tokyo with a giant black ball named Gantz. They are given guns and suits, instructed how they must kill a target until they reach 100 points. Not only are these creatures killed in great gory detail but, as the series progresses, more participants like Kurono and Kato start to die in just as awful ways. Furthermore, it's an open ambiguity how many of these 'creatures' truly deserve such violence… As stated, Gantz has heart which lies in the rich characters, so when they meet their demise, it is both disturbing and heartbreaking. Be sure to check my previous retrospective here!
6. Homunculus by Hideo Yamamoto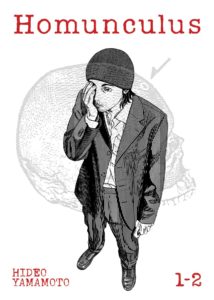 Homunculus can be tamer in terms of explicit gore, but that does not mean it cannot get just as gruesome in some key chapters. This manga tells the story of Nakoshi Susumu, who accepts to go under a surgical procedure known as "trepanation", which involves drilling a hole in the skull to "awake a new level of consciousness". At first, it seems it works, because he can now see a Freudian representation of the inner self of the people around him. However, as time passes, things get messier and gorier, and just one hole in the skull will not be enough for Susumu.
5. The Kurosagi Corpse Delivery Service by Eiji Otsuka and Housui Yamazaki.
The title is pretty self-explanatory, so you can get already an idea of where this manga goes. This series deals with the exploits of five young people, each one with an ability related to death. In the world of the living, said skills are useless, but in Kurosagi, they make their job easier: help the souls of the dead who are still trapped in their corpses. This manga is a dark-yet funny- exploration of what it means to die in Japan. It is also pretty explicit when depicting anatomically accurate dead bodies so be ready to see some good old mortuary gore.
4. MPD Psycho by Eiji Otsuka and Shou Tajima
This is another Eiji Otsuka work but let's say he did not hold back this time. I mean, if Takashi Miike directs the live-action TV series of it, you know you are up for a bloody ride. MPD Psycho tells the story of Yosuke Kobayashi, a detective going after a serial killer who likes to dismember his victims in… creative ways. After his girlfriend is attacked but left alive in a terrible condition, he goes berserk and kills the guy. After these events, he goes insane even further, and his mind fragments into various personalities, one of them being a serial killer himself. While the story gets a bit too convoluted later on, the gore levels are top-notch and enough to amaze even the most desensitized horror reader.
3. Fetus Collection by Shintaro Kago
Of course, we had to include one of the masters of Ero Guro in this list (incidentally, for those interested, our writer Adam listed five of the most definitive artists of this Japanese subgenre). Weird, absurdist, and absolutely disgusting, each one of his one-shots is memorable, whether you like it or not. If the title does not give you a hint already, let us tell you this particular collection should include a bottle of bleach for your brain after you read it. Divided into 9 stories that range from women creating decorative arrangements with the spirit of their terminations to schoolgirls fighting against each other with their guts, literally. Fun for the entire family!
2. The Laughing Vampire by Suehiro Maruo
If Shintaro Kago is the master of Ero Guro, Suehiro Maruo, who AJ Sunderland highlighted before, is definitely the king. Better known for his legendary Midori: The Camellia Girl adaptation, this particular work of his sometimes is unjustly overlooked. Konosuke and Luna are two teenagers that are turned into a vampire. Both live in a hostile and dark world where creatures like them do not stand out in terms of evilness if compared with other humans. Still, being a vampire is not as great as it seems, and they are not above earthly desires. It requires a whole other level of degeneracy and amorality to keep on existing in a rotting body with an immortal soul.
1. Berserk by Kentaro Miura (continued by Koji Mori and Studio Gaga)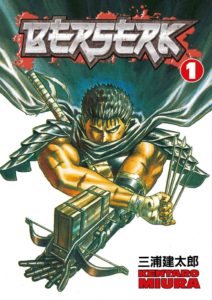 Berserk undeniably has one of the most compelling works in the dark fantasy genre. The Guts' tale of revenge against someone he once trusted and admired is heart-wrenching to read. While we are positive that Guts and his friends deserve nothing but happiness; after all they have gone through, this world has positive emotion as difficult to achieve. Diabolical cosmical entities, monsters, and, worst of all, immoral humans make the Berserk universe hostile and full of explicit violence of all kinds. Don't you believe me? Read the Eclipse part and see what you think. This event will remain one of the cruelest, gory, and soul-breaking plots in the history of manga. Don't hesitate to read Eden's exploration, too, of the horror to this universe!
More Manga Reviews
The horrors of war don't just end once a solider returns, in fact one of the saddest aspects of global conflict is societies lack of post-care for soldiers. Unfortunately, heroism…
Hi everyone! I am Javi from the distant land of Santiago, Chile. I grew up watching horror movies on VHS tapes and cable reruns thanks to my cousins. While they kinda moved on from the genre, I am here writing about it almost daily. When I am not doing that, I enjoy reading, drawing, and collecting cute plushies (you have to balance things out. Right?)