If you haven't pre-ordered a copy, you'd better make sure to save a spot on your shelf for Chasing the Boogeyman by Richard Chizmar. One of the most highly anticipated horror novels to be released this summer, Chasing the Boogeyman has already gone into a second printing – before the title has even been released! Richard Chizmar's latest novel does not hit the shelves until August 17th, but horror and true crime fans alike are already clamoring for this novel.
What is it about?
Richard Chizmar returns to his childhood home in Maryland after graduating college in the summer of 1988. When he arrives, however, he finds this small town has turned into a place he hardly recognizes. A missing girl is discovered dead, her body mutilated. As the community is reeling from the shock of this horrific crime, more teenage girls begin to disappear in the dead of night. As the body count continues to rise, it becomes clear that a serial killer is stalking the town of Edgewood, Maryland. With a curfew in place and the FBI called in to assist, Chizmar finds himself drawn into the investigation as he learns more about the events surrounding these crimes. With an alarming lack of forensic evidence, residents of the town begin to speculate if this killer may be supernatural in nature.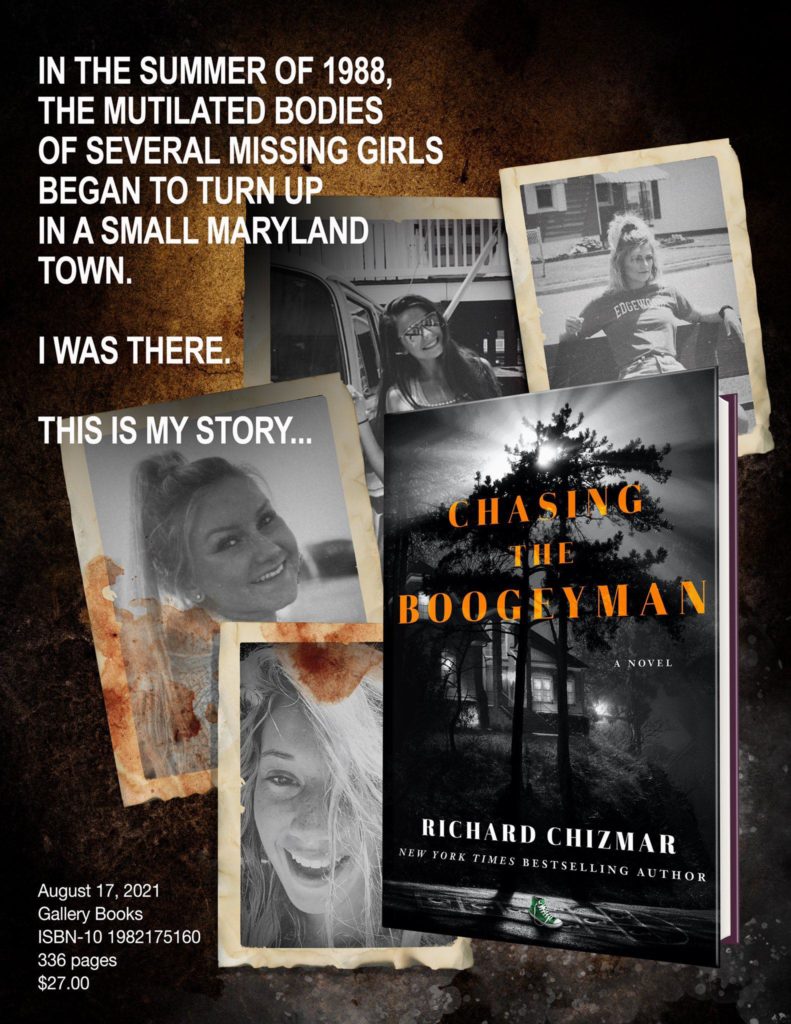 What worked?
Chasing the Boogeyman is both enthralling and chilling, making it impossible to put down as Chizmar recounts the events that occurred in Edgewood, MD. His first-person portrayal of living in this small town at the time of these heinous murders is captivating. In a tale that is a perfect combination of Criminal Minds meets Stephen King, Chizmar is so compelling that it is impossible to separate what parts of the story are real and what occurred in the author's imagination.
To this reviewer, Chasing the Boogeyman is reminiscent of an old episode of Unsolved Mysteries. Certain to feel nostalgic to some, it is easy to picture the author in Robert Stack's trench coat, introducing us to the case on a dark and foggy night. The narrative switches back and forth from the author's point of view to what he later discovered, showing us a dramatized depiction on what was thought to have occurred on the days the crimes took place. Photos from the town of Edgewood, along with pictures of the victims and crime scene investigations, are dispersed throughout the novel, giving it an even spookier feel.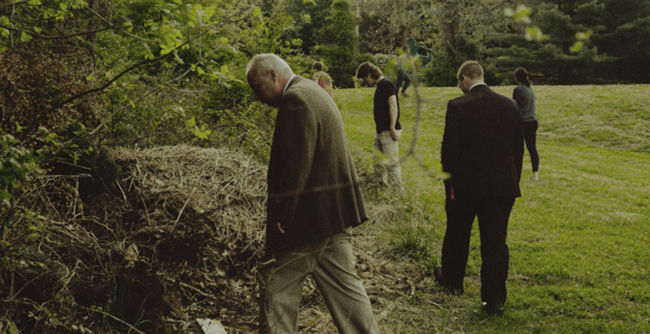 I was honored to have received an advance review copy of this book, having seen promotions out for Chasing the Boogeyman for quite some time now. As soon as I started reading, it was clear that this novel was more than worthy of all the hype and praise it has been receiving. Chasing the Boogeyman is filled with mystery and suspense, and I ended up reading this 300+ page book in nine and a half hours flat! You'll want to be sure you have a chunk of time to devote to this book, because it will have you turning pages long after bedtime.
Reckless Speculation
Whilst my editors have advised me that it is not proper etiquette to accuse an author of murder, I think it is noteworthy to state that Richard Chizmar himself was at the top of my suspect list while reading this novel. After spending several months binge-watching Criminal Minds, I feel I can safely add "FBI investigator" to my resume. Speaking as an expert in the "who-done-it" field, this reviewer found Chizmar's fascination with the crime to be highly suspect. With Chizmar clipping newspaper articles, listening to a police scanner, and questioning local news outlets and even the sheriff himself for more information, I feel the crew at the BAU [the Behavior Analysis Unit of the FBI , made notorious from Criminal Minds] would have scooped him up early on. Finding Chizmar's alibis for the nights of the murders shaky at best, I wondered if Richard Chizmar himself was The Boogeyman.
What did not work?
I have no complaints or issues with this book. Chasing the Boogeyman had me on the edge of my seat for the entire length of the book. Speaking as someone who has their nose in book at all times, there are not many novels that draw you in like this one does.
Where can I buy it?
You can find Chasing the Boogeyman on Amazon, where it is available for pre-order. It will also be available on Kindle and Audible on August 17th.
Overall Thoughts
This action-packed novel will have readers asking just who is the Boogeyman that has been stalking Edgewood Maryland? How much of this tale is fact, and how much is fiction? These questions make for a story unlike anything I have read before. I feel this book goes beyond the horror genre that Chizmar is most well known for, and is a book that anyone would love. If you are a fan of mystery novels, thrillers, suspense, or horror – this book is a must read.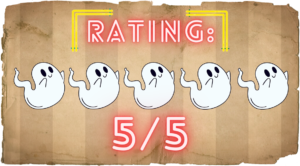 More Book Reviews:
Mr. George A. Romero is the man, the myth, and the legend when it comes to the zombies of the silver screen. His iconic horror creation of the movie Night…
Lisa is a lifetime horror fan and Constant Reader originally hailing from upstate New York. She is certifiably obsessed with all things Stephen King, her love of reading and writing matched only by her love of dogs. After spending many years in the world of dog training and pet sitting, she has chosen to pursue her childhood dream of a career in writing.