Like a match made in heaven, gore and horror go hand in hand like strawberries and cream or other relevant simile and, undoubtedly, some of the best representations of gore have come from Anime. Always thought to be aimed toward children in the West, companies such as Manga sort to find the most graphic, bloodsoaked titles they could for the market, hammering the final nail in the coffin of this outdated trope of the medium. As such, we have put together a list of our favourite gory anime for you.
List contents:
Violence Jack (1988)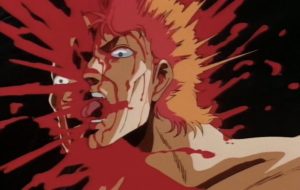 The World as we know it has been torn apart shattered by a series of natural disasters that have turned civilization into a brutish nightmare of survival and has left whole cities buried beneath the Earth. It's now a lethal and chaotic place, a place where only the strongest and most savage remain alive. The strongest of them all is a giant warrior known as Violence Jack…
Violence Jack tries to avert a civil war brewing among the wretched inhabitants of a subterranean metropolis called Evil Town. Based on a character created by manga horror specialist, Go Nagai.
Basilisk (2005)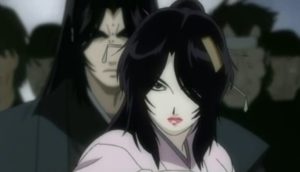 For centuries, the Iga and Kouga ninja clans have engaged in a bitter war. But when a ceasefire is ordered by the powerful warlord Ieyasu Tokugawa, the two clans are forced to put down their arms.
Years later, Gennosuke Kouga, heir of the Kouga clan, and Oboro Iga, heir of the Iga clan, have fallen in love. Through marriage, both heirs aim to bring peace to the clans. But their hopes are dashed when flames of rivalry between their clans are reignited, and they are dragged into another war.
Ieyasu's two grandsons have both claimed to be the next heir to the shogunate. To resolve this dispute, both the Kouga and Iga are ordered to send their 10 best warriors to fight in a bloody battle royale, with each clan representing one of the potential shogunate heirs. Two scrolls with the names of the fighters are given and are to be marked in blood upon the given fighter's death. The prize for winning is the favor of the Tokugawa shogunate for a thousand years. Torn between their love for each other and duty to their clans, Gennosuke and Oboro must ultimately decide the fate of their clans.
Shigurui: Death Frenzy (2007)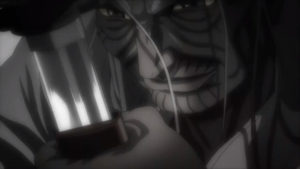 At the beginning of the Edo Era, when people enjoyed a time of peace, Lord Tokugawa Tadanaga holds a fighting tournament. In the past, matches were fought with wooden swords. This time, real swords will be used.
One-armed Fujiki Gennosuke and blind Irako Seigen will fight each other in this match. Both are disciples of Iwamoto Kogan, who is known as Japan's greatest swordsman. Each of them are determined to prove himself the successor of Iwamoto's school. However, there can only be one champion.
So begins a story of intertwining fates, conflict, and strange destinies.
Berserk (1997)
Born from the corpse of his mother, a young mercenary known only as Guts, embraces the battlefield as his only means of survival. Day in and day out, putting his life on the line just to make enough to get by, he moves from one bloodshed to the next.
After a run-in with the Band of the Hawk, a formidable troop of mercenaries, Guts is recruited by their charismatic leader Griffith, nicknamed the "White Hawk." As he quickly climbed the ranks in order to become the head of the offensive faction, Guts proves to be a mighty addition to Griffith's force, taking Midland by storm. However, while the band's quest for recognition continues, Guts slowly realizes that the world is not as black-and-white as he once assumed.
Set in the medieval era, Kenpuu Denki Berserk is a dark, gritty tale that follows one man's struggle to find his own path, while supporting another's lust for power, and the unimaginable tragedy that begins to turn the wheels of fate.
Gantz (2004)
Thought your life was bad? Sometimes, death is worse. There is no salvation, peace, nor god waiting to receive you into their care. But wait, a god? Maybe you are talking about that big black ball stuck in the room with you. Now you are thrown into a game, fighting green aliens and robot monsters for the chance to survive.
When Kei Kurono is killed, he thus finds himself caught in such a game—a test of his skills, morals, and will to survive. His life is not his own; his death is spat and trampled upon over and over again. What happens if he does not listen? God knows.
A word of warning: Gantz is not for the faint-hearted, but neither is it as simple as it looks. Gore, rape, and violence is rampant, as are portrayals of greed, violence, and all the ugliness that one sees in society today.
Parasyte: The Maxim (2014)
All of a sudden, they arrived: parasitic aliens that descended upon Earth and quickly infiltrated humanity by burrowing into the brains of vulnerable targets. These insatiable beings acquire full control of their host and are able to morph into a variety of forms in order to feed on unsuspecting prey.
Sixteen-year-old high school student Shinichi Izumi falls victim to one of these parasites, but it fails to take over his brain, ending up in his right hand instead. Unable to relocate, the parasite, now named Migi, has no choice but to rely on Shinichi in order to stay alive. Thus, the pair is forced into an uneasy coexistence and must defend themselves from hostile parasites that hope to eradicate this new threat to their species.
Pupa (2014)
Abandoned by their abusive parents and with only each other to depend on, siblings Utsutsu and Yume Hasegawa find themselves led astray by beautiful red butterflies that have appeared in their world. Unbeknownst to them, these crimson-winged heralds trumpet the beginning of a cannibalistic nightmare—a mysterious virus known as Pupa is about to hatch.
Gyo (2012)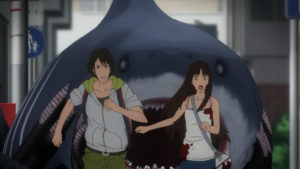 Something in Okinawa reeks, and it isn't long before Kaori and her friends realize that the smell is coming from dead fish, which are walking out of the sea. The fish are fused to metal legs and are infected with a disease contractable by humans that was invented as a weapon by unknown sources. After what happens to Tadashi, Kaori finds herself in a new world very much like the old one but with the stench of death.
Akira (1988)
Japan, 1988. An explosion caused by a young boy with psychic powers tears through the city of Tokyo and ignites the fuse that leads to World War III. In order to prevent any further destruction, he is captured and taken into custody, never to be heard from again. Now, in the year 2019, a restored version of the city known as Neo-Tokyo—an area rife with gang violence and terrorism against the current government—stands in its place. Here, Shoutarou Kaneda leads "the Capsules," a group of misfits known for riding large, custom motorcycles and being in constant conflict with their rivals "the Clowns."
During one of these battles, Shoutarou's best friend Tetsuo Shima is caught up in an accident with an esper who finds himself in the streets of Tokyo after escaping confinement from a government institution. Through this encounter, Tetsuo begins to develop his own mysterious abilities, as the government seeks to quarantine this latest psychic in a desperate attempt to prevent him from unleashing the destructive power that could once again bring the city to its knees.
Terraformars (2014)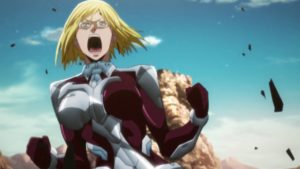 During the 21st century, humanity attempted to colonize Mars by sending two species which could endure the harsh environment of the planet to terraform it—algae and cockroaches. However, they did not anticipate the species' remarkable ability to adapt. Now in the 26th century, a lethal disease known as the Alien Engine Virus has arrived on Earth, and the cure is suspected to be found only on Mars. The problem is, Mars in the present is overrun by creatures known as "Terraformars," incredibly powerful and intelligent humanoid cockroaches that mutated from those originally sent to the planet.
The Annex I team, consisting of a hundred men and women genetically enhanced with characteristics of powerful organisms from earth, has been sent to Mars on a mission to find the cause of the Alien Engine Virus and to help cure humanity—signalling the start of the crew's fight for survival.
Genocyber (1994)
As the nations of the world begin to merge, world peace is threatened by the private armies of individual corporations. The Kuryu Group has just discovered a weapon that will tip world power in their favor. The Genocyber: a nightmarish combination of cybernetics and psychic potential. Many desire to control this monstrosity, but can its hatred be contained… Battle erupts, and the cyberpunk world of the future is about to explode with violence.
BioHunter (1995)
Two scientists are attempting to distribute the cure for a demon virus that is affecting people all over Japan, however, things have become complicated. One of them has become infected. So begins his battle with himself, as he attempts to not only control his emerging demon side, but also to save the lives of others by wielding its great strength.
Devilman (1972)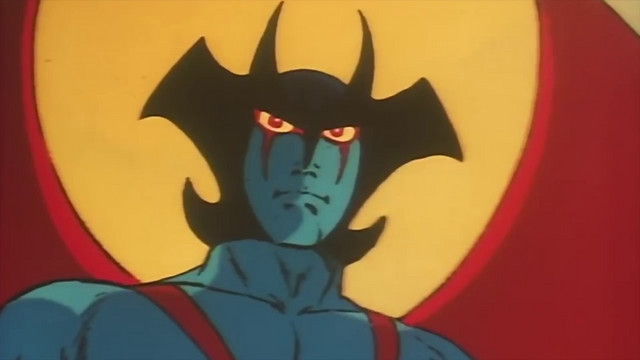 Devilman features Akira Fudo, a shy and timid teenager who has gone mountain climbing in the Himalayas with his father. While in the middle of the expedition, both father and son are killed in a tragic accident. Akira's body is found and possessed by the demon soldier Devilman, who uses his new human form as a disguise in order to fulfill his mission of causing chaos on Earth in order to pave the way for a demonic invasion of the planet.
Before his mission can begin in earnest, Devilman meets Akira's childhood friend Miki Makimura and quickly falls in love with her. Devilman resolves to protect Miki and humanity as a whole by battling against his fellow demons. Demon Tribe leader Zennon becomes greatly angered at Devilman's betrayal and is quick to send Devilman's former comrades to destroy him. The other demons soon learn that Miki is precious to Devilman and he must now work to protect her, as well as protect himself. Will the power of love be able to overcome that of true evil?
Elfen Lied (2004)
Lucy is a special breed of human referred to as "Diclonius," born with a short pair of horns and invisible telekinetic hands that lands her as a victim of inhumane scientific experimentation by the government. However, once circumstances present her an opportunity to escape, Lucy, corrupted by the confinement and torture, unleashes a torrent of bloodshed as she escapes her captors.
During her breakout, she receives a crippling head injury that leaves her with a split personality: someone with the mentality of a harmless child possessing limited speech capacity. In this state of instability, she stumbles upon two college students, Kouta and his cousin Yuka, who unknowingly take an injured fugitive into their care, unaware of her murderous tendencies. This act of kindness will change their lives, as they soon find themselves dragged into the shadowy world of government secrecy and conspiracy.
Shiki (2010)
Fifteen-year-old Megumi Shimizu dreamed of a glamorous life in the big city; however, her unexpected death in the quiet village of Sotoba marks the beginning of what appears to be a ferocious epidemic that turns the hot summer into a season of blood and terror. A young doctor named Toshio Ozaki begins to doubt the nature of the disease and comes to understand that to discover the truth, he must abandon his humanity. Meanwhile, Natsuno Yuuki, an antisocial youth from the city, is haunted by the sudden death of Megumi and must realize the pain of friendship in the face of his own tragedy. Toshio and Natsuno form an unlikely pair as they work together to save Sotoba before it transforms into a ghost town of vampires.
Shiki, adapted from the horror novel written by Fuyumi Ono, goes beyond the average vampire story. It tells the tragic tale of survival in a world where one cannot easily distinguish between good and evil. Abandoned by God, the Shiki, as the vampires call themselves, have only their will to live as they clash with the fear of the paranoid/unbelieving villagers. Shiki explores the boundary that separates man from monster.
Chaos;Child (2016)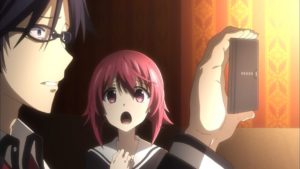 A series of gruesome murders dubbed "New Generation Madness" once induced mass hysteria in Shibuya. At its peak during a frenzied riot, a sudden earthquake reduced the district into nothing but rubble, while leaving surrounding wards strangely intact.
Six years later, in a newly rebuilt Shibuya, mysterious deaths begin to crop up again. It is not long before third-year student Takuru Miyashiro realizes a connection: the dates of the recent murders match those of the New Generation Madness incidents. He, along with several members of his school's newspaper club, decide to delve deeper into the mystery, only to find themselves stranded in the middle of a new crime scene themselves…
Another (2012)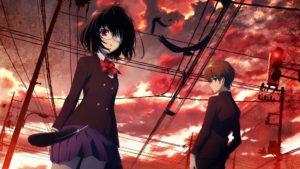 In 1972, a popular student in Yomiyama North Middle School's class 3-3 named Misaki passed away during the school year. Since then, the town of Yomiyama has been shrouded by a fearful atmosphere, from the dark secrets hidden deep within.
Twenty-six years later, 15-year-old Kouichi Sakakibara transfers into class 3-3 of Yomiyama North and soon after discovers that a strange, gloomy mood seems to hang over all the students. He also finds himself drawn to the mysterious, eyepatch-wearing student Mei Misaki; however, the rest of the class and the teachers seem to treat her like she doesn't exist. Paying no heed to warnings from everyone including Mei herself, Kouichi begins to get closer not only to her, but also to the truth behind the gruesome phenomenon plaguing class 3-3 of Yomiyama North.
Another follows Kouichi, Mei, and their classmates as they are pulled into the enigma surrounding a series of inevitable, tragic events—but unraveling the horror of Yomiyama may just cost them the ultimate price.
Corpse Party: Tortured Souls (2013)
Nine students gather in their high school at night to bid farewell to a friend. As is customary among many high school students, they perform a sort of ritual for them to remain friends forever, using small paper charms shaped like dolls.
However, the students do not realize that these charms are connected to Heavenly Host Academy—an elementary school that was destroyed years ago after a series of gruesome murders took place, a school that rests under the foundation of their very own Kisaragi Academy. Now, trapped in an alternate dimension with vengeful ghosts of the past, the students must work together to escape—or join the spirits of the damned forever.
A feast for mystery fanatics, gore-hounds, and horror fans alike, Corpse Party: Tortured Souls – Bougyakusareta Tamashii no Jukyou shows a sobering look at redemption, sacrifice, and how the past is always right behind, sometimes a little too close for comfort.
Higurashi no naku koro ni (2006)
Keiichi Maebara has just moved to the quiet little village of Hinamizawa in the summer of 1983, and quickly becomes inseparable friends with schoolmates Rena Ryuuguu, Mion Sonozaki, Satoko Houjou, and Rika Furude. However, darkness lurks underneath the seemingly idyllic life they lead.
As the village prepares for its annual festival, Keiichi learns about the local legends surrounding it. To his horror, he discovers that there have been several murders and disappearances in the village in the recent years, and that they all seem to be connected to the festival and the village's patron god, Oyashiro. Keiichi tries to ask his new friends about these incidents, but they are suspiciously silent and refuse to give him the answers he needs. As more and more bizarre events occur, he wonders just what else his friends might be keeping from him, and if he can even trust them at all.
When madness and paranoia begin taking root in Keiichi's heart, he will stumble straight into the mysteries at work in Higurashi no Naku Koro ni, a story that is told across multiple arcs.
Blood-C (2011)
Peaceful schoolgirl by day, fearsome monster slayer by night, Saya Kisaragi is leading a split life. Equipped with a ceremonial sword given to her by her father for sacred tasks, she vanquishes every monster who dares threaten her quiet little village. But all too soon, Saya's reality and everything she believes to be true is tested, when she overhears the monsters speak of a broken covenant—something she knows nothing about. And then, unexpectedly, a strange dog appears; it asks her to whom she promised to protect the village, curious as to what would happen if she were to break that promise. Tormented by unexplainable visions and her world unraveling around her, we travel with Saya through her struggle to find a way to the truth in a village where nothing is as it seems.
Hellsing Ultimate (2006)
There exist creatures of darkness and evil that plague the night, devouring any human unfortunate enough to be caught in their grasp. On the other side is Hellsing, an organization dedicated to destroying these supernatural forces that threaten the very existence of humanity. At its head is Integra Fairbrook Wingates Hellsing, who commands a powerful military and spends her life fighting the undead.
Integra's vast army, however, pales in comparison with her ultimate weapon: the vampire Alucard, who works against his own kind as an exterminator for Hellsing. With his new vampire servant, Seras Victoria, at his side, Alucard must battle not only monsters, but all those who stand to oppose Hellsing, be they in the guise of good or evil.
In a battle for mankind's survival, Hellsing Ultimate proves that appearances are not all they may seem, and sometimes the greatest weapon can come in the form of one's worst nightmare.
More Lists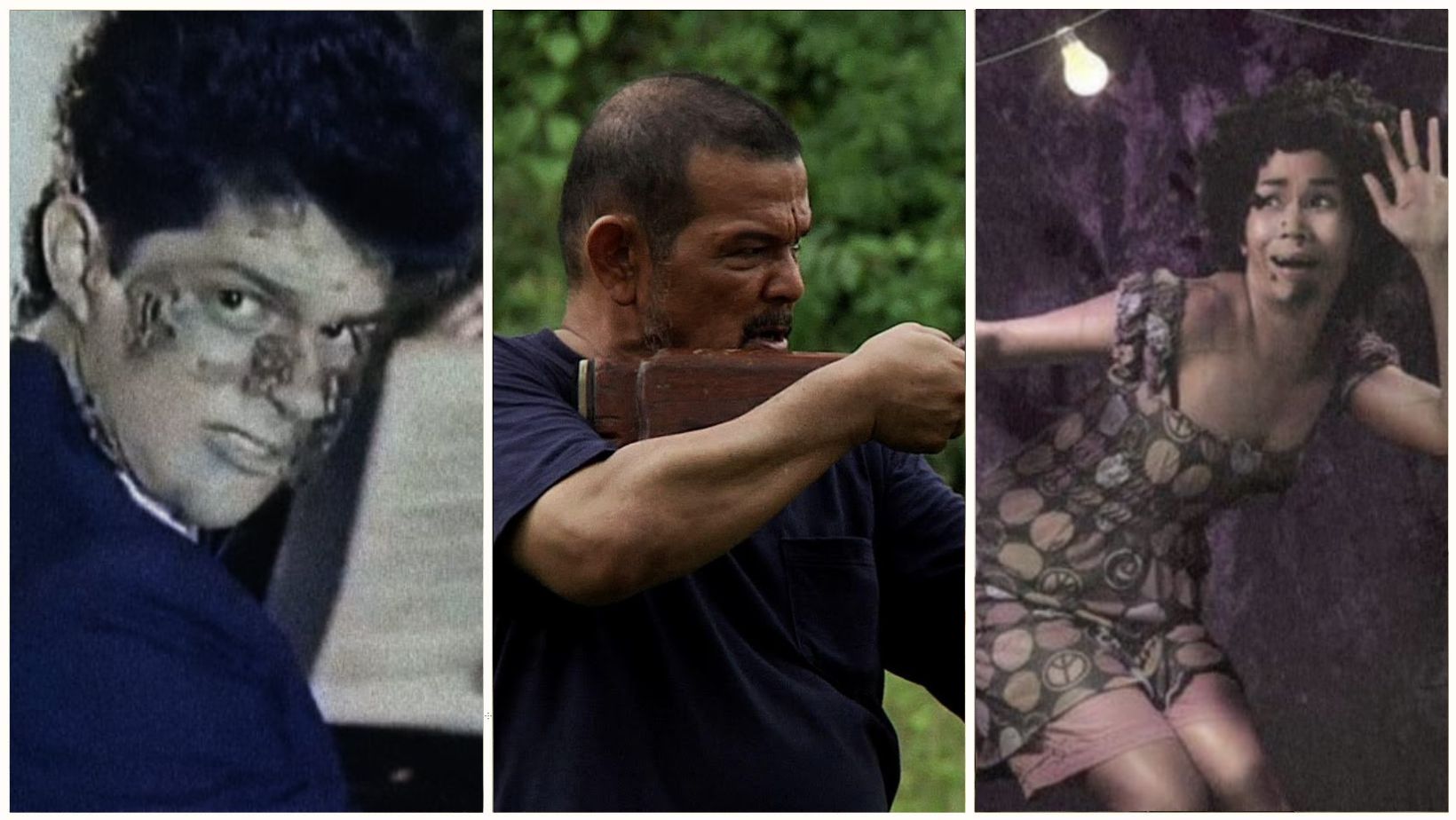 While zombies have traditionally been mostly influenced by Western culture, the zombie sub-genre has been getting a resurgence these past few years thanks to South Korea. Zombies are some of…