Welcome to Part 2 of our series highlighting Black Horror! For Part 2, we have compiled a list of films featuring black leads, most of which are newer releases, but includes a few older and possibly overlooked films. I hope you enjoy, and stay tuned for Part 3 of our series: Black Directors to Follow! If you missed Part 1, then you can read it here.
While it's important to celebrate the proliferation of black created horror, it is also important to acknowledge the growing amount of viable horror roles for black actors. In recent years we have seen more films created by POC and non-POC directors alike exploring the experience of POC individuals with a nuanced and sensitive understanding, as well as many horror films simply including a diverse trope-free cast. It feels as though we may finally be beginning to leave behind caustic and racially insensitive horror tropes that served as pitfalls for black actors; no more leading white folks through the plot, no more "sassy friend" or comic relief pigeon-holing, and no more dying first. The horror heroes and heroines (and even a few villains) on this list explore the diversity of roles that are changing the horror scene, including a few that may have been overlooked over the years and deserve more love.
The Quiet Room (2018) starring Jamal Douglas
After a failed suicide attempt, Michael believes that he's awakened Hattie, a demon who haunts his hospital's quiet room.
This short film packs a surprising punch with a runtime of only 28 minutes, showcasing decent effects and some genuine jump scares. Set in a psych ward, it explores Michael's (Douglas) past and recent traumas with tenderhearted sincerity, while compounding his difficulty in recovering with the appearance of a malevolent entity that seeks to own him. Douglas does an incredible job of bringing Michael's plight to life, showing a range of authentic emotions from fear, to walled-off fragility, to intense bravery and love for those around him. It's rare for a horror film to achieve so much with a main character, let alone in 28 minutes! Now streaming on Shudder!
Vamp (1986) featuring Grace Jones
Two fraternity pledges travel to a sleazy bar in search of a stripper for their college friends, unaware it is occupied by vampires.
Grace Jones as an avant-garde 80s stripper vampire…. if I have to say more then I think you are in the wrong place. There have been numerous vampire films featuring black vampires (and hopefully more to come), but I feel this one does not get enough love. Grace Jones, sigh.
Spiral (2019) starring Jeffrey Bowyer-Chapman
A same-sex couple moves to a small town so they can enjoy a better quality of life and raise their 16-year-old daughter with the best social values. However, nothing is as it seems in their picturesque neighborhood.
Bowyer-Chapman (playing Malik) is painfully compelling in this queer horror about a mixed-race queer couple, pulling the viewer along with Malik on this voyage into terrifying isolation and mounting danger. There are a lot of familiar horror tropes (idyllic neighborhood possibly hiding evil, teenage sexuality), but set against the AIDS epidemic of the 90s and with more diverse characters it lends an originality, while Bowyer-Chapman gives an absolutely heart-wrenching performance.
Overlord (2018) starring Jovan Adepo
A small group of American soldiers find Nazi experimentation-fueled horrors behind enemy lines on the eve of D-Day.
Overlord portrays a desegregated American army unit, with the film being relatively free of references to race and racial tensions (though there is one good jab at the US), thus presenting an alternative view of World War II race politics. This allows for the main character, Private First Class Boyce (Adepo), to be something other than a metaphor, and inhabit a role more akin to an Eastwood or Bronson 60s era war hero. Boyce punches Nazis, refuses temptation, and is worthy of the leading lady's affections.
In Fabric (2018) starring Marianne Jean-Baptiste
A lonely woman, recently separated from her husband, visits a bewitching London department store in search of a dress that will transform her life. She's fitted with a perfectly flattering, artery-red gown—which, in time, will come to unleash a malevolent curse and unstoppable evil, threatening everyone who comes into its path.
Marianne Jean-Baptiste's performance as the hesitant and heartfelt Sheila is a joy to behold against the starkly different tone of the film she walks through; namely a moody psychosexual art-house horror full of violence and dark deeds. Jean-Baptiste is a sadly underused actress and I can only hope In Fabric will bring her to horror audiences that will clamor for more of her on the big screen.
Black Holler (2017) starring Tamika Robinson
Eleven college students head to the woods for a scholarship competition in 1989, but they don't know they are competing for their lives.
Black Holler parodies 80s slasher films while playing on the hillbilly horror trope, but toys with viewer expectations as the black character not only survives… but becomes the final girl. It's incredible that this is so rare that this feature alone makes this movie standout. The rest of the film is incredibly low-budget and chock-full of self-deprecating humor, but that's part of the joy. LaQuita (Robinson) stands above tropes and stands out as uniquely qualified to survive.
Range Runners (2019) starring Celeste M. Cooper

A woman thru-hiking an isolated trail runs into trouble when her pack is hijacked by two men hiding out in the woods, desperate and on the run. Now, stranded and left to fend for herself, she has a choice: crawl back to her normal life in defeat, or push forward and take back what was stolen from her.
The idea of bumping into nefarious folks while alone in the woods is scary enough, let alone if you are a black woman. This movie plays on the hillbilly horror trope, but flips it on its head as Mel turns the scenario into an all-out battle drawing heavily on her training as a runner to out-smart and out-maneuver her assailants.
Attack the Block (2011) starring John Boyega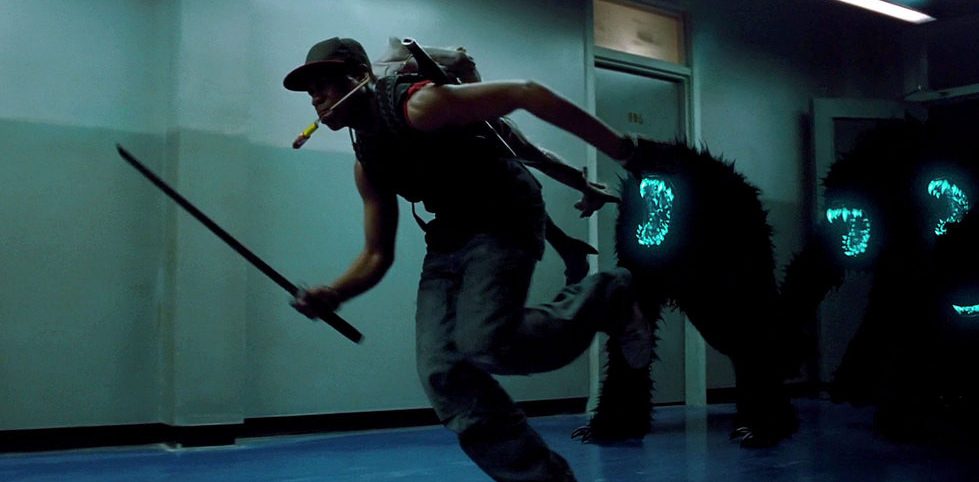 A group of teenagers in South London defend their block from an alien invasion.
This one has been around for a while, but is a favorite of mine that I mention anytime I'm given a chance. The teen characters are mostly kids of color, and varied in personality and character, making them feel like real people as opposed to stereotypes. Even though they are depicted in a relatively low income existence, their lives are A) shown to be a world not exclusive to people of color since many white folks live there too, and B) still full of the joy and hardships we all experience. Their bonds with each other are as fun to watch as it is heart-wrenching, and Moses (Boyega) is a complex and ultimately compelling character whose intense scowl and timid smile will move your heart in equal parts. You'll laugh, you'll scare out of your seat, and I dare you not to cry at the end.
The Alchemist's Cookbook
(2016) starring Ty Hickson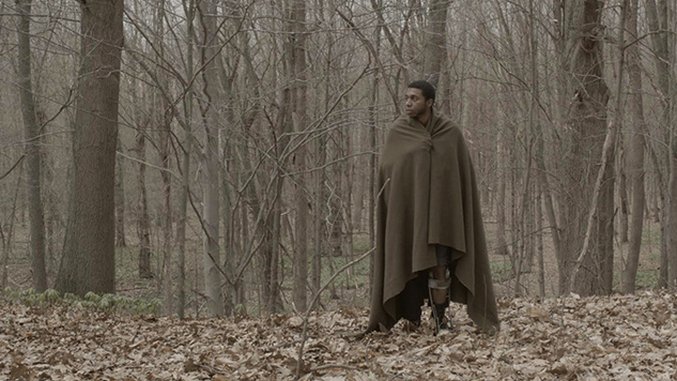 The Alchemist's Cookbook follows Sean (Hickson), a young man living as a hermit in a camper in the woods while playing with alchemy. His only companions are his cat and his friend Cortez who occasionally drops off supplies. On one of these supply runs Cortez forgets to bring Sean's unnamed pills and refuses to go back to get them. Sean subsequently begins to experience a mental breakdown and during his course of experimentation attempts to summon a demon. Whether this actually happens or if Sean is hallucinating due to his mental condition is up to the viewer. This film is definitely low budget, but is so entertaining and one of my personal favorites from the last few years. A lot of the first half follows Sean on his daily routine in the woods and with his experiments, which is fun to watch since Sean is a charming and hilarious character and much of the beginning feels like a comedy. When the horror really begins setting in, the film does a fantastic job of utilizing its low budget by showing only what is necessary, and leaving a lot to ambiguity so that the presence Sean is experiencing never feels cheesy. Hickson is what really won the film for me though. I loved his performance and hope to see more of him in future films.
The People Under the Stairs (1991) starring Brandon Adams and featuring Ving Rhames and Kelly Jo Minter
Two adults and a juvenile break into a house occupied by a brother and sister and their stolen children. There, they must fight for their lives.
This movie is bonkers good fun with it's over-the-top villains, wacky twists and turns, and practical effects that are just above Halloween decorations! Though Wes Craven directed it, it features a cast with many people of color, including the main character Fool (Adams), who face real world issues like poverty and gentrification without falling into a lot of the stereotyped pitfalls. Fool and his family feel like real characters, and even the dynamic between the would-be criminal Leroy (Rhames) and young Fool feels tender at times, and Leroy is no stereotyped "gang-banger"– a word the 1992 Candyman casually throws around. Fool might also be the most badass cinematic kid in history, as he decides to go back and square off with the murderous brother-sister couple in order to free Alice and the others.
BONUS! There are rumors that Jordan Peele may be producing a remake of The People Under the Stairs!
The Girl with all the Gifts (2016) starring Sennia Nanua
In the near future, humanity has been ravaged by a disease caused by a parasitic fungus transmitted by bodily fluids. The infected have turned into fast, mindless zombies, called "hungries." Mankind's only hope is a small group of hybrid second-generation children who crave living flesh, but retain the ability to think and learn.
There are a ton of zombie films ambling about in the world, but this one is an original and fun take on the genre. The casting of Nanua as the "hungrie" protagonist Melanie, who much like Duane Jones in Night of the Living Dead was was chosen because she was the best actress who auditioned, brings new life and new meaning to the story. It's one of those films where you have no idea where they are going with the plot, but Melanie is always at the center, and ultimately takes us to the conclusion. Cryptic? I guess you will have to watch to see what I mean.
Vampire in Brooklyn (1995) starring Eddie Murphy and Angela Bassett, co-written by Charlie Murphy and Vernon Lynch
A ship docks in Brooklyn with all its crew dead, but someone gets off and the killing continues on land. A Caribbean vampire is searching for a specific woman, half-human half-vampire. Rita is the detective investigating the many killings
This movie was savaged by critics upon release, but a closer looks reveals layers of racism skewing the reviewers perspective. I could write a whole thesis on the cringe-worthy review Roger Ebert gave where he likened Murphy's appearance to a pimp, lamented black people using the n-word, and even (seriously) essentially said racism was dead. However, I think this film was largely misunderstood. Sure, it follows a relatively familiar vampire story (the opening is an intended parody of Dracula's arrival by ship), but it is closer in tone to Coming to America with its mixing of genres;Vampire in Brooklyn is simultaneously a comedy, horror story, and romance with all three elements mingling comfortably. American viewers chaffe at this concept, but fans of Asian horror- specifically Japanese- will find themselves right at home.
Little Monsters (2019) starring Lupita Nyong'o
A washed-up musician teams up with a teacher and a kids show personality to protect young children from a sudden outbreak of zombies.
Every time I think a genre has been exploited to exhaustion, a movie like Little Monsters is released and reminds me that horror creators still has so much give. It is one of the most fun movies I have seen in years, and Lupita Nyong'o is as incredible as she always is. Her versatility is a site to behold, as she seamlessly transitions from the laugh out loud scenes of the movie to the true gorefest moments. Hollywood needs to give this woman more love and more money.
Vampires vs The Bronx (2020) directed by Oz Rodriguez, starring Jaden Michael and featuring Method Man, Chris Redd, Zoe Saldana, and others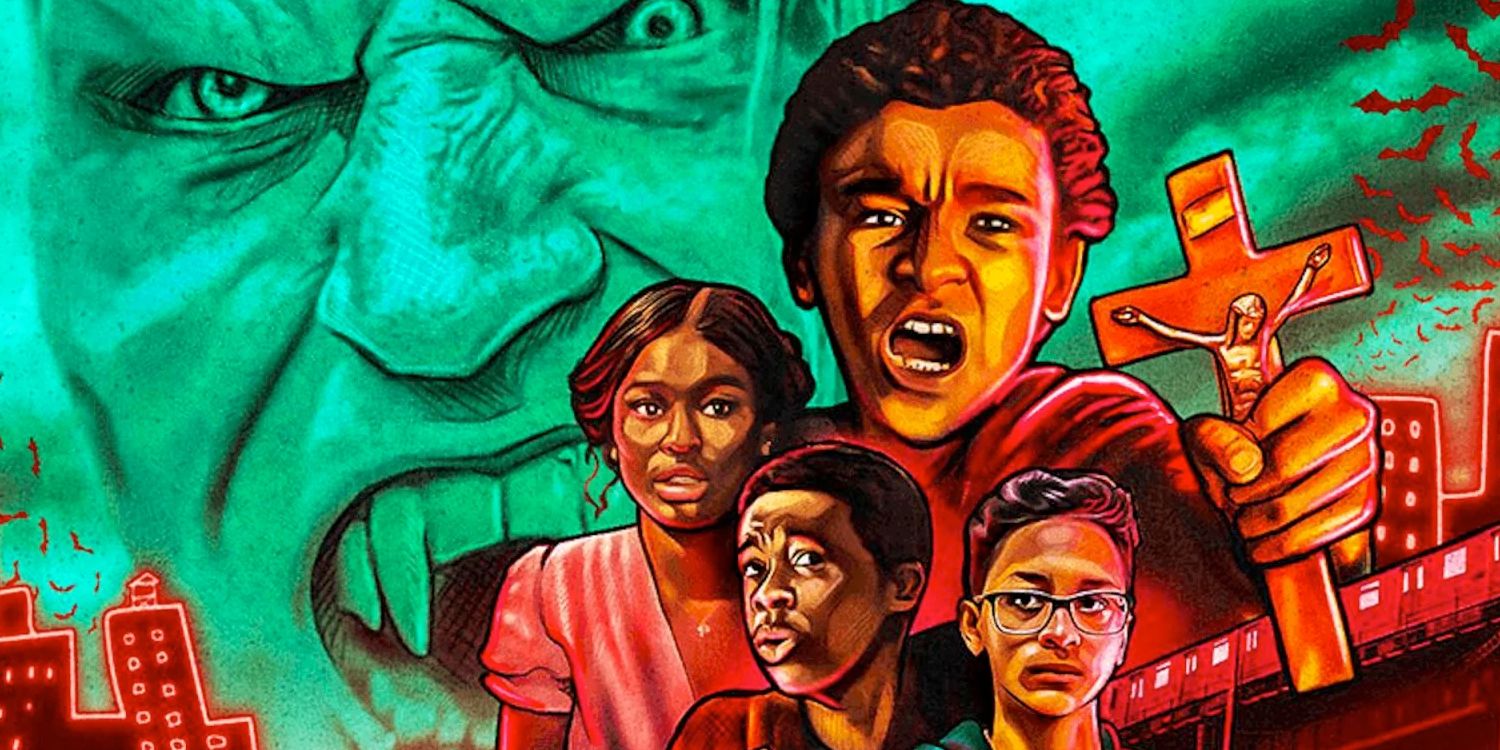 A group of young friends from the Bronx fight to save their neighborhood from gentrification…and vampires.
This is a fun family-friendly horror that is a cross between Attack the Block and Monster Squad with an almost entire POC cast, but also pays homage to The People Under the Stairs as it is up to one determined young man to both save his family's home and save the lives of his neighbors.
It Comes at Night (2017) starring Kelvin Harrison Jr.
Secure within a desolate home as an unnatural threat terrorizes the world, a man has established a tenuous domestic order with his wife and son. Then a desperate young family arrives seeking refuge.
I love this movie for its tender portrayal of a nontraditional and multiracial family. It is because of the love between this little family that the dangers of outsiders become emphasized. The caring and sensitive Travis (Harrison) is a beautiful lens to behold the end of the world, and all tragedies are treated with weight and love as the movie views them through his eyes. The movie is minimalist in what it shows us of the outside world, but because of the central family relationship it still feels ever present and overwhelming.
Antebellum (2020) co-directed by Gerard Bush, starring Janelle Monáe
Successful author Veronica Henley finds herself trapped in the horrifying reality of the Antebellum South and must uncover the mind-bending mystery before it's too late.
Ghosts and monsters be damned, this movie proves that humans are the real horror, and as far as humanity goes very few things could be imagined to be scarier than the Antebellum plantations of the U.S. South. Antebellum is an incredibly hard watch, with the violence –physical, sexual, and psychological– visited on the modern day characters transported to the horrors of the past, but this is the history and legacy of the United States. The film has plenty of twists and turns, an incredible performance by Janelle Monáe, beauty and strength to match it's violence, and a powerful ending. Most importantly it leaves the viewer with the uncomfortable pondering of is the past really in the past? (Spoiler! No, it is not– as current events have shown us.)
His House (2020) directed by Remi Weekes, starring Sope Dirisu and Wunmi Mosaku
A refugee couple makes a harrowing escape from war-torn South Sudan, only to have to face an evil entity to plaguing their already difficult transition.
I love horror that makes the viewer consider which is the lesser of two evils, and His House might be the best example of this I have seen yet. It is completely mind-blowing that this is Weekes full-length directorial debut, as it is genuinely terrifying. So much of "African-based" horror is really outsiders twisting culture, history, and lore into a grotesque monster, showcasing their own bigotry and misunderstandings. In the hands of Weekes, Dinka mythology intertwines with the traumatic and isolating experiences of refugees trying to assimilate. Neither aspect dominates the other, and instead they are so closely intertwined that one informs the other: the apeth, or "night witch," that haunts them is a product of and simultaneous threat to their survival. Cryptic? You bet! I don't want to give anything away because this movie is incredible from beginning to end. Go watch it!
Sweetheart (2019) directed by J.D. Dillard, staring Kiersey Clemons
A woman survives a shipwreck at sea to find herself stranded on a deserted island. The trials of surviving without modernity soon become compounded when she realizes she isn't alone.
I recommended this on my monster horror movie list as well, but wanted to cross over and recommend it here because I think there is some coded horror that needs addressed (as well as giving J.D. Dillard another shout out). Since publishing that list a friend viewed this movie based on the recommendation and got back to me with "I didn't think it was that exciting." When I talked to him a little more I discovered the disconnect: what Jenn (Clemons) experiences later in the movie, which is to say friends arrive and don't believe her that there is something dangerous on the island, was unfamiliar to him and a horrifyingly familiar reality for me. Women and POC (especially women of color, like Jenn) are constantly dismissed, marked as hysterical or "difficult," and gaslit out of their own survival. Dillard does an excellent job portraying subtle tensions that speaks volumes and carry dire consequences.
More Lists:
H.P. Lovecraft's The Old Ones is a 2023 splatter/cosmic horror film, written and directed by Chad Ferrin. Known for his over-the-top special effects, Ferrin is the creative mind behind Pig…
As an Emmy Award winner, Richard T. Wilson serves as the President/Writer-Filmmaker of RTW Productions, Inc., home to the nationally recognized educational film company, Outreach Arts, Inc., and its award-winning,…
The Illustrated Guide to Monster Girls is a 4-volume, light-hearted horror/slice-of-life manga, written and illustrated by Suzu Akeko. A prolific manga creator, she has previously written and illustrated Nightmare Eater,…
Here at the Grimoire of Horror, we were excited to take a look at the second volume of Halloween Girl, entitled Dead Reckoning. You can see our thoughts on the…
Every year horror fans are inundated with a slew of holiday-themed horror, with a select few becoming instant classics. Even at Fantastic Fest, where we caught There's Something in The…
Mushrooms, originally known as Grzyby, is a Polish 2023 mystery thriller, written and directed by Paweł Borowski. Beginning his directorial career with the short animated comedy Love Gamestation (2001), Paweł…
Tammy lives a regular teenage life, with an overbearing bible-thumping mother-in-law who hates filth and a father who would do anything for her daughter, whether it be beheading a donkey…
Door is a 1988 Japanese psychological horror thriller written and directed by Banmei Takahashi with additional writing from Ataru Oikawa. Beginning his career in Pinku Eiga in the 70s, Takahashi…
Visitors (Complete Edition) is a Japanese 2023 Splatter horror comedy, written and directed by Kenichi Ugana. Beginning his theatrical debut in 2016 with the "Gal film" Ganguro Gals Riot…
Fishmonger is a 2023 Irish supernatural horror comedy, written and directed by Neil Ferron with additional writing from Alexandra Dennis-Renner. Not his first time behind the camera, Neil is known…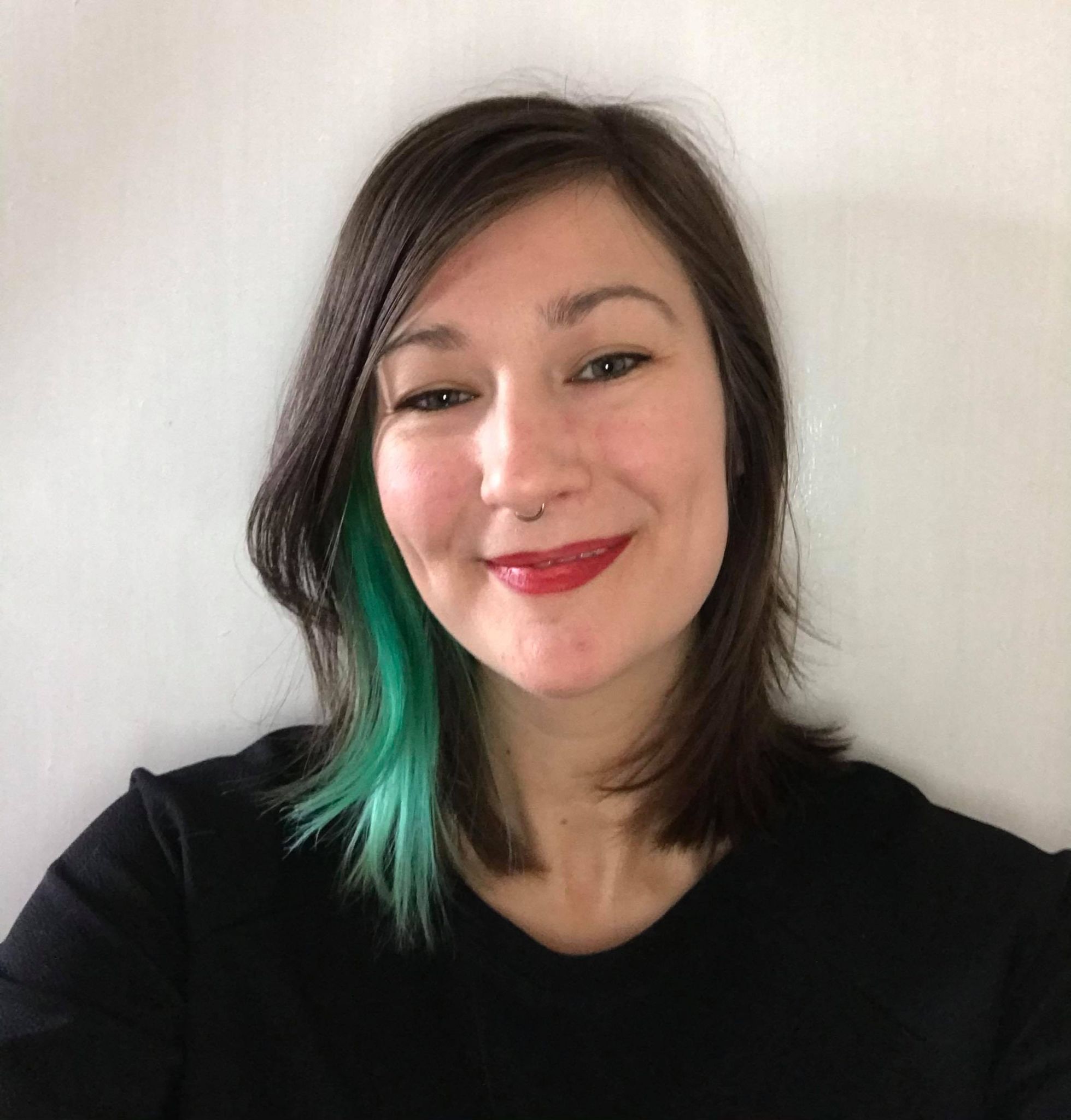 A study in contrasts, Aubry is a lover of knitting and rescuing strays, but also most likely the one cheering loudest during gory horror scenes.
Someday she's going to get too excited and accidentally stab herself with a knitting needle.