Being a girl ain't easy, especially for the heroines of horror movies. Luckily, having your best gal pals by your side can make it all a little easier, whether it's making it through a heartbreak, smashing monsters, or chasing down and murdering the fool who tried to murder you. Adam and Aubry from the Grimoire of Horror have selected a list of the best films exploring friendship and sisterhood for your Galentine's Day viewing.
Brigette and Ginger in John Fawcett's Gingersnaps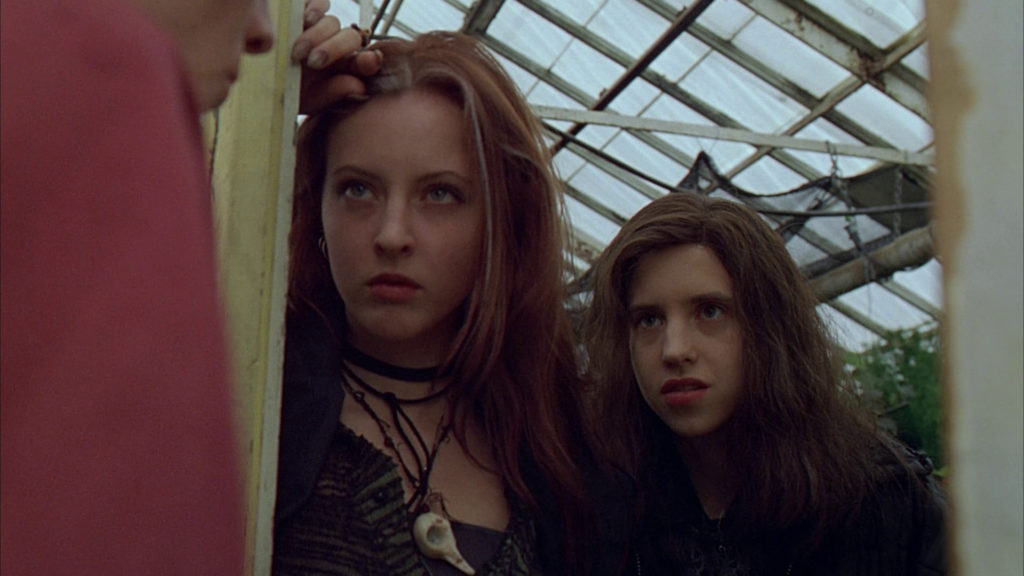 The death-obsessed Fitz sisters share a strong bond as well as a mutual desire to die together by suicide. Ginger and Bridgette Fitz are definitely high school outsiders, but they have each other… that is until Ginger is bitten by a werewolf and begins transforming. This movie is an obvious feminist take on the werewolf genre but what drives the story is the pressure this puts on the sisters' relationship, asking the question "How far would you go for your sister?" For many ladies their first gal pal is their sister; for some, their gal pals are like their sisters. Not only is the relationship of Ginger and Bridgette central to the story, but themes of feminism ooze from every scene, making this a great film to enjoy with your sisters- or chosen sisters! (Aubry Norman)
The Spelunkers in Neil Marshall's The Descent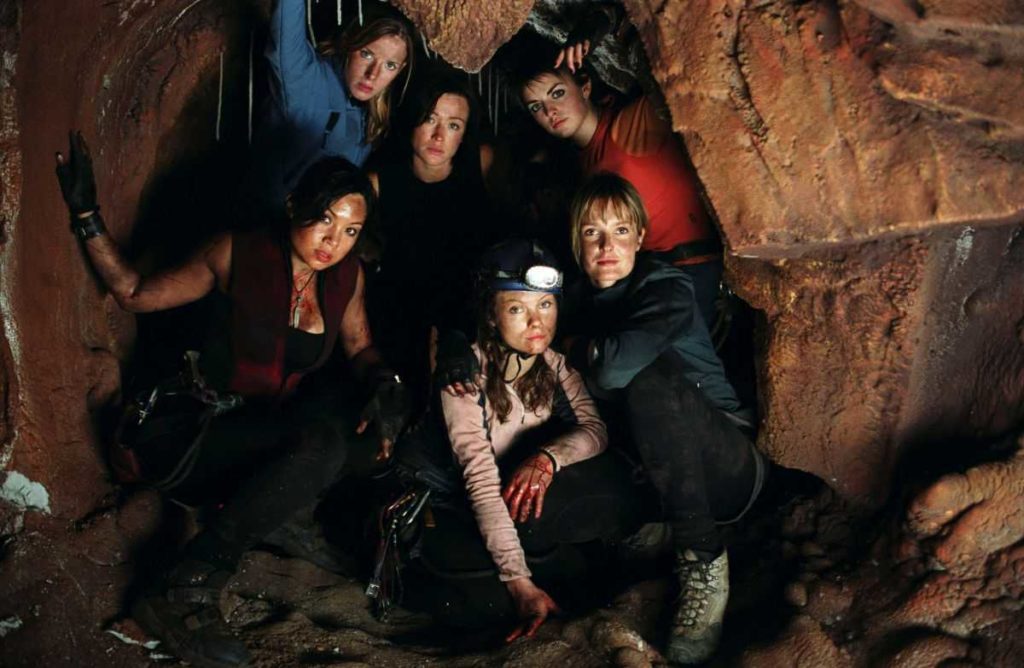 Six women go on an off-the-map cave exploring adventure only to find themselves trapped deep in the earth with human-adjacent monsters. Their relationships are fraught with underlying tensions and deep history that complicate their attempts to survive, but that doesn't stop these tough broads from trying. Even with all the infighting, this movie is worthy of a Galentine's Day viewing because it features six of the most badass cinematic women I have ever seen. It's not just the monsters they contend with, but navigating the treacherous cave system as well. Forget monsters, it's the barehanded free climb across a sheer ceiling scene that haunts my nightmares! Cozy up with your best gal pals and comment about what you ladies would do were you in the same scenario. (Aubry)
Oshare and friends in Nobuhiko Obayashi's House
At the heart of this absurdist Japanese gem, is the tale of charismatic students fighting against the supernatural. Chocked full of creative practical effects, bizarre action and light humor, Nobuhiko Obayahshi's cult classic may just fit the bill for those who love horror-lite fantasy driven titles. The title has become somewhat infamous, in part to Criterion Collection giving it a deserved upgrade and bringing it to the attention of modern cinephiles. Looking for something adventurous but oh so fun? House may be a worthy contender for a Galentines watch party. (Adam Symchuk)
Sadie and McKayla in Tyler Macintyre's Tragedy Girls
In this slasher film turned inside out, we follow high school best friends Saddie and MacKayla as they lure and kidnap a serial killer, then continue his work for a boost to their social media platform Tragedy Girls. This gem manages to balance laugh out loud cheeky humor with brutal gore and Sadie and MacKayla, played by Marvel alumnae Alexandra Shipp and Brianna Hildebrand, are believable as on-screen best friends, giving enjoyably gleeful performances that will leave you rooting for their carnage. The film itself is stylish, well shot, has good practical gore effects, and is an interesting take on the slasher genre. A great watch for you and your best friend to cheer on the violence! (Aubry)
Rose and Iris Parker in Jim Mickle's We Are What We Are
After their mother passes it falls on Rose and Iris Parker to take up an old and brutal family tradition. They have misgivings about all this, but must contend with their controlling father who is insistent they continue. The acting by Garner and Childers is restrained but powerful, conveying a believably tender yet strained relationship, and often so much is communicated between them with simple glances and body language. The ending is what won the film for me (though I'm not going to spoil it for you!), and it is strongly rooted in this quiet but fierce relationship between Iris and Rose. Hopefully the Parker's situation won't feel familiar to viewers, but contending with your family and the bond you share with the only other person who understands will be. (Aubry)
Anna and Beth in Sophia Takal's Always Shine
Some friendships are built out of necessity, this is particularly true for the pair in Always Shine. Two struggling actors and life long friends have had their relationship sour after years of facing competitive industry that binds them by both support (financial and moral) and a sense of competition. However, when one of them gets a dream gig that can launch their career, the delicate friendship comes crashing down, leading to a horrific accident during a fight. As ghost and memories loom, the troubled relationship becomes deeply explored and paranoia runs wild when a body goes missing. A cautionary tale for those looking to 'always shine', Sophia Takal shows a deep understanding of her characters and the stresses put on friendship in a competitive industry. (Adam)
Srebrna and Zlota in Agnieszka Smoczynska's The Lure
Mermaid sisters Golden and Silver crawl out of the water and transform into burlesque performers in this Polish horror musical. One sister begins falling in love while the other slips back into the old habit of eating people. These siren sisters participate in several fun musical numbers, while playing out a new take on the Little Mermaid story. One of the best parts of this movie is that the combination of body dysmorphic horror and the subtle but inhuman movements of Golden and Silver constantly remind you that they are not like us, which is disturbing to watch but also puts the two women apart from everyone else. In this otherness you feel their connection and observe communications between them and responses to things around them. Though they may seem like the playthings of those who profit from them, we as the viewer are let into their world and understand that everyone else is their plaything. (Aubry)
Helen and Madeline in Robert Zemeckis's Death Becomes Her
I don't think there is a single more iconic frenemy relationship then that of Madeline and Helen in Death Becomes Her. Jealousy and petty squabbles drive these two to the extremes, and even to immortality-fueled body horror as they hilariously beat each other into contorted figures of post-human goodness. This hatred is fueled by years of familiarity and a history that has left both with scars and, if they were honest with each other, a sort of respect. This is especially true at the end of the film when the women are shown to be living beyond their years, and falling apart at the seams… but living together as a catty but loving odd couple. No one understands them the way they do each other. This is an outrageously fun watch with a tender yet macabre ending. What more could a girl ask for? (Aubry)
Max and Amanda in Todd Strauss-Schulson's The Final Girls
After losing her mother in a car accident, Max gets the chance to see her one last time when her and some friends get transported into the slasher film that her mom starred in. At its core, Final Girls is comedy that pays homage to one of the most beloved genres among horror fans. At its heart, of the film is about Max and Amanda's relationship, the chance to rekindle a friendship that was cruelly taken away. As a result, Max's fight to turn her mother into the final girl of the film ends up packing a pretty strong emotional punch. Hilarious and with some surprise feels, Final Girls perfectly fits the Galentine's bill! (Adam)
Zoë, Kim, and Abernathy in Quinten Tarantino's Death Proof
A psychotic stunt driver-turned-serial killer messes with the wrong women when he targets these ladies. There is nothing more satisfying than watching the would-be victims of a horror movie take it back and begin hunting the predator, and Death Proof does so with flair. The name of the film, seemingly derived from the indestructible stunt car designed to protect the driver, begins to take on new meaning as these friends not only defy death but then deliver it to the man who tried to kill them. This isn't just your average revenge flick or even survival horror, but instead is an all out battle of wits and brawn. It will have you and your gals jumping out of your seat cheering "Get him! Get him!" (Aubry)
As a note, while I genuinely like this movie there are some problematic elements to it. However, here is an article that articulates it much better than I ever could.
Jennifer and 'Needy' in Karyn Kusama's Jennifer's Body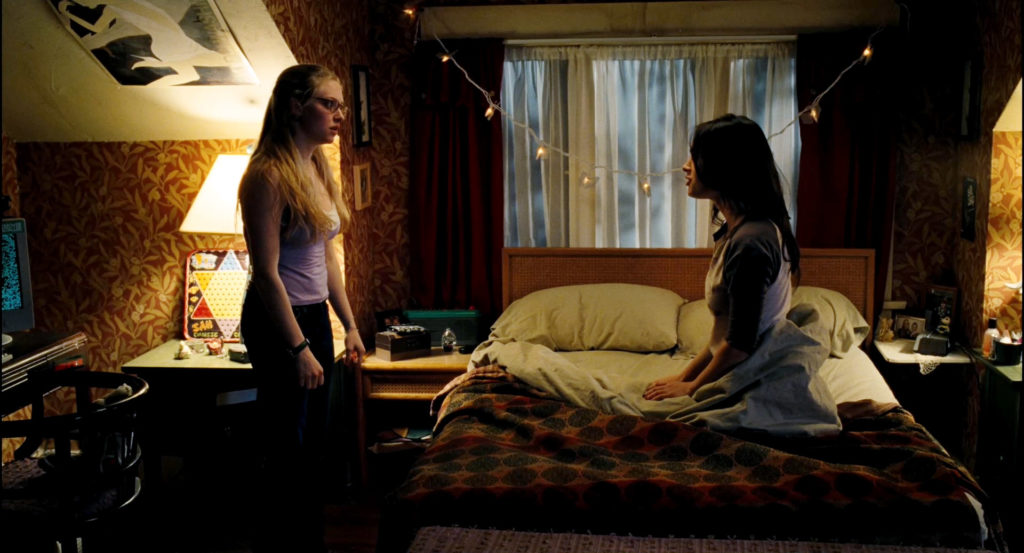 "Hell is a teenage girl." Teenage friendships can be incredibly difficult to navigate; whether it's a lifelong imbalanced friendship that is compounded by puberty, boys and jealousy, or possession by a demonic succubus. Describing Jennifer's Body simply as a story about a possessed teenage girl misses the complicated relationship between Jennifer and Needy, which is at the heart of the story, and may feel familiar to many ladies watching. This movie is a fun Galentine's Day watch because it is genuinely enjoyable watching Jennifer and Needy interact, and seeing Jennifer hunt for victims is good fun. The ultimate culmination of this troubled friendship is very much about how you choose to, or choose not to, resolve strife with our besties. Sometimes we have to say goodbye, whether on the phone or by stabbing them, but they will always leave an indelible mark on us. (Aubry)
Faith, Candy, Cotty and Brit in Harmony Korrine's Spring Breakers
With the ominous words of 'spring break' spoken over and over by the eccentric leech that is Alien, Harmony Korrine's sets the stage for a story of excess and greed breed from toxic party culture. While Alien certainly sees himself of the star of the show, able to bend those to his will, the troop of girls begin to pick away that veneer as their embrace of materialism and dominance surpasses his own. On release, many people mistook this film for a homage to the culture around spring break, a shallow film on a shallow subject. Don't be fooled, Korrine is a master of exploring outsider culture and Spring Breakers is a wonderful amalgamation of pop and obscure that catapults the girls into the story of legends. (Adam)
Jennifer, Ellie and Madeline in Tyler Macintyre's Patchwork
Three women wake up fused together in one patchwork body and go on a killing spree to chase down the man responsible, taking out lots of other worthy assholes along the way. There are few horror comedies that have made me laugh out loud as much as Patchwork, with it's quick and delightful violence and witty dialogue. Though they share one body the women all maintain their individual personalities, and the movie goes to great lengths to give them genuine and often touching interactions. Like a fine wine with cheese, the heartfelt aspects of the movie pair nicely with the all out brutality they inflict on deserving fools who wronged the women leading up to their transformation. The film's sense of humor follows through every seen giving a wink to the audience and encouraging you and your gal pals to cheer for the all out revenge. Part Reanimator, part Human Centipede, part Legally Blond, but an all out good time! (Aubry)
More Lists:
Ahead of NYX UK's season of Simon Rumley films in December, the award-winning director talks candidly about therapy in filmmaking, his past fear of contracting AIDS/HIV, and being kicked of…
August Underground's Penance is a 2007 extreme found footage horror film, written and directed by Fred Vogel, with additional writing from Allen Peters and Cristie Whiles. The film is the…
Devils is a 2023 South Korean crime thriller, written and directed by Kim Jae-Hoon in his first feature-length work. The film stars Jang Dong-yoon (Project Wolf Hunting), Jae-ho Jang (The…
Are You a Hero, Or a Villain? "Flesh, flash, and fantasy" are the themes of Broadway producer Robin de Levita's directorial debut film, Lost Cos (2023). It follows the story…
Born in Ft. Smith, Arkansas, USA, Justin Powers is a versatile filmmaker who has worked on multiple aspects of the film creation process. Beginning his career as a grip, Justin…
Todd Keisling was born and raised in a small town in rural Kentucky; those of you who've read Devil's Creek were treated to a dark mirror image of the town…
Medium-Sized Horror Bites From BITS 2023 We are thrilled to be reviewing features and shorts for the Blood In The Snow film festival again this year, and offer here our…
Tales from the Rez is a captivating look into the ghost stories of the Blackfoot Nation, presented in a format that's instantly familiar to lovers of horror anthologies! Director Trevor…
Finders F*ckin' Keepers! Calling all low-budget sci-fi/horror comedy cinephiles! Do you enjoy scouring Tubi and YouTube for the most bizarre films to binge and brag about watching? Then, oh boy,…
Back in the 1970s, the names of Reiko Ike and Miki Sugimoto were on everyone's lips. Hailed as the "queens of porno", they not only became exploitation cinema royalty but…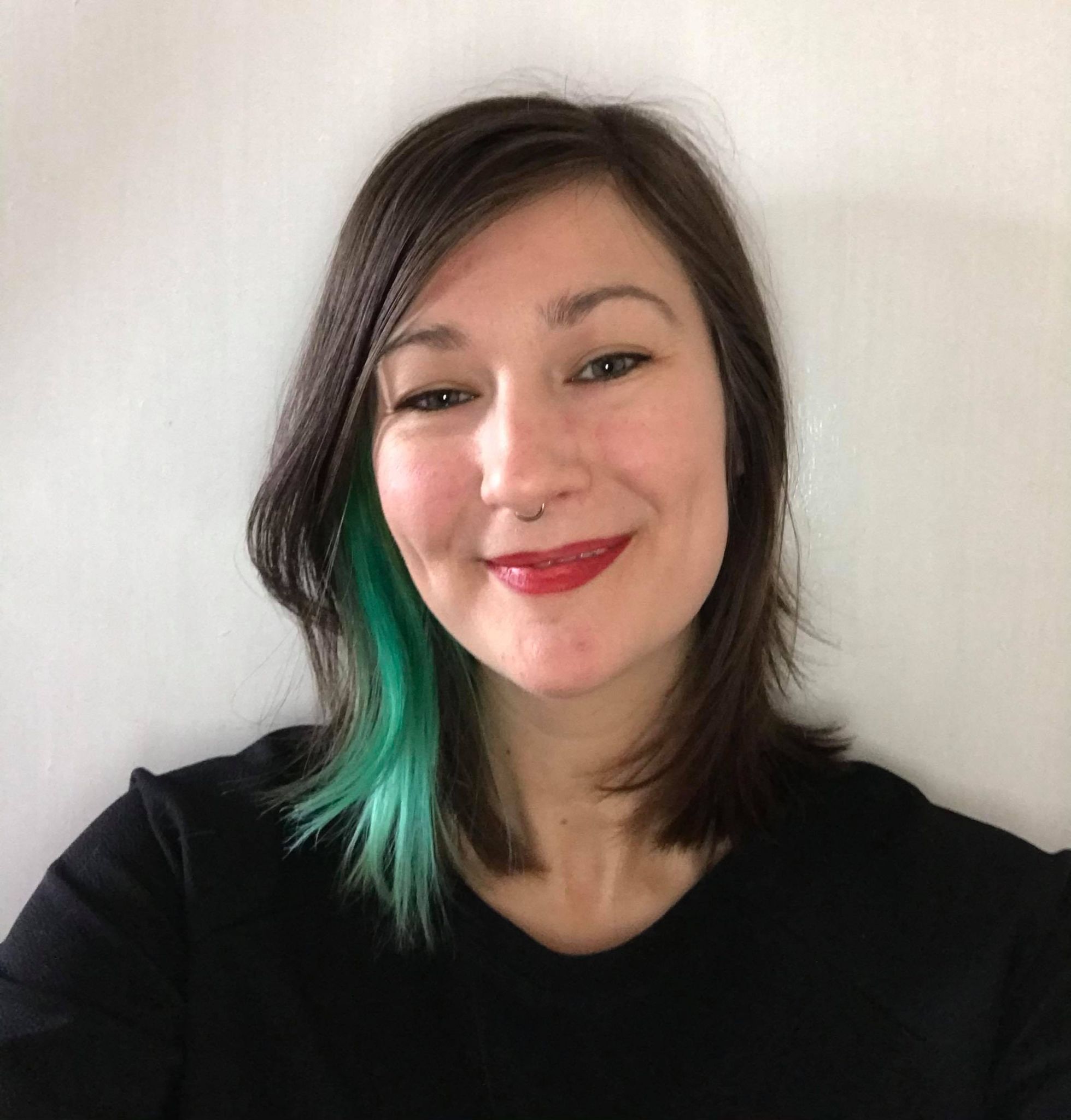 A study in contrasts, Aubry is a lover of knitting and rescuing strays, but also most likely the one cheering loudest during gory horror scenes.
Someday she's going to get too excited and accidentally stab herself with a knitting needle.