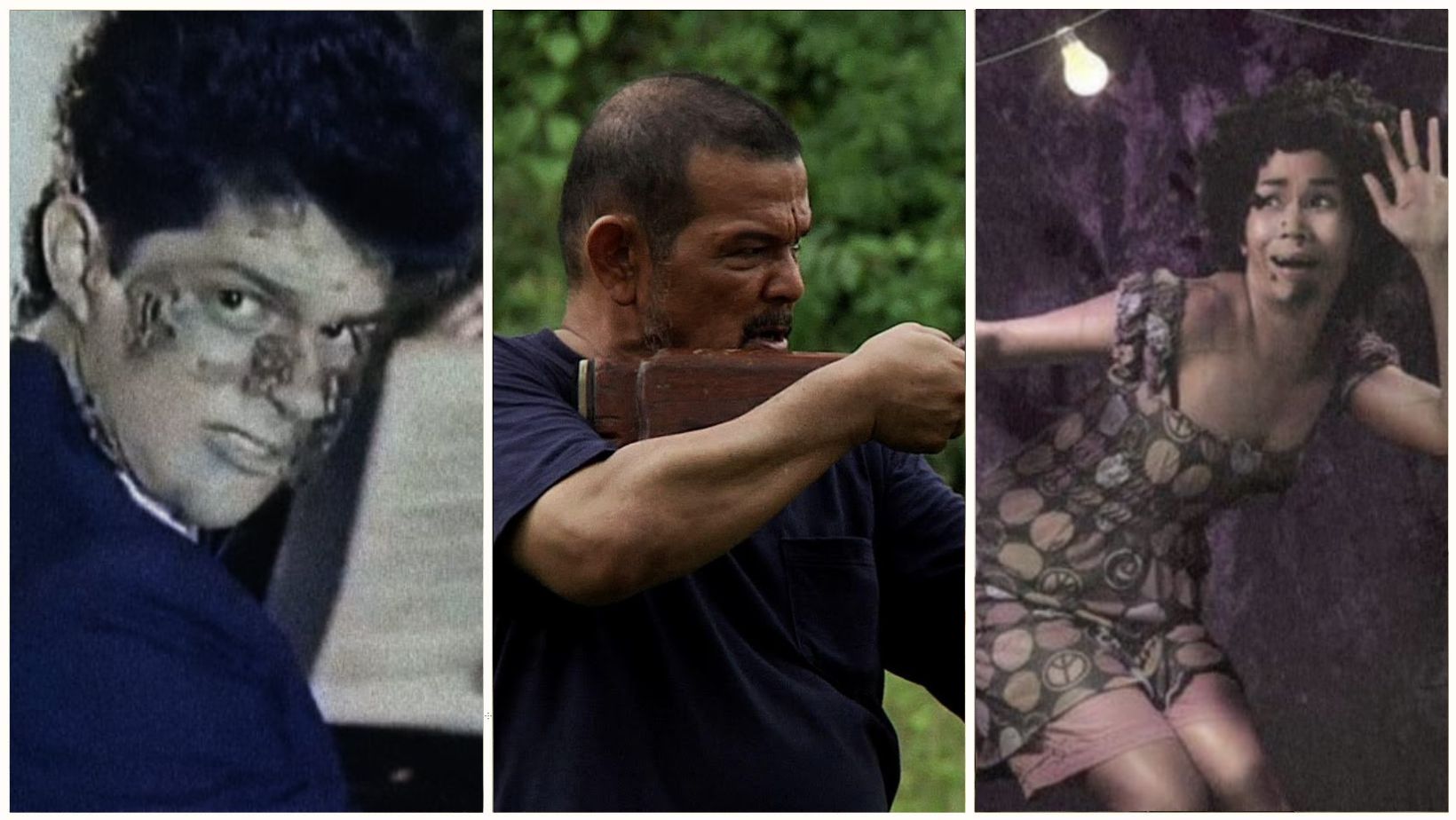 While zombies have traditionally been mostly influenced by Western culture, the zombie sub-genre has been getting a resurgence these past few years thanks to South Korea. Zombies are some of the most beloved monsters of horror cinema, from the early George Romero films that started with Night of the Living Dead in 1968 to the new wave of modern, fast-running zombies featured more recently in such iconic films as 28 Days Later, the Resident Evil films, the Dawn of the Dead remake and even the British zombie comedy Shaun of the Dead. After the Yeon Sang-ho smash hit Train to Busan in 2016, Asia has seen a revived interest in the zombie genre. This success was followed by the critically acclaimed political period horror thriller series from Kim Eun-hee, Kingdom in 2019, the horror film #Alive in 2020, and most recently this year Netflix dropped another zombie-themed series entitled All of Us Are Dead. But aside from South Korea, other Asian countries have their own fair share of zombie flicks, including the Philippines.
In Filipino folklore, there is a mythological creature similar to the West's zombies, known as the "Amalanhig." These are known as "Aswangs," which are a local version of vampires who failed to transfer their monstrosity (they need to pass this to a relative as some form of inheritance) before they died, causing them to rise from their graves and seeking human flesh. It was briefly featured in the sixteenth episode of the local fantasy horror show Da Adventures of Pedro Penduko (2006).
The undead have also been featured in many Filipino films, including the Ate (Sister) episode of the 1991 horror anthology Shake, Rattle & Roll III which tells the story of a woman who found out that her recently deceased sister has been re-animated against her will; the 1999 horror fantasy Pepeng Agimat which features dead corpses being brought back to life by an evil force to wreak havoc among the living; and the Lost Command episode of Shake, Rattle & Roll Fourteen: The Invasion (2012) revolving around zombified soldiers. There are also some zombie comedies like Ang Huling Henya (2013), Trip Ubusan: The Lolas vs. Zombies (2017), Sa Haba ng Gabi and Izla (both in 2021). The Philippines also had its very first zombie apocalypse-themed movie from a major film studio- the highly ambitious and fairly entertaining (but equally frustrating) Block Z, directed by Mikhail Red in 2020.
For this article, we count down the five scariest, most entertaining and most memorable movies featuring zombies or the undead in Pinoy cinema.
5. Huwag Mong Buhayin ang Bangkay (Don't Bring the Dead Back to Life)
This 1987 horror flick from Mauro Gia Samonte features Jestoni Alarcon as a dead pianist brought back to life through a pact with the devil. Aurora (Charito Solis) is a rich widow who has always favored her younger son Robertito (Alarcon) over her eldest, Gabriel (Ricky Davao). Robertito is a gifted pianist, to the delight of his mother. Because of this, Gabriel has grown jealous of the attention that his mother gives to his brother, making him hate Robertito. After an accident kills her favorite son and loses her faith in God, Aurora makes a pact with the Devil, which brings her son back to her, albeit as a living corpse that soon wreaks havoc and kills those who have wronged him.
Although its first half plays mostly like a melodrama, its campy second half is surprisingly fun and thrilling, even when viewed today.
4. Puso episode from Cinco.
A 2012 horror anthology, (oh we love a good one, don't we?) Cinco is a collection of 5 horror stories- one of them involves an animated hand terrorizing three fraternity pledges inside a morgue. But the best one in this pentalogy is the last one entitled Puso (Heart). Directed by Cathy Garcia-Molina who's more known for blockbuster romance flicks, the horror comedy episode follows Emily, a circus woman (Pokwang) with an unflattering appearance who used a love potion on her love interest, Elvis (Zanjoe Marudo). It worked- the problem is she put too much of it (the instruction to her was "one drop for a crush; two for him to fall in love with her") and ends up throwing the entire bottle into his drink. While working at the horror house, a crazed customer stabs Elvis in the heart, killing him. He comes back to life as a zombie, looking for Emily. Hell ensues in the circus, as he kills everyone who tries to obstruct him from being with the love of his life.
Cinco is currently available on Amazon Prime Video.
3. Zombadings 1: Patayin sa Shokot si Remington.
Released internationally as Remington and the Curse of the Zombadings, Jade Castro's 2011 gaysploitation is a colorful rollercoaster ride with the undead.
In the film, Martin Escudero stars as the titular Remington, cursed to become a homosexual as he turns 21 after bullying a local gay guy. As he turns 21, the curse finally takes over him- all of this coinciding with a murder spree by a killer targeting homosexuals in their town. Soon, the dead gays come back to life to take revenge, terrorizing the whole town during their fiesta- becoming the titular "Zombadings" (a portmanteau of zombie and the Tagalog word bading meaning homosexual).
2. The Grave Bandits (released in other countries as Zombie Island).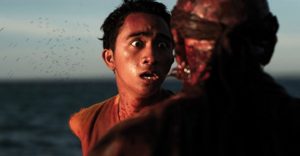 A Pinoy zombie movie that flew under the radar in the Philippines, this little gem from writer-director T.A. Acierto mixes sci-fi, horror, and slapstick humor to delightful results. It opens with a meteorite falling on an island in the Philippines, 1900 AD. The film jumps to the present day as a group of pirates retrieve a treasure chest where they find a piece of the ancient meteorite that is sought by American scientist William Seabrook (Robert Nunes). Little did the pirates know that the meteorite contains a contagious alien virus, infecting all of them and turning them into zombies.
It then shifts the story to Romy (Ronald Pacifico) and Peewee (Marti Sandino San Juan), teenage orphans who loot the cemeteries and steal precious belongings left for the dead. After fleeing a mob of angry townspeople for robbing their cemetery, the two sail to a deserted island only to come face to face with the zombified pirates.
You can rent or buy The Grave Bandits here!
1. Di Ingon 'Nato (Not Like Us).
This 2011 zombie flick directed by Brandon Relucio and Ivan Zaldarriaga blends local superstition with the Western zombie sub-genre, creating a more grounded and effectively chilling experience.
Set in a remote village in the Visayas, a mysterious illness starts to spread among the townspeople. As the village chief and doctor try to control the situation, they discover that the dead are coming back to life, hungry for human flesh. Featuring an impressive cast (Rez Cortez, Mercedes Cabral, Franco Reyes, and Donna Gimeno) and a traumatizing finale (the last images shook me to the core!), this nihilistic, slow-burn zombie flick is truly one underrated gem of Pinoy indie cinema.
It seems like the zombie sub-genre is alive and kicking, not only in the U.S or in South Korea, but in the Philippines as well. Have you watched any of these films or do you know other Pinoy movies featuring the undead that did not make it to our list? Let us know what you think by leaving your comments below!
More Lists
While Project Zero Maiden of Black Water has recently been ported to modern consoles with new content, I'd like to celebrate it by sharing a personal list of the ghosts…