Established in 2009, the American Genre Film Archive is a non-profit which seeks to collect, conserve and distribute genre films in order to preserve their legacy. From shot-on-video slashers and alien invasion flicks to queer oddities, the AGFA's catalogue is fit to burst with an abundance of diverse and fascinating gems. Starting this year, 101 Films has been bringing AGFA to the UK, with films like The Zodiac Killer and The McPherson Tape already available. Coming this month is Thomas Casey's sole directorial effort Sometimes Aunt Martha Does Dreadful Things (1971). Described by AGFA as "somewhere between Pink Flamingos, Blood Feast, and an episode of The Brady Bunch on acid" the film would also make for interesting viewing alongside The Films of the Gay Girls Riding Club, released by AGFA in partnership with Vinegar Syndrome last year.
Sometimes Aunt Martha Does Dreadful Things concerns Paul (Abe Zwick, in his only screen credit) and Stanley (Wayne Crawford, appearing as Scott Lawrence), two fugitives laying low in Miami. After a burglary ended in murder, Paul devised a plan to avoid detection from nosy neighbours and cops who have chased them from Baltimore. While Paul poses as Stanley's aunt Martha, Stanley tries to numb his mounting guilt with drugs and girls. Paul's jealousy, and the sudden arrival of a familiar face from up north, threaten to blow the entire charade.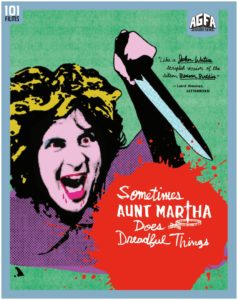 The film plays out like a combination of The Odd Couple, Some Like It Hot and Psycho. This reviewer was also put in mind of 1969's The Gay Deceivers. All this to say, camp and comedy and psychodrama combine to create a wild experience. Despite murders and deceptions, the tone towards the start is remarkably light, with the central actors' chemistry creating genuine warmth and humour. Jokes are well timed and wittily delivered, so at least the first half offers camp, exploitative fun. However, as manipulation and gaslighting are gradually revealed, we are sent hurtling towards an unexpectedly dark and twisted climax. Set in a darkened studio, it is a brilliantly choreographed sequence, pulling Paul's true, unhinged intentions to the fore, and cementing Stanley as a tragic figure.
Stanley is a wildly sympathetic character. Crawford imbues him with the edgy, anxious energy of a young Al Pacino. His youthful exuberance sits at odds with his patent vulnerability, both at the hands of Paul, and his female friends. His trauma surrounding sex is remarkably well-handled. Not only does it make sense that he would cling to an older man for safety, but it also serves as an unexpected commentary on sex and sexual violence. Stanley spends time with three girls: one attempts to rape him; another declares him "uptight" when he recoils from her advances; and a third, thankfully, offers a far more positive, safe relationship. While the reason for his trauma is never explained, it invites discussion surrounding men and their position in sexual relationships, and how women can abuse and exploit masculine stereotypes, just as men abuse and exploit women.
At the film's core is an implied homosexual relationship. It seems, however, to be somewhat one-sided. Paul and Stanley bicker like an old married couple, and at one point share a bed, but the film often emphasises Stanley's naïveté and youth, in counterpoint to Paul's authority. Paul despairs the younger man. In a fit of rage, he knocks a photograph of them together at the beach off the mantlepiece. He manipulates and abuses Stanley, chasing him around the house and deliberately upsetting him, only to offer apologies and reaffirm his love. In the end, audience interpretations may vary, but their interactions seem to imply an older man taking advantage of an 18-year-old boy as he tries to figure out his identity. In that sense, there is real depth to the film.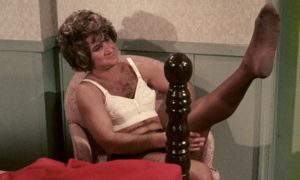 Abe Zwick's performance as Paul is fascinating. At first, recalling Tony Curtis in Some Like It Hot, he balances the fun and camp expected from the role with a genuine sense of danger. There is a complexity to him that invites viewers to consider whether he is only manipulating Stanley for his own ends, or whether he genuinely loves him but cannot handle the feeling in a healthy way. Furthermore, we are encouraged to consider the necessity of the charade. According to Stanley, dressing up as a woman was Paul's idea, but his frustration is palpable. He is constantly yanking off the wig and shoving it back onto its squeaky polystyrene head – and then almost forgetting it when he suddenly needs to go outside. However, in one scene, Paul sits alone nearly naked in the bedroom and quietly admires the way his legs look in a pair of tights. Zwick sells every aspect of the character, from his complicated mental state and murderous intentions to his drunken remorse and protective streak.
Aesthetically, the film screams early '70s. From hippies and bell-bottoms to a jazz soundtrack that might have been lifted from a forgotten noir, there is never a dull image or sound. The composer is not credited, but the main theme offers a cosy crime feel, with strings and delicate bells. When Paul commits murder, colours are inverted and images flash. These psychedelic scenes work to heighten the tone of the first half while making certain that none of the murders is quite as disturbing as the film's climax. The subtitles on the release are often inaccurate and not always correctly timed, which is a shame. There is also a lack of retrospective insight, but this may be because no one seems to know very much about the film's history. In the commentary track, Bret Berg and Elizabeth Purchell seem rather bemused by it, and they note that much of the production is a mystery. (The commentary was produced in 2020, and Purchell is therefore deadnamed in the recording.)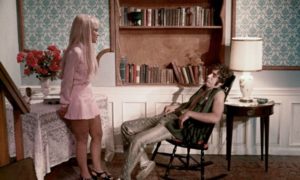 Aside from the commentary track, this release offers some trailers and three extra films. The first, The Drag Queen's Ball, is comprised of footage from a drag ball in Memphis, Tennessee, 1970. The production is somewhat ramshackle but all the more charming for it. After that, we have Gay-In III (1972), a short piece of film made up of candid footage of attendees at the titular event sponsored by the Gay Liberation Front, as well as a few interviews. Finally, and perhaps the strangest of all, we have Caught in the Can (1970). A softcore farce set in a women's prison, included here is only the first section, which ends just as our crossdressing protagonists are arrested for solicitation. These extras are unedited, unrestored, and have no subtitles.
Sometimes Aunt Martha Does Dreadful Things is a fascinating piece of queer history. Playing with camp and psychodrama, and developing into a genuinely dark psychosexual thriller, the film plays as a piece of 1970s queersploitation while inviting discussions of masculinity, sexuality, and rape culture. At its core is Aunt Martha herself, whom Abe Zwick brings to fabulous, frightening life.
Special Features
2k preservation from the only 35mm theatrical print in existence
Commentary with queer film historian Elizabeth Purchell + AGFA's Bret Berg
Bonus Movie: THE DRAG QUEEN'S BALL
Shorts: GAY-IN III, CAUGHT IN THE CAN
Trailers: GAY LIBERATION, LUSTING HOURS, MY THIRD WIFE GEORGE, SINS OF RACHEL
Reversible sleeve
Sometimes Aunt Martha Does Dreadful Things releases on August 15th and is available to pre-order now. Grimoire of Horror thanks 101 Films for providing a copy of the film in exchange for an honest review.
More from 101 Films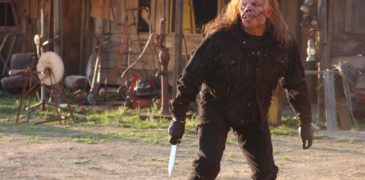 As a young girl who grew up stuffing my barbies into a toy replica of the monster truck Big Foot, Monster Man screamed out to me. What's not to love about a…
Isabelle is a writer from the UK who enjoys alternative manga and horror films. When not writing, you can probably find Isabelle buying books or obsessing over Martin and Lewis.