Dig into this slew of unique, terrifying monsters – each one hand-picked for your deplorably horrific delight. Vampires, genetically engineered animal-people, giant spiders, ghouls – and more than a handful of the absolutely worst monsters of all: the human variety – are brought to you by some of the biggest and best horror names in the indie world today! – from the publisher's website.
cover designed by Kevin Enhart
Choosing an anthology is always a gamble. Every once in a while, they offer stories that are uniformly great: thematically consistent, and powerfully resonant. More often than not, however, only a handful of the stories grab you. It could be argued that, even if you only discover one writer whose work speaks to you, then the anthology is a success. While it is rare to discover a truly consistent anthology, it is always exciting to start a new one. Monsters Monsters Monsters Monsters is one of many anthologies from the prolific publisher HellBound Books. Edited by Xtina Marie, it comprises seventeen short stories, each unleashing a new monster (or twelve). The book's opener – Dump Truck by Jeff Strand – sets the scene beautifully. A tongue-in-cheek tale wherein a woman wishes for money and, due to a clerical error, receives monsters instead, it perfectly establishes the nascent spilling forth of monsters, while also revealing that there will be a vein of humour running through the book.
The closing story is the clear standout. Krissy Eliot's The It Factor is a weird, gross little tale about a parasite infecting a teenager on a subway. Eliot offers astute and bizarre observations of adolescent desires and dissociation from society through the dual lenses of social and supernatural alienation. The narrator's seemingly one-sided romantic feelings for her best friend, Leena, manifest themselves as bitter inner monologues directed towards the older men Leena pursues. A traumatic childhood experience resulted in Leena's obsession with blood – specifically, the narrator's blood, which she laps up with little provocation. Most would be disturbed by such specific desires, but the narrator relishes these encounters with Leena's mouth. Eliot's delicious concoction of dark humour, body horror, and queer desire makes The It Factor an unforgettable experience. This story alone makes the book worth a purchase.
Other strong entries include Cayce Osborne's Indoor People, and Male of the Species by Tom Vandermolen. The former recounts a single mother's desperate attempts to protect her young sons from a monster on Halloween night. The latter concerns the love of a boy for a spider. Alongside its exploration of obsession and jealousy, Vandermolen's strange and darkly comic tale brilliantly evokes life in a small town. Meanwhile, Osborne's offering is no less than a brilliantly plotted, highly convincing horror story, centred around a compelling protagonist. Another highlight is the terror lurking in the depths of the guilty protagonist's heart and the hull of a beached tanker in Scotty Milder's At the Wake of the Medusa.
HellBound Books logo
Sadly, Monsters Monsters Monsters Monsters offered this reviewer little else to recommend. Alexander C. Bailey took the premise of a Buffy the Vampire Slayer episode for his offering (Curse of the Blood Moon: The Hospital), which sees Halloween partygoers transform into their costumes. The story struggles to find its feet, but some of the monsters are fun. Carson Demmans' Brain Rape fails to live up to the provocative promise of its title. Still more stories serve mainly to highlight the brilliance of those few mentioned above. Clunky dialogue and pedestrian prose comprise much of what is offered here (with, again, those few outliers). Also worth noting is the book's inconsistent tone. In setting out to offer something for everyone, Marie selected absurd, bizarre, comedic tales to fit alongside dark, twisted, grim offerings. Some of the stories are downright comedies, with little true horror in sight.
Despite this reviewer's opinion, the stories in Monsters Monsters Monsters Monsters should all find their perfect audiences. A version of The Island of Doctor Moreau set in Vegas during the COVID-19 pandemic; a 1970s creature feature; a tale of marriage and tradition steeped in Jewish folklore: the slew of monsters on offer here is undeniably impressive. Of course, lighthearted fun may appeal more than twisted desires, in which case the book's comedic offerings may tempt uncertain readers. As previously mentioned, the book ends on a triumphant high that, in this reviewer's opinion, makes the whole experience worthwhile.
Monsters Monsters Monsters Monsters is now available to purchase. Grimoire of Horror thanks HellBound Books for providing a copy in exchange for an honest review.
More Book Reviews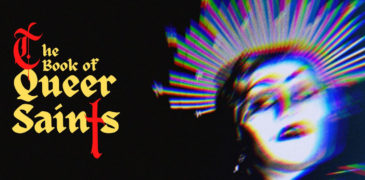 Created as a response to criticism levied at queer writers – often by queer readers – The Book of Queer Saints comprises 13 gorgeous, gruesome tales of queer victims and…
Isabelle is a writer from the UK who enjoys alternative manga and horror films. When not writing, you can probably find Isabelle buying books or obsessing over Martin and Lewis.