I'm sure in one way or another, everyone is at least somewhat familiar with the works of Edgar Allen Poe. From the plethora of film adaptations as well as their reference in popular culture, the author was a powerhouse of American Gothic-horror literature and a monumental influence to many creators that followed in his stead. So much so that to this day, creators are still adapting his works to the big screen. One such example of this is Echoes from the Grave.
Echoes from the Grave is an Italian horror anthology featuring a number of directors such as Domiziano Cristopharo, Donatello Della Pepa, and Lorenzo Dante Zanoni to name but a few. This ambitious undertaking explores some of the most famous literary works of Edgar Allan Poe, including: "The Tell-Tale Heart", "The Pit and The Pendulum", "The Black Cat", "Never Bet The Devil Your Head", "King Pest", and "The Premature Burial" as well as many more.
The Tell-Tale Heart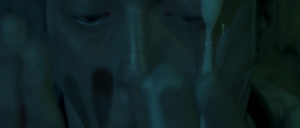 Directed by Lorenzo Dante Zanoni, and starring Tommaso Arnaldi, The Tell-Tale Heart follows an unnamed man who slowly loses his mind to guilt, visualized as a melting mass of flesh.
Featuring some impressively sleek cinematography, this short but sweet segment incorporates some astonishing gooey body horror effects to perceivably represent the all-consuming guilt of a previously committed crime. Delivered to the viewer as an internal monologue, actor Tommaso Arnaldi delivers a skillfully visual representation of this chain of thought as he descends into a cyclical hell of deliquescing. Although the short is less than five minutes in length, this adaptation certainly sets the tone of the anthology overall—the incorporation of styles abstract to Poe's original work.
The Pit and The Pendulum
Directed by Donatello Della Pepa, and Luca Ruocco, and starring Cristiano Morroni, this segment tells the tale of a man trapped in a large room, undergoing experiments being delivered by those hidden behind closed doors.
Polar opposite in representation of the source material, this short combines ingenious use of lighting and imaginative cinematography to create a seemingly endless disorientating environment. Along with a focus on psychological torture over physical, this modern retelling of Poe's classic tale alludes to an ending dissimilar to the original. However, the overall style, along with some competent acting from Cristiano Morroni, produces an incredibly interesting take on one of the more famous of Poe's stories.
The Black Cat
A stop-motion animation directed by Paolo Gaudio. Plagued by visions of his cat who was murdered in a fit of rage, the culprit's guilt soon catches up to him, revealing a more horrid truth.
An outstanding execution of the medium, this short animation features remarkably fluid movement and intuitive body language to visualize its story—once again delivered through internal monologue. The main character (represented by our humble horror author), features an overly caricatured design akin to a Tim Burton production which, if released outside this anthology, would be a fantastic introduction to the works of Poe to a younger audience. As such, the short feels out of place amongst the other entries, which have a much more adult tone to them. However, this exemplary adaptation is, by far, one of the stronger entries to Echoes from the Grave.
Alone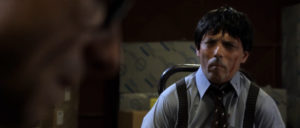 Directed by Angelo and Giuseppe Capasso, starring Dario Biancone, Angelo Campus, and Santa De Santis. A man awakens to find himself tied to a chair in a warehouse as an intrepid tale of revenge unfolds.
Featuring some fantastic camerawork, impressive practical effects, and an incremental building of tension, Alone could have been an incredibly strong entry to the anthology. Building on an imposing foundation of confusion and apprehension, the short delivers a twisted tale of revenge and deception that properates a deceptively unseen twist ending. However, though the two leads deliver a decent performance overall, their line delivery feels a little off—most likely due to English being their second language. In spite of this, the short is a well-rounded tale of revenge in the most unexpected of circumstances and is still one of the better-produced segments.
Never Bet the Devil your Head
Directed by Mirko Virgili, adapted by Filippo Luciano Santaniello, and starring Wayne Abbruscato, Arian Levanael, Rene Salazar Batista, Aurora Kostova, and Frank LaLoggia. After making an arbitrary comment during the making of a YouTube video, a young man soon realises that the devil always collects his dues.
Adorned with vibrant colours and featuring a competent level of cinematography, this strange tale, unfortunately, contains some mixed performances throughout. Despite this, the entire short is held together by an incredible performance from classic horror writer/director Frank LaLoggia, ranging from charmingly charismatic to a fierce force to be reckoned with, drastically elevating the overall quality of the segment.
King Pest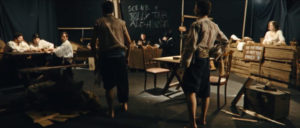 Directed by Alessandro Redaelli and starring Antonio Pauletta, Ettore Nicoletti, Mattia Stasolla, Amelie Perillon, Francesca Germini, Wayne Abbruscato, Toni Pandolfo, and Massimo Onorato. Two inebriated men, seemingly unaware of the danger they're in, stumble into an abandoned, disease-riddled district of the city.
Abandoning any semblance of production values, this segment is portrayed as a production treading the boards upon an empty stage. Although, what the short lacks in set dressing, it more than makes up for with an enthralling performance from the small troupe of actors. Their performance certainly provides captivating energy that persists throughout, elevating what could have been a very basic rendition of the source material into a personal favourite for this reviewer.
Silence
Directed by Angelo and Giuseppe Capasso, starring Dario Biancone and Sara Cennamo. A man struggling to make sense of reality, slowly pieces together the aftermath of the situation he finds himself to be a part of.
Incredibly stylish in design, Silence implements a remarkably intricate sound design, along with some amazingly technical cinematography, to create an uncomfortable feeling of apprehension that persists throughout. The use of irregular, heavy breathing along with a mix of the rising and falling strings of the score increases the created tension of the story tenfold to unease the audience rather expertly.
The Black Cat
Directed by Domiziano Cristopharo, adapted by Andrea Cavaletto, and starring Chiara Pavoni, Giorgio Agri, and Cleverson Rodriguez. A husband grows to suspect his wife of having an affair with another man, setting into motion a tale of revenge and lust.
Although this story has been adapted earlier in the anthology, the segment is certainly divergent from the previous short. Being a looser representation of the original story, director Domiziano Cristopharo took a lot of artistic liberties with his adaptation. Unfortunately, this entry suffers from some poor performances and line delivery from its cast, weakening the tense atmosphere it's intending to create. However, the delivery of the production's twist ending is perfectly executed and will undoubtedly take the audience by surprise.
Murders in the Rue Morgue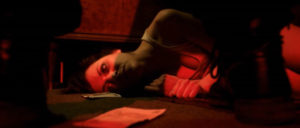 Directed by Alberto Viavattene, adapted by Emiliano Ranzani and Alberto Viavattene, and starring Federica Tommasi, Desirée Giorgetti, Mario Cellini, and Roberto Nali. After a man has finished his business with two prostitutes, an escaped side-show attraction breaks in and brutally assaults the girls.
One of the grittier entries to this anthology, Murders in the Rue Morgue features an incredibly watered-down version of its source material. The short is more intent on recreating the central crime of the story rather than the mystery, depicting the brutal act as an unwavering scene of bloody violence, ne***philia, and sexual assault at the hands of a half-man-half-ape hybrid instead of the orangutan from the original. Although the short features some comprehensive effects, the segment's unflinching sexual nature could be off-putting to some.
The Premature Burial
Directed by Giuliano Giacomelli and starring Lucio Zannella, Marco Saraga, Virginia Bonomo, Cesare Ferri, and Andrea Conticelli. A young man must try to find a means of escape when he finds himself seemingly buried alive in a shallow grave.
Implementing excruciatingly tight cinematography, disorientating sound design, and effective lighting, The Premature Burial effortlessly creates an incredibly claustrophobic environment where our nameless protagonist finds himself trapped. The constant flickering of the only light source along with an atypical score alludes to a restricted, fraught experience overall. Additionally, the application of a varying twist ending to the classic short story certainly adds a new dimension to the original tale. Transforming the narrative away from phobias and into a more modern tale of terror.
Echoes from the Grave is available to order from Tetro Video's website here, in a high-quality media book with a slipcover and a 20-page booklet (limited to 100 pre-orders), including special features such as a mini-doc with Antonio Tentori about the POE series; Shadow (short film) by E. Tagliavini; Sphinx (short film) by A. Giordani.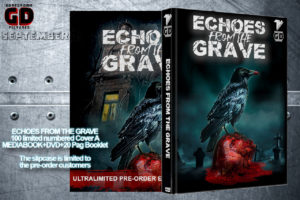 Though missing the quintessential framing device prevalent in almost all anthologies, Echoes from the Grave is a captivating collection featuring some intriguing adaptations of Poe's classic Gothic-horror tales. With each director bringing their own personal style to retell or remake these iconic stories in the modern age, every short has its own distinctive selling points. However, commonplace with anthologies, some segments are undoubtedly stronger than others in terms of acting, pace, and writing. In spite of this, Echoes from the Grave is perfect viewing for any fan of Poe's work, his timeless narratives are still as relevant now as they were when written.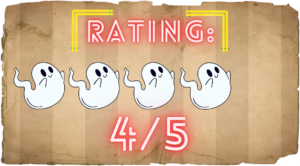 More Film Reviews
Keepsake! is a 2019 American gore horror short, written and directed by Nathan Hine. The short was produced by Hardgore Core Productions, known for their low-budget splatter productions such as…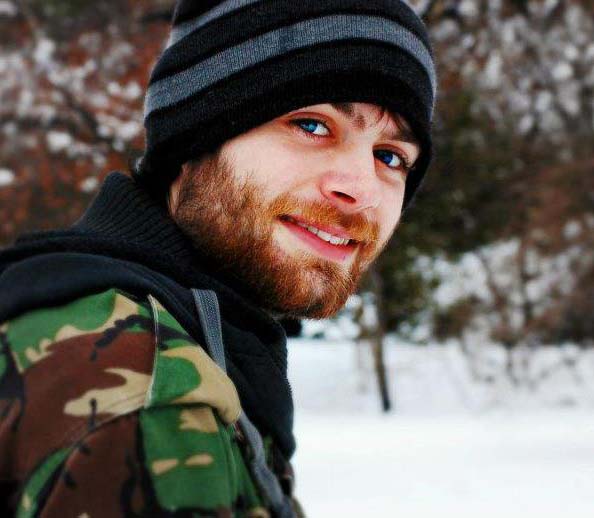 Hey there, I'm Jim and I'm located in London, UK. I am a Writer and Managing Director here at Grimoire of Horror. A lifelong love of horror and writing has led me down this rabbit hole, allowing me to meet many amazing people and experience some truly original artwork. I specialise in world cinema, manga/graphic novels, and video games but will sometime traverse into the unknown in search of adventure.