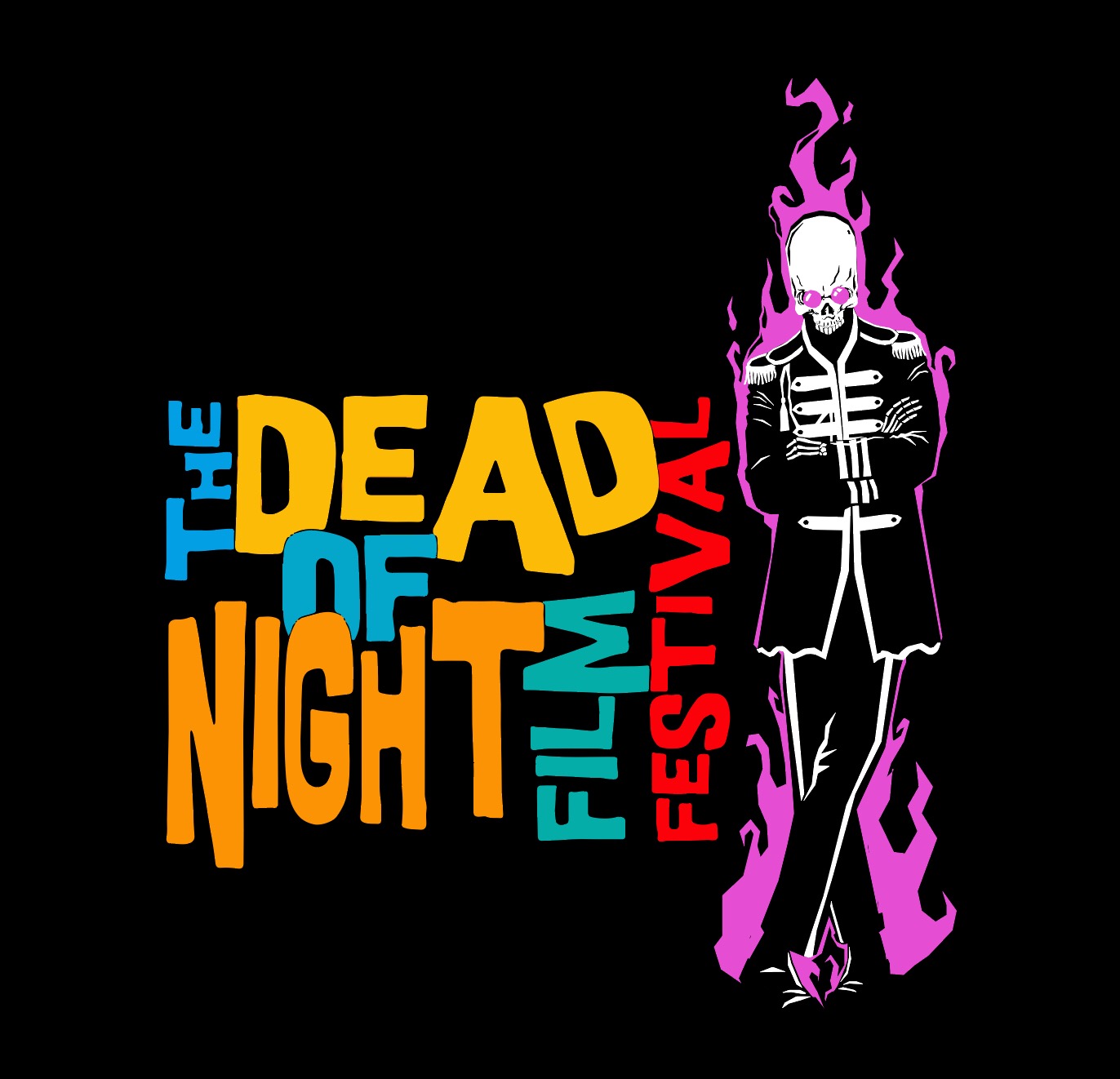 The Dead of Night Film Festival is Merseyside, England's only dedicated horror film festival. It ran across the 1st and 2nd of October for its sixth year at The Bijou Cinema in Southport. Six feature films showed over the weekend, along with an awesome collection of horror shorts that ran before each full length film and started off the festival with a dedicated block. While one of the smaller festivals available, it stands solidly with a friendly, more personable atmosphere. Hosts, guests, and attendees all mingle across The Bijou Cinema's multiple levels as on top of the screen as well as the attendant bar (a chill out area) is decked out for Halloween early—where everyone is encouraged to relax between film blocks.
Here's a quick rundown of this year's feature films, presented in the order they were played:
The Creeping
A woman battles a malevolent presence when she returns home to take care of her ailing grandmother.
This one is a little bit of an odd duck. It doesn't quite fit together right, but all the parts are there for a solid movie about a haunting. Dark family secret, an elderly relative with dementia struggling to be heard, the sins of the past impacting newer generations, and some effective spook-out scenes. It's not bad, and certainly worth a watch if you like a good ghost story, but it feels like it fell short of a modern stand out within its subgenre.
Eating Miss Campbell
A vegan-goth high school student falls in love with her new English teacher and develops a problematic taste for human flesh.
It's a Troma movie.
DON'T watch this if you may have any sensitivity to suicide, sexual assault, paedophilia jokes, cannibalism, and school shootings.
DO watch it if you're ready for full throttle live action South Park style "anything goes" comedy carnage. A lot of sacred cows have satisfying bullseyes painted on them here, and if this level of chaos is your thing, you'll enjoy Eating Miss Campbell a lot. Just take the content warnings seriously, this is extreme comedy horror with no holds barred.
Terrifier 2
After being resurrected by a sinister entity, Art the Clown returns to the timid town of Miles County where he targets a teenage girl and her younger brother on Halloween Night.
As a sequel this sits in a strange spot. While it adds more of the same that made the first movie a cult hit, the sadism is dialed up here to try and top the last movie's carnage. It adds many new aspects to take the feel of the franchise in a different direction; making unusual choices to expand upon the hints of the paranormal that the first film only flirted with in its final moments. It comes with a variety of pleasant references to classic slashers: Art has the ridiculous durability of Jason, a fair turn at Freddy's dream invasions, and a disturbingly playful take on the stalking of The Shape.
Whether you like Terrifier 2 or not will come down to the following questions:
Do you like slasher movies? Do you have a high threshold for cruel violence? Are you up for watching a horror movie that is over 2 hours long? If the answer to all three of these is "yes", there's a lot here for you. If the answer to any one of them is "no", this may not be the right choice for you.
Powertool Cheerleaders VS The Boyband of The Screeching Dead
A fun, feminist horror comedy musical set in the backdrop of a TV talent competition, all about friendship and pursuing your dreams no matter what – even in the eye of a Zombie apocalypse.
Of all the features this weekend, this is the one I will be looking to own as soon as possible. My partner, and no small amount of friends, are going to absolutely love this one! Eminently quotable, packing songs that are both plot relevant and pretty damn funny, some spot-on comedy beats, all on top of a fair helping of absurd violence; this is a comedy horror that's destined to be a spooky season watch party staple going forwards. It's a combination that's a niche of a niche, but this exact combination it brings to the table is underserved with a hungry fanbase. All you need to know is that if the description excites you, or even just the over-the-top title leaps out at you, you won't be disappointed.
Final Summer
In the wake of a tragedy during the summer of 1991, a group of camp counselors find themselves fighting for their lives against a masked killer.
A real blast from the past, as it perfectly captures the feel of a pre-Scream slasher movie. More than just the period setting, it is almost entirely devoid of the ironic deconstruction that the subgenre seems to focus upon in recent decades. Where it really excels, however, is in having a cast of likable characters you want to succeed. In most slasher movies the killer is the star, and the victims are a score card. This much more grounded take feels like it has higher stakes by making that one key choice in where the focus lies.
The Outwaters
Four travelers encounter menacing phenomena while camping in a remote stretch of the Mojave Desert.
This movie does what should have been impossible… In a film lineup including Terrifier 2, it manages to be the most controversial film of the weekend! A found footage entry that feels too long with a lengthy build-up followed by very little payoff, it revels in being confusing and could probably have stood to be a whole half an hour shorter. Even though I did not enjoy watching The Outwaters, it was also the only movie (feature or short) that did not get a round of applause as the credits rolled. And yet, it was the one many viewers stood around discussing in the theatre afterward. A mind-melting ordeal to endure during its runtime, The Outwaters comes to life in its aftermath. The enjoyment only really begins when everyone is discussing what the hell they just watched, and theory crafting what may have happened begins in earnest. A pretty unique experience, but for horror fans one that may be worth putting the work in for.
The Dead of Night Film Festival has, even more, to offer each year than just a solid lineup—it's one of the friendliest festivals in the area—but it also has extra value to offer on top. In addition to the free sweets provided in the chill-out area, there's almost always some sort of goodie bag for entering. 2022's was a Terrifier 2 vomit bag containing a copy of this year's poster, a leaflet with a screener for one of this year's higher-profile shorts, and a random chance of some novelty "vomit" already inside; the bag itself is already a collectible of growing notoriety online. With only one hundred in total being made, the organizers are now left wondering what to do with the remaining few after every attendee has taken one home.

Something even more limited was on offer on the second day of the festival: the director of the upcoming (hopefully next year now that it is fully crowdfunded) How To Kill Monsters held a quiz for limited print pieces of promotional art. Signed and hand-numbered, there will only be five of these. I myself managed to grab one, as two of the five bits of trivia were Tremors-based, not something I was likely to fall short on. Then, as if all this itself is not enough, there's the great community-building tradition of signing the festival poster! A Liverpool Horror Club event tradition, everyone is welcome to join in each event, leaving their mark upon horror festival history.
So, what is the take away from all this? Well, a high-demand vomit bag if you attended this year. But if you have yet to attend The Dead of Night Film Festival and should find yourself set to be in the North-West of England at the beginning of next October? You should absolutely aim to be coming to this friendly, welcoming, and exceptionally fun horror festival. It's a delight every time without fail.
More Film Festival Coverage
We previously had the chance to check out Thomas Burke's short film Camping Fun, a quick dive into a small cult that showed that Burke had the knack to channel…
Luke Greensmith is an Editor at the Grimoire of Horror and an active folklorist as well as working in film across a few roles. While this can cover quite a wide range of things, he's a dedicated horror fan at heart and pretty involved with horror communities both online and local to him. You can find their folklore work on the Ghost Story Guys Podcast, their own LukeLore podcast, and accompanying the artist Wanda Fraser's Dark Arts series as well as on the Grimoire of Horror itself.