The disgust is in the details of Samantha Aldana's atmospheric feature-length debut. Mouths slurp soda and crunch cookies with overwhelming sensory intensity. An esophagus pulses and contracts between mouthfuls of fast food. Bones jut painfully from thin skin as fingers are picked and nails are bitten. There's an inescapable hyper-focus on the body; what it looks like, how it feels to the touch, what it drinks, what it eats – and what it doesn't.
Shapeless follows Ivy (Kelly Murtagh), a quiet and unassuming laundromat worker by day, and a jazz singer by night who lights up bars with her sweet voice and beaming smile. But, there's a darkness inside Ivy, one that longs simultaneously for devotion and destruction – a debilitating eating disorder that manifests in a series of unnatural and unsettling bodily distortions.
Co-written by Murtagh herself and Bryce Parsons-Twesten, Shapeless slots neatly into the recent (and quite divisive) wave of slow-burn, dramatic horrors that examine trauma, anxiety and mental health issues through a series of symbolic apparitions and metaphors. This is evident from the get-go with the title. Shapeless' meaning is twofold; the first and most obviously representing Ivy's desire to shrink down to nothing – to become thinner and thinner until eventually nothing remains. Metaphorically, Ivy lacks an identity, absorbing traits, mannerisms and even the clothes of others around her in an attempt to regain some solid sense of self that her eating disorder has robbed her of. When Ivy's talent as a singer is threatened (due to oesophageal damage, a sombre reminder of the macabre reality of certain eating disorders), she slips into a formless void of binging and purging. The very first shot we see of Ivy is out of focus – her edges blurred, her boundaries poorly defined. As the film progresses, frequent shots of Ivy off-center at the edge of screen represent not only her desire to shrink herself, but also her regression further and further away from a self-contained identity. Even the narrative strays away from conventional plot progression and flows through a more meandering passage with a fluidity that will surely frustrate those who dislike aforementioned 'metaphorrors', but will be welcomed by fans of dreamy, borderless storytelling.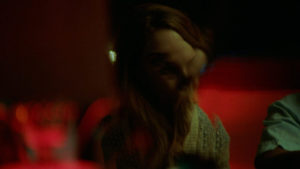 Kelly Murtagh provides the backbone of Shapeless' stark form; as an open bulimia survivor herself, she conveys huge amounts of emotion effortlessly thanks to an understanding sadness in her eyes and body language that conveys the depleted, anxious intensity of a woman on the edge, determined to keep up the façade of normality. Murtagh embodies Ivy's disorder with sensitive believability; whether it be frantically binge-eating, or hypnotically counting her ribs with the same breathy signature in which she counts her beats. Those who have struggled with disordered eating or body image issues (myself included) may find Shapeless hard to watch at times due to its accuracy. This is a film that does not shy away from presenting an unfiltered portrayal of bulimia, and is refreshing in its refusal to glamorise or glorify the self-destructive descent.
Anyone expecting full-tilt Cronenberg body horror should adjust their expectations, as Shapeless' grisly distortions of the human form are subtle and slow (very slow, in fact). The real body horror is, of course, the examination of a more tangible reality: how bulimia can break down a body from the inside, both physically and psychologically. Thanks to Murtagh's captivating performance and Aldana's methodical, deliberate direction, Shapeless is an empathetic and eery character study, one that sinks beneath the skin and deep into the soul.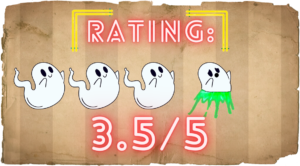 More Film Reviews
Martin doesn't think much of being a vampire. He knows what he gets up to once the sun goes down. The way those women look at him when he suddenly…
Writer, podcaster and reviewer over at HornBloodFire.
Lover of gore, ghosts and girls getting their own back.