As part of this year's FrightFest, we got a chance to speak with director Andy Edwards, who was featured in the segment, "FMK", in the horror anthology Mightnight Peepshow, as well as a writer on The Ghosts of Monday by Francesco Cinquemani. His most recent feature-length, Graphic Desires, is a highly enjoyable erotic thriller. We asked Andy about his time in the film industry, his views on sex in cinema as well as some of his favorite aspects of horror cinema.
Director Bio:
Andy Edwards is an award-winning writer/director, occasional producer, and sometimes editor.
His first full feature as writer/director was the zombie-comedy, Ibiza Undead, which was released theatrically in the US under the title Zombie Spring Breakers. The film premiered at Frightfest in the UK and also played at Sitges in Spain.
His second full feature as writer/director, the thriller Graphic Designs, is due for release in 2022. He has also contributed sections of horror anthologies Midnight Peepshow, Three's A Shroud, Blaze of Gory, and Grindsploitation.
As a producer, he runs his own production company, Paranoid Android Films, which specialises in high-concept, genre-based projects.
Originally from Birmingham, but now living in London, Andy as a degree in Film Studies from Sheffield Hallam University.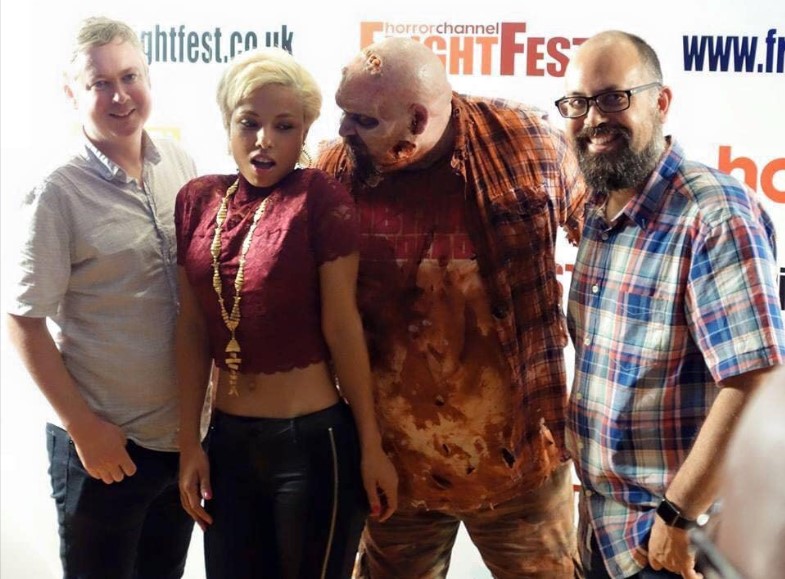 Please tell us a bit about how you first got interested in film, what were some of your earliest influences?
I think like a lot of filmmakers my age, we have George Lucas to thank. Pretty much my earliest memory is seeing a double bill of Star Wars and Empire Strikes Back at the cinema sometime in the early 80s. From that I became interested in the process itself and got books on the making of, and the special effects etc.
Fast forward to my teenage years and the next formative moment was films like Evil Dead and early Peter Jackson movies on VHS. That was the first time I felt that filmmaking was something I could do, due to their DIY aesthetic. You didn't necessarily need to be living in Hollywood and spend millions of dollars. With some friends, hard work and a bit of imagination, you could make some pretty cool shit.
Working as a writer, editor, director and producer, which aspect of the process do you enjoy the most? Which do you find most challenging and why?
They've all got their ups and downs, good points and challenges. I love writing as it's pure creativity – and you can do it in your pants with a glass of wine (as long as you're not one of those people who works on their screenplays on their macbook in an upmarket cinema bar). I love directing as it's about making those words come to life in front of your eyes – and the camaraderie of working with a talented cast and crew on set is a hard buzz to beat. Editing is great too, as you get to piece together that story. As for producing it's, well….nah I got nothing. It's a headache of emails and spreadsheets and bills and problem solving. Very much a necessary evil in order to get things done.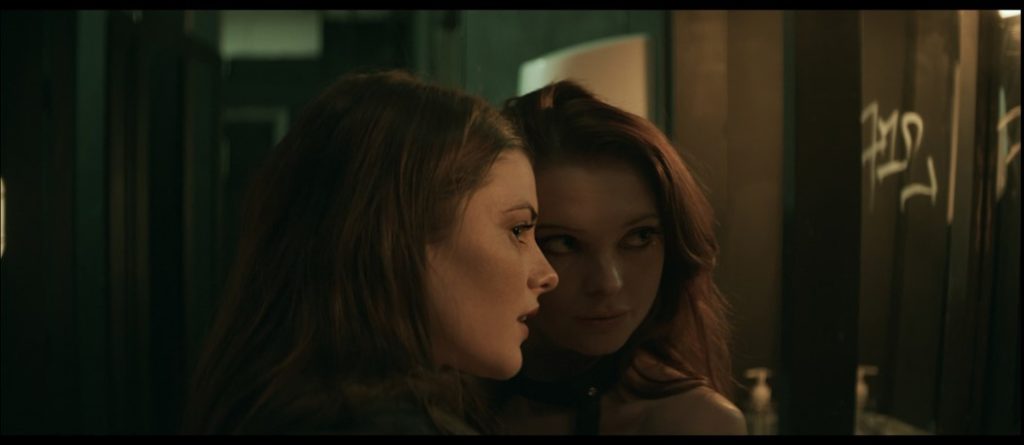 Throughout your filmography, you do include a fair amount of eroticism in your work, (your latest Graphic Desires being an erotic thriller). What role do you feel sex plays in the medium of horror, and do you draw any influence from early exploitation cinema?
I think eroticism and horror will always be bedfellows if sometimes uncomfortable ones. Both are designed to invoke a primal response in the viewer, both trade in the illicit, the transgressive.
Midnight Peepshow was made to be a movie for grown ups, as is Graphic Desires, so we didn't want to shy away from the erotic. Sex is something that has started to disappear from our movie screens (albeit increasing in TV) as Hollywood continues to infantilise its audience. Coupled with #MeToo and censorious streamers/regimes, I think this has definitely led filmmakers to shy away from sexual content in modern times.
Again showing my age, my teenage years were the 90s, so the classic a-list erotic thrillers were a big formative experience. With Graphic Desires I wanted to show that it was possible to make a movie in that genre, but make it for a modern audience, and most importantly make it ethically. You mention "exploitation cinema" but my aim was to take the actual exploitation out of the equation even though it was very much an independent low-budget production.
We used an intimacy co-ordinator for all sexual scenes, ensuring all cast and crew felt safe, and that no boundaries were crossed. As a result I feel we made a film far more erotic than we could have done otherwise – with that safety net comes a freedom for the cast to express themselves. The film also deals with modern day online sex work – such as camming, OnlyFans style sites etc – so many of the supoorting roles were performed by actual online sex workers, to ensure our portrayals felt realistic and weren't just perpetuating stereotypes of sex workers being either only whores or victims.
I then brought the best-practice I'd learnt onto Midnight Peepshow with me, and recommended the use of my intimacy co-ordinator (Jamila Winget) to my fellow directors. This is a film that explicity draws a link between sex and horrror, with the protagoinist peeping through the peepshow slot hoping to see the erotic, and instead viewing three women with horrific tales to tell.
Both Midnight Peepshow and Ghost of Monday are screening as part of this year's FrightFest, having worked on both projects in a different capacity can you give us a background in how you got involved with each? How did you even have the time?
With Midnight Peepshow, Airell Anthony Hayles and Jake West had been working on the concept for a while, had written most of the script, and just needed a middle section to complete the film. They'd both seen an early screening of Graphic Desires, and I'd been working with Airell on another film he was producing (The Unloved Ones, an up-coming home invasion thriller starring Jaime Winston) – so they thought I might be a good fit for the film, and asked me to pitch them some potential ideas.
The rest of the script was fairly dark, so I knew it needed something a bit more blackly-comic in the middle, to serve as a palate cleanser, and the idea they liked best was Fuck, Marry, Kill. Once I wrote the script it was then a case of integrating it into the wider world that Airell & Jake had come up with. A lot of modern anthologies are a collection of shorts made across the world with very little connecting tissue, but all the sections interlink to form a cohesive film. And they were shot consecutively with the same crew, just tag-teaming each director in when it was their turn, again helping with the consistency.
And then once it was done, the original plan was that I would just edit my section, but I ended up also co-editing Ludovica's wraparound and Airell's section too along with Jake. You ask how I have the time – well, I'm not sure either – the build up to Frightfest was a race to get the film finished, so there were a lot of late nights!
As for The Ghosts of Monday, this was via another connection made at Frightfest. I'd met fellow writer Barry Keating at the festival in 2016. During the lockdown of late 2020 he asked if I'd co-write a script with him for the Italian producer Loris Curci – a haunted-hotel ghost story set in Cyprus. My involvement with the film ended up once we'd handed the script in, and since then the director did some significant rewrites – so much so that whilst watching the film I was genuinely surprised by some of the character deaths and final twists!
Which format do you prefer working in more and why, the anthology/short story like Midnight Peepshow or Three's a Shroud, or features like Graphic Desires or Ibiza Undead?
They both have their merits. The advantages of the anthology format are getting to work with other talented directors – collaborating with Jake, Airell and Ludovica was great fun and there's all stuff we learnt from each other. Directing can be a "lonely" job in that there's only one of you on a crew usually, and it's rare you get to work with other directors. Plus there's the fact you "only" have to write and direct a short and you get a feature release at the end of it.
Ultimately though, writing and directing your own feature – whilst pressure filled and stressful – is the ultimate creative outlet, so that has to win.
What are your general thoughts on the British film industry at this time for independent creators, and any general advice you would give to upcoming filmmakers
Oh god how long have you got? I will try to keep this brief so as not to bore you with a rant.
There's a whole bunch of money pouring into the UK at the moment to make film and TV – but it's all from the US streamers and studios, and that's where the profits go back to, so very little, if any, reaches the British independent sector. And the extra money sloshing about actually makes it harder for the British producers to afford cast, crew, locations, kit etc as they are being priced out.
That said, there are people making a success of it, and regularly creating, despite all the forces massed against them. What they need is a whole bunch more support from the government and organisations like the BFI (who need to remove the stick up the arse they have about genre films), and the UK could have a thriving independent sector. The talent is certainly out there, we have the crews and infrastructure to make it happen, we just need an environment from financing to distribution where independent UK films can stand a fighting chance.
As for upcoming filmmakers, it's never been easier in terms of technology to make a great-looking movie, so there's no reason for you not to go and make it. Just don't go expecting fame and fortune straight away – it's a marathon, not a sprint!
What have you been watching as of late? What other filmmakers have you excited right now?
I'm answering these questions the day after Frightfest, so I've basically just been watching movies there for the last 5 days.
This year's festival was great for seeing movies from filmmakers who I know personally – for example the long awaited debut features from Jamie Hooper (The Creeping) and Scott Lyus (Walking Against The Rain) as well as shorts from Alix Austin (Sucker) and Roz Gomersall (Foetal Attraction). It's great to see people I've been drinking with at Frightfest for years absolutely smashing it with films playing there – and to go back to the question about the British film industry – proving that the UK genre scene is bursting with talent.
Out of the films I saw that weren't by friends, I really enjoyed Candy Land, an exploitation style movie about truck-stop sex-workers and religious extremists.
Outside of the festival, and off the top of my head, I'm a big fan of what Julia Ducournau and Brandon Cronenberg are getting up to these days. (As in their filmmaking, I don't have some kind of inside gossip that they're now a couple or anything)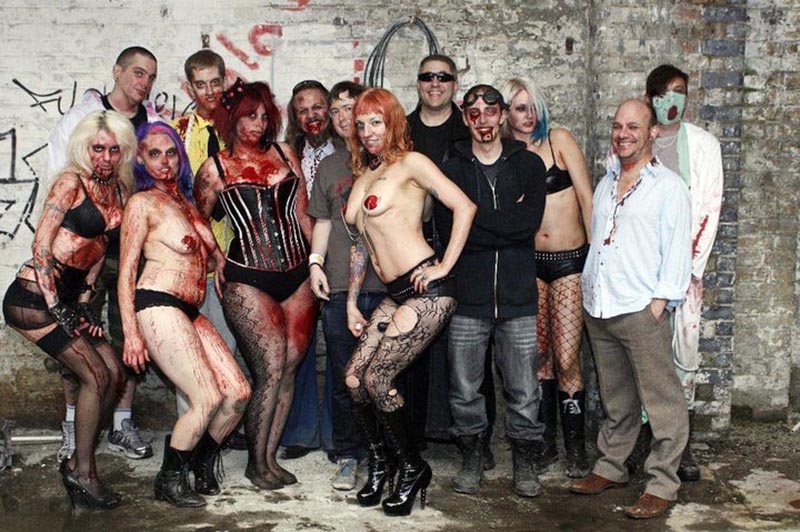 As a fan of horror, what scares you the most?
Whilst I love supernatural stories, as a committed skeptic, it does take a lot to scare me with anything ghostly. I'm much more likely to be scared by more real-life dangers – the simmering violence of Eden Lake, the claustrophobia of The Descent for example. I do have to admit to ducking out of seeing The Fall at Frightfest this year – the thought of watching something so vertigo inducing on the Imax screen was enough to put me off!
What is the best way for people to keep up to date with what you are working on? Are there any upcoming projects you would like to shout out?
I'm currently in post on Punch – a seaside-set slasher movie that we shot on location in Hastings and Clacton-on-Sea. The film stars a bunch of talented newcomers alongside Kierston Wareing (Fishtank), Jamie Lomas (Hollyoaks) and Daniel Fathers (The Void). We're pitching it as Mike Leigh's Halloween – a US style slasher killer, but in iconic British seaside locations – we shot on piers, in amusement arcades, in chip shops etc. The UK doesn't have its own Freddy, Jason or Michael Myers – until now, with Mr Punch.
This is the second film produced by my own production company, Paranoid Android Films, and we're in development on a bunch more. It's early days but the dream is that we can start working with upcoming writers and directors, particularly ones from underrepresented groups, and become a place that champions new talent in genre-filmmaking.
People can find out more at www.paraanoidandroidfilms.com , and the company socials are @paranoid_android_films on instagram and @paranoid_films. My personal accounts are @andyedwardsfilmmaker on instagram and @eds209 on twitter.
More Interviews
No stranger to the horror genre, Chad Ferrin found his footing in the film industry as a production assistant on such films as Halloween: The Curse of Michael Myers and…