M. Night Shyamalan's Latest is Mediocre
Old (2021) is an existential story about a beautifully secluded beach surrounded by rocks that will kill you, eventually. M. Night Shyamalan's newest release features an ensemble cast vacationing at a tropical resort while sorting through personal issues and illnesses. Guy and Prisca Cappa (Gael Garcia Bernal and Vicky Krieps) are on the verge of divorcing, so they've brought their children Trent and Maddox for one last family vacation before telling them that the family is splintering. They are greeted with complimentary drinks (this is important to the story later on), and 6-year-old Trent (Nolan River) befriends the resort manager's nephew Idlib (Kailen Jude). While their parents fight in the next room, Trent and 11-year-old Maddox (Alexa Swinton) decipher coded messages from Idlib while comforting one another. The coding game is a clue that viewers will think back on when it comes up again later in the film.
At breakfast the next morning, the clearly exhausted family is thrilled when their hotel manager (Gustaf Hammerstan) lets them in on a secret beach he knows about where they can play in the surf in private and offers to have the resort shuttle take them there that very day. Shyamalan makes a longer than usual cameo as the shuttle driver drops them at their destination and promises to return before sundown. The family is disappointed to find another family already there after their long hike in from the drop-off location, but the beach is wide enough for everyone to spread out. It takes about twenty minutes to really get into the story, and the twist/big reveal is saved for the last fifteen minutes. In between is a terrifying, allegorical exploration of how humans feel about aging, personal appearance, mental illness, racism, relationships, leadership, and science versus magic.
The film actually opens with a scene at the secret beach, where a young woman strips off her clothes and dives into the water seductively, her boyfriend watching from the shore. As the other people on the beach with the Cappa's get to know one another, Maddox spots the man from the opening scene sitting alone against the cliff wall and recognizes him as rap superstar Mid-Sized Sedan (Aaron Pierre). It's not long before his girlfriend's corpse washes up on the shore, the true start to this horror story.
Old is a mystery that slowly unfolds while the families are distracted by their own issues, realizing what's happening to them a little too late. Something about the rocks surrounding them causes them to age approximately one year every thirty minutes. This is physically more obvious with the children who can't stop eating and quickly outgrow their bathing suits. Within a few hours, Kara (Kylie Begley/Eliza Scanlen) and Trent become hormone-fueled teenagers, aging from 5 to 6 years old into a sexual relationship before their mental ages can catch up. The changes are not as visible in the adults, which is explained in a line that feels like an after-thought suggesting that hair and nails are dead cells so they won't grow or turn grey at the same rate as the children's physical growth. Illnesses in the adults develop or become worse, though, adding another level of desperation to their situation. The aging of the children is very well done. Multiple actors play each character as they age, and the progression is believable. The fact that the girls are not sexualized at all is impressive. These are young girls who do not understand what is happening to them, trapped in shrinking bikinis on a beach with strangers; another director could easily have made this smarmy but Shyamalan was careful to avoid that.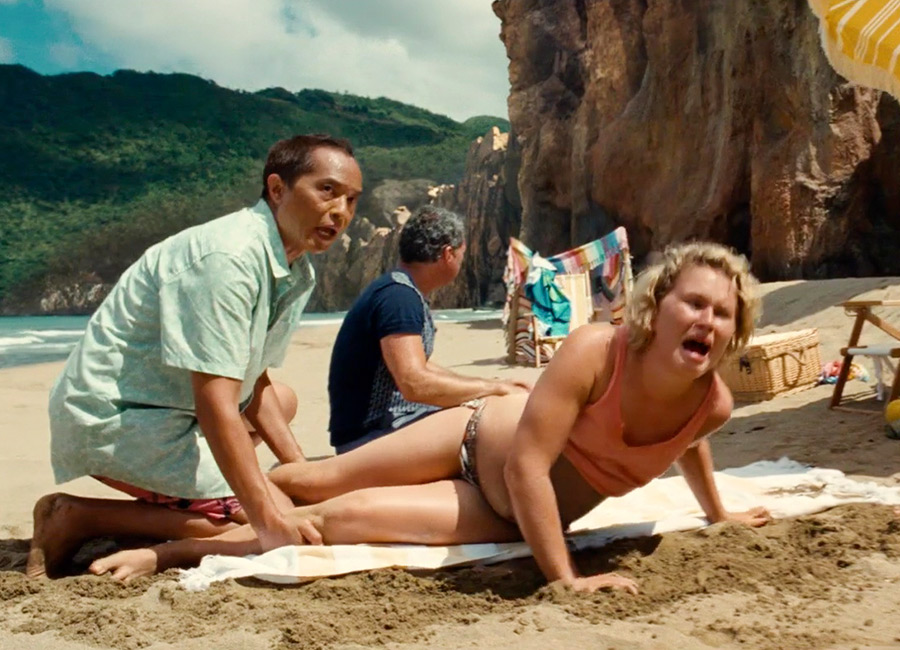 They cannot escape the beach (they try), and to add to the drama they are being watched by an unknown entity high up on the cliffs. The story itself is interesting, based on the French novel Sandcastle by Pierre Oscar Levy and Frederik Peeters. However, as with many adaptations written, directed, and produced by Shyamalan, something got lost in the execution. While Michael Gioulakis' cinematography is brilliant at times, using quick zooms and long pans to increase the viewer's anxiety and make them empathize with the characters, at other times it's just jolty, disconnected. The cast is full of talented actors, but the dialogue is so bad it's grating to watch. Many lines feel contrived or immature and could have been done better if they'd been written with the cast's voices in mind. Shyamalan does not give any of them a chance to show their true talent between shoddy writing and lack of direction.
The horror aspects of Old are interesting, blending fear of the unknown and desperation with gruesome images of body horror. While Charles (Rufus Sewell), a racist doctor battling schizophrenia degenerates into a dangerous lunatic, his wafer-thin self-absorbed younger wife Chrystal (Abbey Lee) disappears into the caves of the cliffs to avoid being seen, her calcium deficiency plus rapid aging causing her body to wildly contort. Shyamalan makes the caves feel haunted as if perhaps this is where the threat is coming from. Prisca's stomach tumour grows out of control, requiring anesthetic-free surgery on the beach. Members of the cast try to escape and die grizzly deaths. There is no doubt that this is a horror film.
The most disappointing aspect of Old is that it really is a great story, but it takes so long to get to the point that viewers may just be too annoyed by the sloppy progress to appreciate it. It's chaotic to watch, and the characters are unrelatable. The idea behind the twist is fantastic, but it feels like it was jammed into the end of the film where it could have been explored more thoroughly to truly impress upon the audience the fact that this could really happen. (No spoilers!)
Despite the widespread criticism, Old was another hit for M. Night Shyamalan, grossing $90.1 million worldwide on a $19 million budget. With the exception of Lady in the Water (2006), every Shyamalan movie has knocked it out of the park at the box office. He seems to be another prolific writer/director who, undaunted by criticism, will continue to create mediocre films that viewers will flock to watch and then grumble about. We all want another Sixth Sense (1999) experience, a movie with a fun twist that we'll remember forever. Perhaps The Vanishings at Caddo Lake (currently in post-production) will scratch that itch.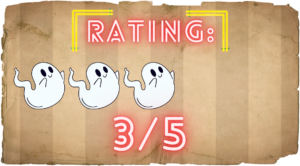 More Film Reviews:
As the temperature of sin and plague begins to rise within the town of Loudun, France, it is hard not to notice the white brick walls that fortify the commune…
Kate's love of all things dark began as a child and deepened when she realized what being an adult meant. She was born with a pencil in her hand and loves nothing more than writing horrific stories to tantalize her inner demons. Kate lives in Hamilton, Ontario Canada with her husband and her boys, stirring up trouble wherever she can.