When Toei's flagship TV series Playgirl hit its 200th episode, a special event was planned to celebrate. Bringing their big screen output into the mix, Toei devised a crossover with one of their hottest film series – the Girl Boss pinky violence films. By 1973 pinky violence had hit its peak and was one of the most popular genres at the time, making it the perfect high-profile way to celebrate this milestone. Playgirl can be seen as the Japanese equivalent to Charlie's Angels, focusing on a small team of female crime fighters; in Playgirl's case, they are a "secret international insurance investigator" agency.
Playgirl and pinky violence are in many ways two sides of the same coin. When Playgirl launched in 1969, no series quite like it had been made before: with its main cast consisting entirely of strong and intelligent women, the series became a pioneer of female action dramas in Japan – all helped along with a healthy amount of cheesecake (also at a level rarely seen before). Similarly with the rise of pinky violence, suddenly badass independent women were filling cinema screens on a near monthly basis. The two entities were linked by more than just their themes with much of the main cast of Playgirl such as Reiko Oshida, Junko Miyazono, and Yumiko Katayama, all having starred in various pinky violence films.
When a young woman tries to escape from yakuza sex traffickers she is soon gunned down as she makes her attempt. Coincidentally, two members of Playgirl, Yumiko (Yumiko Katayama) and Eiko (Eiko Yanami), happen to be driving past. Whilst they are unable to apprehend the fleeing yakuza, they manage to get some important information from the victim who is revealed to be a delinquent. Playgirl takes on the case, determined to bring the attackers to justice, with their search beginning in a club popular with sukebans. Here we are introduced to the queen of the streets Miki "The Red Rose" (Miki Sugimoto) and her small gang of delinquents.
After an information-gathering exercise, the Playgirl team finds out about a rival gang headed by Yukie "The Man Killer" (Yukie Kagawa), and the decision is made to infiltrate both gangs. Four members of the team are sent to pose as fellow delinquents with Yumiko and Eiko joining Miki's gang, and Kaoru (Kaoru Hama) and Yayoi (Yayoi Watanabe) joining Yukie's. The team must use all their wits to track down the yakuza who are taking advantage of this gang conflict to kidnap vulnerable women, all without breaking cover in their respective gangs. It is a perilous mission with not only the wily Miki and hot-headed Yukie to deal with, but also the ever-present threat of the yakuza who want no more than to traffic as many girls as possible to overseas pimps.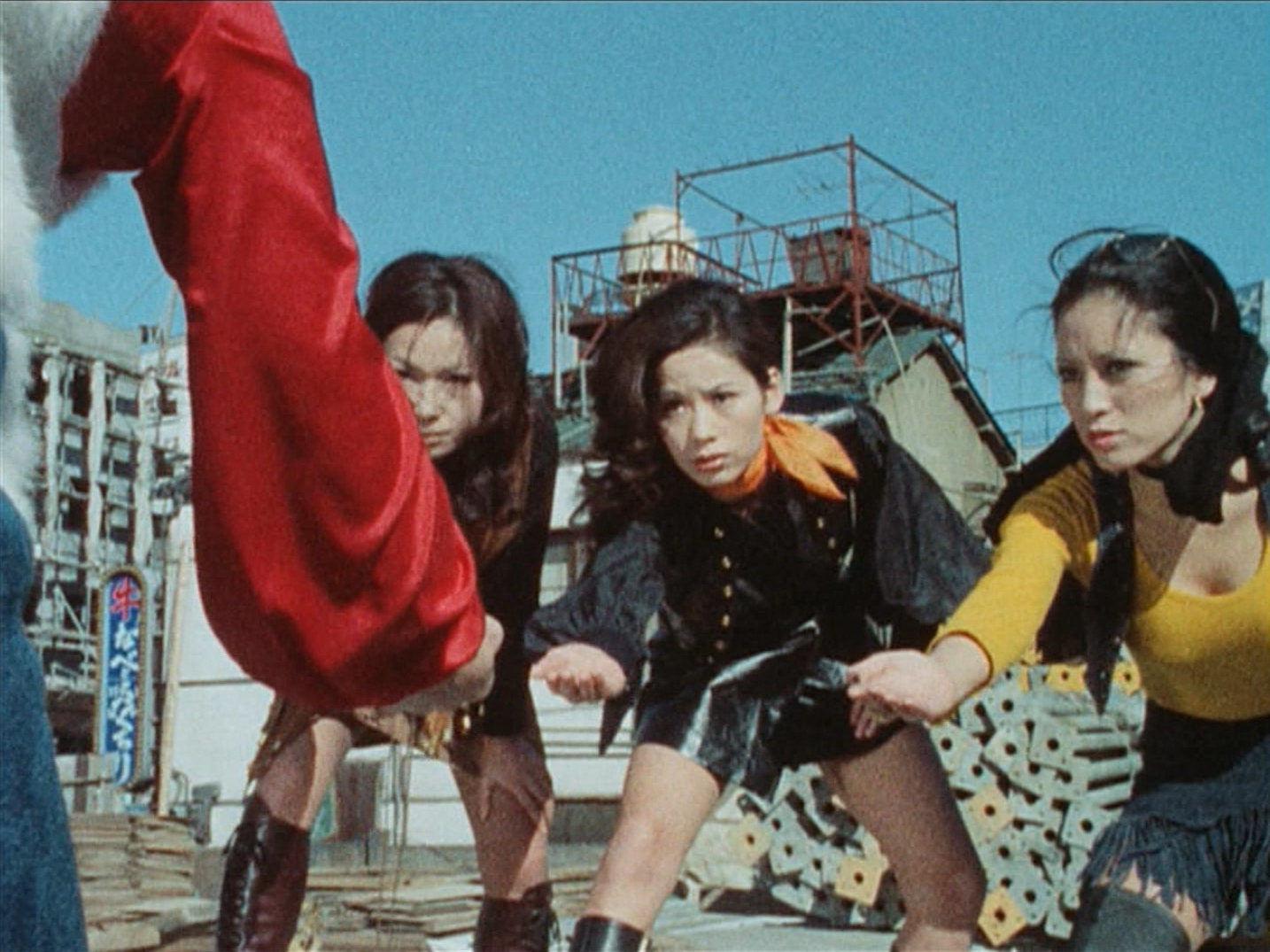 Miki Sugimoto is clearly a high-profile casting for this episode, however, at this point in her career, she hadn't quite reached the superstar status that she would later enjoy. Up until this point she had always had to share the top spot with Reiko Ike; her first proper solo lead role wouldn't come for another three months after the episode with Girl Boss: Escape from Reform School. Despite Miki's excellent prior performances in Girl Boss: Guerilla and Girl Boss: Revenge, here she appears quite wooden and not nearly as threatening as the reputation of her character demands – in all fairness, some blame can be put on the clunky script. The same cannot be said for Yukie Kagawa who is the absolute standout of the episode. Already an experienced pinky violence actress, her entire performance radiates an intoxicating air of supreme bitchiness and ruthlessness; just standing silently she is somehow able to exude an aura of pissed-off aggression. Obviously, the glue that binds everything together are Playgirl themselves, and with Yumiko Katayama, Eiko Yanami, and Yayoi Watanabe's previous pinky violence experience, it is no surprise that they were selected to head up this particular episode.
Despite being a crossover, most of the attention is focused on the Girl Boss side – it is perhaps telling that the title of the episode is "Girl Boss vs Playgirl" and not "Playgirl vs Girl Boss". As such, most of the episode plays out like a typical Girl Boss film with its plot incredibly similar to Girl Boss Blues: Queen Bee's Challenge from 1972. The story hits most of the beats common in the series of films, although when condensed into a 45-minute episode, it loses a lot of the usual momentum and has to spend much of its runtime on expositional dialogue in order to tell the same story. As a result of this, the Playgirl half of the episode is disappointingly lacking. Right from the get-go, Playgirl's involvement is underdeveloped: a typical Playgirl story begins much like Charlie's Angels with the team given a mission to undertake. However, this episode relies purely on the coincidence of Yumiko and Eiko happening to drive past as the yakuza shoots the fleeing girl. The main Playgirl team are largely missing and seem to only exist in order to artificially drive the plot forward and offer a handy deus ex machina to tie up the ending.
Needless to say, with the limitations of a TV production compared to feature films, the episode was never going to fully capture the magic of the real Girl Boss films. Nonetheless, Mio Ezaki, who had already directed six Playgirl episodes, takes the helm and was definitely the best choice in Toei's TV stable. Ezaki was no stranger to sukeban cinema, directing a number of rival studio Nikkatsu's early breakout films in the genre. As such, he uses his full repertoire of experience and makes the episode come to life with the small number of grungy back-alley fight scenes; arguably the most recognisable and celebrated staple of pinky violence. Despite these efforts, the episode is overall far too leaden with exposition and somehow has even less sex and violence than a typical Playgirl episode (and of course nothing compared to pinky violence films).
Overall, it is best not to expect too much of the episode. Like almost all crossovers, it exists first and foremost as a novelty piece to offer a satisfying amount of fan service to Girl Boss and Playgirl fans alike. It was never going to be as good as other Playgirl episodes, nor a typical Girl Boss film. The episode seems very aware of this fact, adopting a tongue-in-cheek attitude throughout – subtly mocking and spoofing the Girl Boss films just as much as it celebrates them. The delinquents here are looked upon by the Playgirl members with a certain degree of amusement, with their over-the-top behaviour seeming quite silly compared to the Playgirl team who are always portrayed as the epitome of cool.
Girl Boss vs Playgirl is by no means a forgotten hidden gem of pinky violence, although there is a certain amount of historical curiosity with it being broadcast in February 1973 just before pinky violence truly hit its peak later that year. It is still a shame that an opportunity that, on paper, seems so promising feels under-delivered. Perhaps with a more ambitious approach, the story could have been given more care, rather than just wrestling the square peg of previous Girl Boss plots into the round hole of a Playgirl episode.
More Extreme Film Reviews
We have here quick review of Norman Chan's nasty little CAT III number, DIARY OF A SERIAL KILLER [1995], starring Power Chan (THE ETERNAL EVIL OF ASIA [1995]) and Strawberry…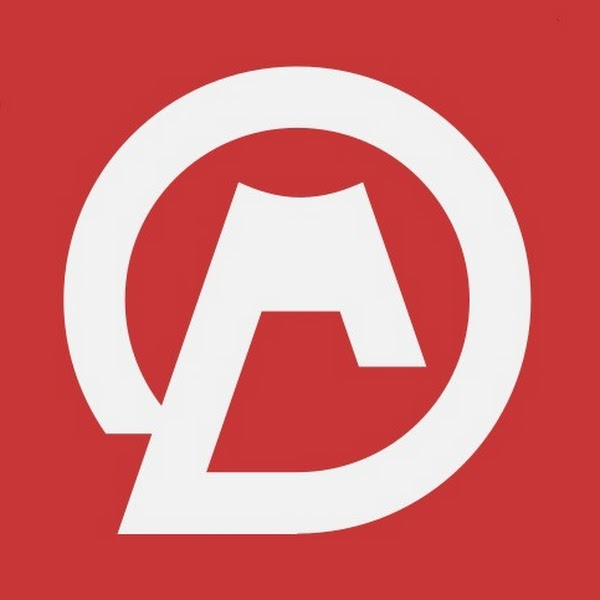 Hi, I have a borderline obsession with Japanese showa-era culture with much of my free time spent either consuming or researching said culture. Apparently I'm now writing about it as well to share all the useless knowledge I have acquired after countless hours surfing the web and peeling through books and magazines.