"The relationship between the Dolans and the Lomacks turns sour when one of them leases their land to a natural gas company. The drilling has disastrous results as it unleashes a hidden force that threatens to consume both families."
Unearth is not your regular, run of the mill horror movie. It falls into the little horror niche that is known as eco-horror. The story follows the deteriorating relationship between two families, the Dolans and the Lomacks. Both struggling financially and faced with a monumental decision imperative to the families' survival. Veteran actress Adrienne Barbeau stars as Kathryn, the head of the Dolan family. Still grieving the loss of her husband, Dolan tries to lease the farmland belonging to the Lomacks. When George Lomack refuses her offer in favor of a natural gas company, it spells the beginning of a rift between them.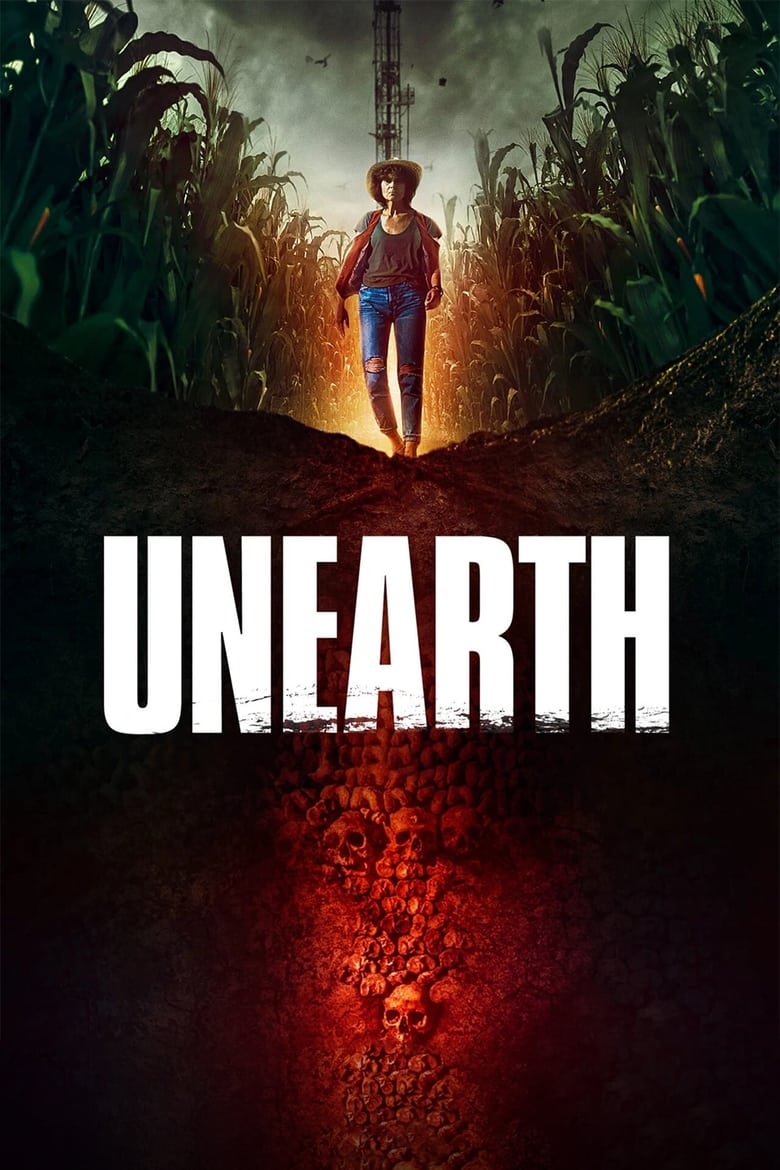 What follows is a horrific display of fracking, the process of injecting liquid at high pressure into subterranean rocks to force open existing fissures and extract oil or gas. The callous execution by the corporation results in negative effects on both the environment and the residents. The earth below the surface begins to break apart and releases something almost like a vicious mold, or parasite, upon the unsuspecting Dolans and Lomacks.
In this story, the land represents a supernatural force that proceeds to punish both families for their acts of betrayal. Metaphorically speaking, the land did not belong to the Dolans or the Lomacks. The land allowed them to reap the benefits of what was sown once they were willing to keep passing down the responsibility to their heirs. Whether it was Mother Nature or some other entity, it took its revenge for the slight in a visceral manner.
The film has a 70s aesthetic to it and a bit of a slow burn, as it takes its time on character development before the storyline develops. Kathryn Dolan signals a turning point when she belts out the following biblical quote, "If you make a tree good, its fruit will be good. You make a tree bad, its fruit's gonna be bad." Then, the situation goes from considerably bad to worse. The last twenty minutes of the film explode in some of the most jarring, mentally disturbing scenes of the entire movie.
While the environmental message is strong with this one, the pacing and tone are messy. There is a consistent feeling of despair and hopelessness that follows the characters' development during the first part of the film. This sets the tone for the shocking nature of the Cronenberg type of body horror that the audience witnesses. Afterward, the physical and mental deterioration of these characters sets in.
Unearth starts a bit like a classic dark drama, before heading into horror territory. While it is not the type of horror for all fans, it sends the message of the alarming repercussions brought about by short-sighted decisions. In other words, you reap what you sow.