An experimental narrative on loss and ghastly visions that hint at sinister forces, The Barn is a dialogue-free short film with a heavy focus on music. Dense on atmosphere, The Barn has a beautifully realized aesthetic of haunting that crawls under the skin – a complimentary balance of experimental storytelling and ethereal scares. Undeniably, any production that chooses dialogue-free narrative is bound to come across some hurdles and while The Barn impresses as a whole, it does trip over itself in a few places.
As an experimental narrative, the story is easy for the more intuitive viewer to follow while being abstract enough to appease those that like a challenge. Notably, the emphasis on visuals to tell the story imbues The Barn with some familiar imagery of cryptic VHS tapes, deformed monsters and rooms filled with meat. In particular, the rooms decorated with raw chicken guts provide the film a nauseating quality that will please horror fans. Conversely, the flow of the short passes by like a stylized fever dream awash in a pallet of lush colours. Overall, as a visual experience, the production excels in capturing both unease and artistry of the beloved 'elevated horror' style.
However, the productions most defining feature comes from its significant focus on score as a means to convey both narrative and atmosphere. The soundtrack is f***ing stunning mix of electronic noise, ambiance, atmospheric noise and genre film inspired tunes (you can give it a listen yourself here, though it is better experienced with the film). Specifically, the closing theme is a wonderful homage to a familiar tune that will tickle audience nostalgia (see if you can guess it, it drove me nuts for a few days). Certainly, if you get a chance for home viewing on this one, make sure you give it a watch on headphones on a quality screen; as a visual-audio experience, The Barn is beautifully formed.
Nevertheless, the focus on the soundtrack does point to a bit of awkward mixing in the end product. The score is so serene that the noises of everyday life could have been drowned out entirely – the sound of breath, or a door opening, seem unnecessarily tolerated inclusions. Not a major deterrent, but it removes the audience from the dreamlike flow slightly when these mundane sounds bubble to the surface. A few tweaks to the final mix would have made for a more immersive experience.
The second shortfall of the production comes from actor Justice Tirapelli-Jamail who feels awkward, an unnatural in a silent role. His candid reactions betray the seriousness and experimental tone of the production. Regardless, this is not to say that Justice is an incapable actor, rather he seems ill suited for a role of this ilk. Arguably, his talent as a writer and producer to help bring such a unique vision to life should trump the stunted performance (perhaps it was a case of playing too many roles). As a contrast, Rocío de la Grana projects a still, angelic beauty that feeds into the obsessions Justice's character has regarding her disappearance. Sadly, the performances and slight issues with sound mixing makes the short just come up short of an obviously powerful potential.
Ultimately, The Barn offers up a unique, stunning display of low-budget ingenuity and abstract storytelling that will appease horror fans looking for films that push boundaries – not afraid to experiment as unorthodox productions. It may not be perfect, but The Barn acts as an impressive starting point into something greater – horror fans should be ecstatic to see what the team comes up with next.
The Barn | Teaser Trailer from Pomme Productions on Vimeo.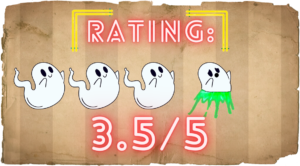 More Film Reviews
A mockumentary framing offers a nice spin to the found footage genre. While most found footage films are shot and arranged in an amateur fashion to preserve their realism and…