Leo Falcão's feature film debut Subject (Sujeito Oculto) is a rare genre offering that transcends its format and offers a meditative study of the power of storytelling and life among mythical beings. Best described as a meta-existentialist, bizarrely-funny yet realist multiple-character study, benefiting from tons of writerly insight and details to please book-lovers and fans of world cinema alike. Subject (2022) is simply Brazilian filmmaking at its finest and should not be missed at this year's edition of the Fantaspoa Film Festival.
The movie's protagonist Max is a novelist who buys a house in the countryside, seeking to find his inspiration in total isolation. He gets more than he bargained for, however, and goes on to investigate the fate of the house's previous owner, a mysterious biographer who called himself The Professor. The rural setting is ripe for a variety of potential avenues for a new novel: there is a bunch of women who call themselves witches, a tavern owner who lived the life of a sailor, a fellow writer with a fondness for great endings, and a young girl with Synesthesia, who works at the post-office.
At this point, one will be forgiven if they think "the writer soon discovers that he's a fictional character, right?" The "storyteller as a fictional character" reveal is such an overused trope by now that it's simply thrilling to see how far a film like Subject goes in subverting it. The movie's title roughly translates to "hidden subject", which in Portuguese grammar is a type of subject in a sentence, implied in either the verb ending or the context and is different from the indeterminate subject (which cannot be identified). The movie's title seems to hint at a potential root cause for the weirdness which surrounds Max, and the fact that he starts his novel with the phrase "To exist is a personal verb" indicates that he is both going through an existential crisis and seeking to discover the deeper meaning of his own existence.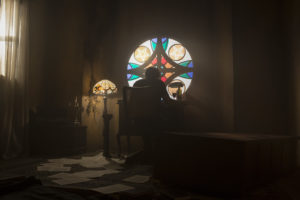 Subject juxtaposes new with old and has a dastardly funny mindset right from the start: the church-like painted window of the house catches the viewer's (and Max's) eye, with its patterned arrowheads and suns (and later, pentagrams) creating an atmosphere suggesting a perennial twilight. There are street fights in which brawlers behave as if in a kung-fu movie along with a man selling ideas. When Max (and the viewer) thinks that this will be a horror movie, he immediately hijacks the course of the story and files a complaint to the post office, which he is told will take five weeks to be resolved. The girl working there (who blurts out phrases like "your voice is a little beige") ages in a subsequent scene and the film even makes her a love interest of sorts. This is perhaps a sign that whoever is writing THIS story truly wants to get weird, but not Nabokov-weird. The major works of the past are better left alone, and that there is a method to the madness will make a lot of perceptive viewers chuckle, as they discover the writer's voice behind Subject and start to take guesses at the film's – and Max's – true purpose.
The movie's main weapons are its power of suggestion, coupled with that of misdirection. It simultaneously feels like a conspiracy thriller, folk-horror, meta-horror, mystery movie, and an unpredictable riff on the 1998 movie "Truman Show". Filled with red herrings and seemingly aborted story arcs, Subject is a breath of fresh air in the ocean of works about writers struggling with a god complex, and Max's own philosophy is not at all easy to pin down. In a world populated with larger-than-life characters, he is the biggest mystery of all, and the movie echoes the eerie, somnambulist tone of HBO Latin America Group's singular O Hipnotizador ("The Hypnotist"), the style of Agatha Christie's The Pale Horse, the deeper themes of Neil Gaiman's The Sandman and the existential limbo of Black Isle's masterpiece PC videogame Planescape Torment.
To even mention Planescape Torment when talking about a magical realist film feels like a huge risk, especially when the better-known Sandman is available as a source of discussion. However, the setting and philosophy of Subject feel downright identical to Sigil, the so-called crossroads of the multiverse in the Forgotten Realms (a fictional setting in the larger Dungeons and Dragons universe). The movie's script draws upon far more than a couple of themes from Chris Avellone's Torment, the late '90s videogame with a script of its own that contained more than 800,000 words, making the game more akin to a visual novel. The protagonist of Torment was an amnesiac immortal who struggled to find meaning behind his existence, and the game subverted the high-fantasy tropes (namely, elves, dwarves, the hero's journey, and the joyful cadre of companions), offering a delightful "choose your own philosophy" alternative to the more straightforward, overabundant sword-and-sandal fantasy tales.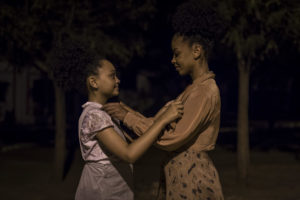 Torment was an existentialist essay disguised as a fantasy game, and Subject's magical realism often errs on the side of actual fantasy, by suggesting the existence of mermaids, aliens, vampires, timeless beings and different village factions. At one point, a "war between saints" is mentioned, which echoes the endless Blood War which served as Torment's background. Ana is a compellingly strange character, just like The Nameless One's companions Annah and Fall-From-Grace. Max becomes more interested in the life of those around him and seemingly burdened, both by his insignificance and by having the "author's choice" forced upon him. Language itself becomes a burden, as Max is eerily able to grasp the nature of the overarching story and that of most of its characters, but feels undecided about what to do with this knowledge and whether he truly believes in it. The movie's final twenty minutes are a major puzzle for the viewers, who have to answer the question of what exactly they want the film to be and fill in some storytelling gaps.
Is Subject ultimately a commentary on Brazil's colonial past, or an eye-opener to the oppressive micro-structures hidden within language (just like John Berger's Ways of Seeing educated readers on the coded messages hidden in major works of classical art)? Is it a self-reflexive, structuralist look at the concept of "the Other", and the roots of power? (post-structuralists believed that words and sentences do not reflect any external reality, and that power is a phenomenon rather than an entity; however, the true power behind Subject is hidden, but not undetermined). Is it a look at our "post-truth" era which often rewrites history and relies on spin and reality-altering "plot-twists"? A questioning of what exactly makes a story a timeless one in the mind of the reader? A duel of egos between Max and the shadowy Professor on who gets to write a better ending? A story about saving the world?
Subject is all of this, and possibly more, in the eyes of a mystery-loving viewer. If its first half treads standard genre territory, the later half edges closer to arthouse, and the movie is certainly destined for cult status, just like Neurotic Quest For Serenity or The Famous And The Dead, two other Brazilian titles which relied on magical realism to tell boundary-breaking stories. With its mind-blowing, unpredictable ending which seems to hint at deeper themes like imprisonment, existential angst, the fallibility of stories, and mercy-killing, Subject will make viewers question the power of stories, their own encounters with greatness and their life philosophy and beliefs, and there is no better outlet for movies like this one than the crossroads of ideas and philosophies that is the Fantaspoa Film Festival.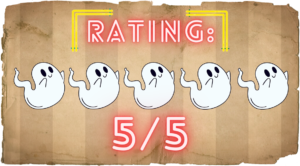 More Film Reviews
*This is a guest article from Weirdling Wolf for the Grimoire of Horror! X-Ray has proven to be another welcome resurrection of a long-neglected slasher, helmed by genre polymath Boaz Davison;…