Jean Rollin was a French director of fantastique films whose films remained obscure throughout most of his career. Thanks to longtime admirers, his haunting and poetic visions are seducing a new generation of fans with their somnolent worlds of spectacle and melancholy. The documentary Orchestrator of Storms: The Fantastique World of Jean Rollin (2022) explores his influences, his trials as a filmmaker, and how they are still relevant in the 21 century.
The documentary shows that, like myself, many people first heard of Rollin's films in books about horror movies. I first learned of them when I was 13 years old in David Pirie's 1977 book, The Vampire Cinema. As a horror movie-obsessed teenager in the days before home video and long before internet streaming, I haunted mall bookstores looking for the newest literature about the genre. The Vampire Cinema was one of my favorite books. It boasted a blood-red jacket and was full of glorious, full-page, full-color stills. Seeing those bizarre and erotic stills from The Shiver of Vampires, The Nude Vampire, and Rape of the Vampire birthed an obsession that lasted a quarter of a century.
Directing and writing duo Dima Ballin and Kat Ellinger's 2022 documentary Orchestrator of Storms: The Fantastique World of Jean Rollin is an intriguing and entertaining introduction that celebrates the artist and his work. It meticulously explains how Rollin came to be influenced by the cutting edge of France's artistic community, the difficulties he faced as a filmmaker, and how longtime fans helped bring his movies to 21st-century audiences.
According to the interviewees, critics, and audiences' reactions to Rollin's films, they were outraged at his experimental style or dismissal because the movies didn't resemble other erotic horror or lesbian vampire subgenres. Lesbian vampire movies were voyeuristic exhibitions of monstrous female-to-female sexuality. The beautiful vampires of Hammer's Karnstein Trilogy, and Nadine from Jesús Franco's Vampyros Lesbos (and a score of others), were predatory creatures that sought to disrupt and destroy traditional family norms. Rollin's fantastic creatures were sympathetic beings, often exploited by humanity. They bore a closer resemblance to tragic lovers like Romeo and Juliet, more than they did Carmilla Karnstein.
One area of Rollin's films that many people struggled with was his unconventional narrative style. To him, creating visually stunning tableaus was more important than explaining why they were there. In Orchestrator, he is quoted as saying, "The imagery in my films is certainly more important than the story itself." He grew up in a house where notable figures from France's Avant-Garde theater and surrealist movements were regular visitors. Their influence on his filmmaking is considerable. Surrealism confronted audiences with unexplained and bizarre juxtapositions, forcing them to make their own sense of them. Many of Rollin's best works featured absurd imagery, tinged with psychedelia, but with little context. Rollin was happy to let viewers connect the dots however they pleased.
Documentary co-director Dima Ballin explains that Rollin was driven to make movies, "… (Rollin) was a real artist. He was childlike. He lived for and through his films and his obsessions." (Source). Finding the money to pay for his visions was always difficult. In the mid-70s, explicit pornography became legal in France and Rollin, much like Spanish director Jesús Franco, made what was derisively called "sex films" to raise funds.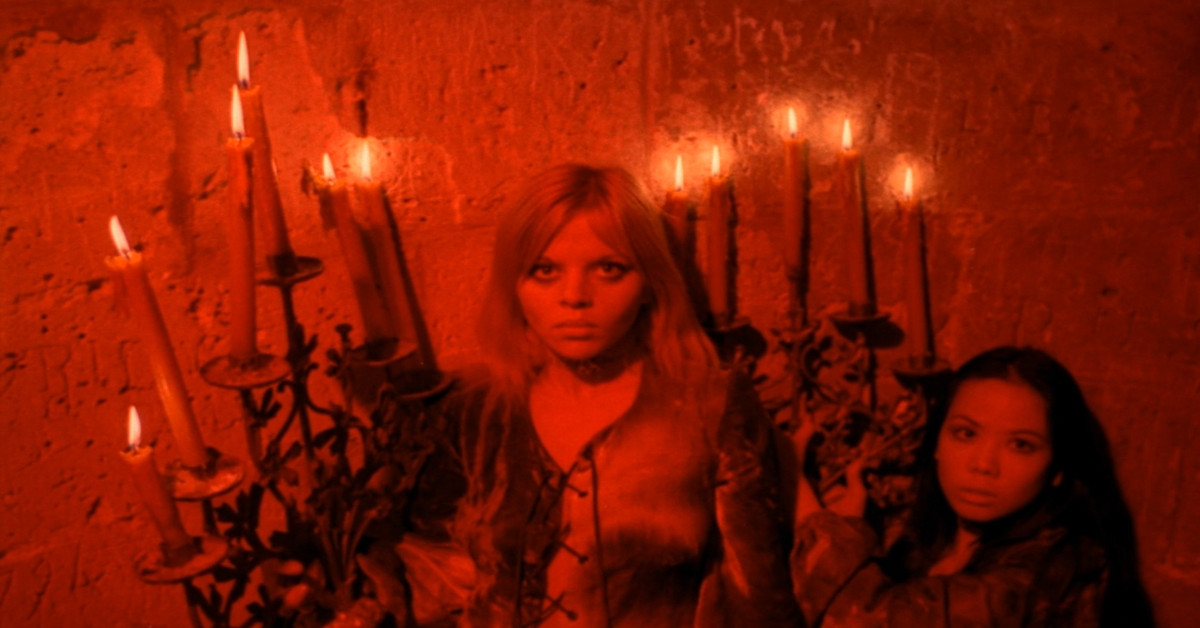 Orchestrator paints a picture of how the love of fans, film scholars, and critics is lifting Rollin's work out of obscurity. Some of the most heartwarming parts of the documentary are how Nigel Wingrove and Kier-La Janisse worked to revive Rollin's films and share them with new audiences. In the 1990s, Wingrove, founder of Redemption Films, released several of Rollin's beautifully delirious films on DVD (I own several!), for the first time making them available for the home video market. Author and festival programmer Kier-La Janisse (Woodlands Dark and Days Bewitched: A History of Folk Horror, House of Psychotic Women, etc) invited Rollin to the CineMuerte Film Festival in 2000, held in Vancouver. This was probably the first time Rollin could meet face-to-face with his North American fans.
Watching Orchestrator of Storms: The Fantastique World Of Jean Rollin filled in many gaps about the man and his movies. Using film clips, still photographs, interviews, and Rollin's own writings accompanied by Ayvianna Snow's beautiful narration. Orchestrator left me wanting to spend more time in the dreamlike world of Jean Rollin.
Orchestrator of Storms: The Fantastique World Of Jean Rollin will be available for streaming exclusively on ARROW from February 14th.
More Film Reviews
Warning: The soundtrack for this film is very likely to trigger migraines. The first scene immediately sets the tone by framing a death scene with discordant, high pitched metallic sounds…
I am a lifelong lover of horror who delights in the uncanny and occasionally writes about it. My writing has appeared at DIS/MEMBER and in Grim magazine. I am also in charge of programming at WIWLN's Insomniac Theater, the Internet's oldest horror movie blog written by me. The best time to reach me is before dawn.