With Last Night in Soho, Edgar Wright's latest film, the British filmmaker continues down the path he's carved with his 2017 'Baby Driver' – mixing different genres into an extremely stylish, dazzling, fast-paced musical journey about introverted, but highly creative and talented characters, who discover themselves along the way, and maybe even find true love in the process. Here, Wright collaborates with writer Krysty Wilson-Cairns, who brings her own experience as a former Soho bartender to the mix, and the result is a must-see 2021 horror/almost-musical. Opening with a great first hour, although faltering in its last act, it endeavours for a commendable setup.
Thomasin McKenzie – who dazzled in Debra Granik's 'Leave No Trace' and probably captured the hearts of many with her stunning performance in 'Jojo Rabbit' – plays Eloise, a young woman about to leave her Cornwall home to study fashion in London. Eloise can see ghosts, particularly the ghost of her mother (who committed suicide when she was just a little girl) in mirrors, and McKenzie leans into her tortured edge impressively, while also infusing her character with enough wide-eyed wonder to make the musical aspects of the film play well with the intense psychological horror that will follow. Eloise is a bit like Jennifer Corvino from Dario Argento's 'Phenomena': she is immediately bullied when she arrives in her dorm room in London by her roommate Jocasta (Synnøve Karlsen, the lead from the often-excellent youth drama 'Clique') and has to move out, but she has enough faith in her talent that she's not thrown off-balance by the casual cruelty which seems to define her peers.
It is at this point, when Eloise moves into an apartment owned by the elderly Ms. Collins, that she begins to have intense visions of the life of a young woman with a lot more self-confidence, charisma, and personal style, Sandie (Anya Taylor-Joy, managing to rise above the material she has to work with), who is trying to become a singer in a male-dominated world during the Swinging '60s. 'Having visions' might not be the right description – Eloise forms an intense connection with Sandie and becomes her 'ghost-in-the-mirror', watching her at every step, but unable to interact, although some physical after-effects from the encounters are there as reminders. There is definitely a sort of worship coming off from Eloise, who is in awe of this new, fun person she finds herself drawn to, and the movie uses this intensity to delve deep into the Mod culture of that period, as well as deliver montage after montage featuring some well-curated hits, including 'I've Got My Mind Set On You' by James Ray, The Who's 'Love is Like a Heat-Wave', and two Anya Taylor-Joy covers, of Petula Clark's 'Downtown', and Cilla Black's 'You're My World'.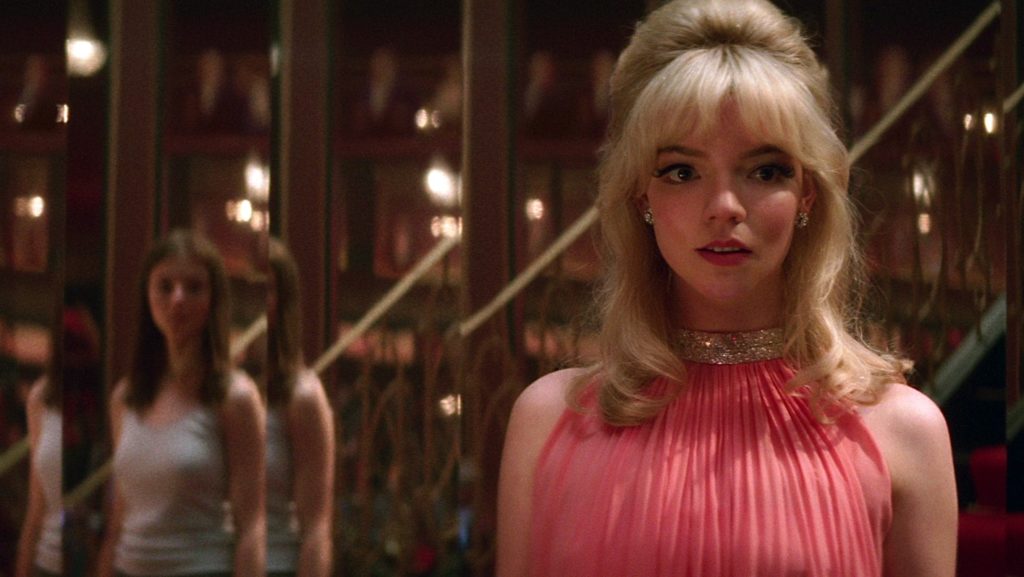 It's hard not to get swept away by Last Night In Soho's first hour and see this as some sort of love story, while basking in the nostalgia conjured by it, and the delicious atmosphere. Wright's movie rarely leaves you room to breathe – in fact, a second watch might be mandatory in order to notice the tiny details of the both the script and the stunning effect of some shots. It is after this first hour that the horror elements begin to flood in – with ghostly encounters, fear and madness – after Sandie's life takes an abrupt turn. Eloise, who had steadily begun identifying herself with her idol, is deeply affected by what she sees. It is also here that, sadly, the script paints itself into a corner by relying too much on the use of a 'dangerous, psychotic pimp' character to fuel the third act's conflict – this is exactly what brought down movies like 'Sleeping in Plastic' and even this year's 'Zola'; by having an initially strong, confident woman fall prey to such a man's charms and then becoming another victim, there aren't a lot of places the story can go from there, undercutting the potential of that character's arc.
There are examples where a 'psychotic pimp' can actually enhance a story – if he is mostly played for laughs and his importance downplayed – such as James Franco's character in 'Spring Breakers'. In that one, he is very much dangerous and psychotic, but the four women around him are there by choice, and they have agency. To Last Night In Soho's credit, Wright and Cairns turn things around with a lurid twist near the end, and it almost saves the whole story, but the message it sends is almost equally as 'wrong', even if both characters end up embracing themselves and the climax delivers genuine genre thrills. When it isn't busy sending mixed messages, the movie also seems to add fuel to fire to an ongoing conversation about colour-blind casting, with some reviewers saying that it is simply thoughtless. Indeed, one's enjoyment of Last Night in Soho might depend on how much they can get lost in the film's mood, and be able to forgive some of the story's missteps.
So, while Last Night In Soho is not in any way the feminist allegory it could have been – with the casting of McKenzie and Taylor-Joy and Cairns's writing – it actually works best as a metaphor, both for the dangers of unchecked nostalgia, and for the many ways in which it is possible to be dead to the world, to lose oneself, that which made you stand on your two feet. The 'ghost in mirrors' aspect can be tied to late-adolescence rituals and is a nifty visual for Eloise being both stuck in the past and willing to grow up and become a successful designer. With her personal history weighing heavily on her, it is quite easy to understand why Eloise gets so caught up with Sandie's life – she wants to reconcile her mother's depression with the generally romanticized view of the '60s.
The movie also succeeds at asking the viewer to reflect on death and the cumulative negative atmospheric 'charge' left in the wake of serial killings. With the late twist being what it is, a good question a viewer could be asking themselves is, 'Why can Eloise see a certain ghost at all?'. One possible answer would be that the death of one's drive, their ideals, might be equal to actual death, and the script does well in not over-explaining the mechanics of Eloise's ability, because it allows the film to work on multiple levels, with the entire story open to interpretation.
Overall, Last Night in Soho doesn't have anything beyond surface-level to say about toxic masculinity, sexism, and the abuse of women, because it's almost too stylish to do so, but what it excels at is the visuals, the cinematography, editing, and a thrilling ending that seems to recall Polanski's 'Repulsion'. Together with 'Malignant' and other recent titles, it's clear that Western horror is living its 'Giallo revival' days. The bright, eye-popping colors that permeate almost every scene and the Argento-like protagonist and character arc make it clear that this is Wright's love letter to the movies that influenced him as a creator, and if you place your faith in it, it might take you on a nostalgic trip like few other movies manage to do this year, and will have you singing along and tapping your feet.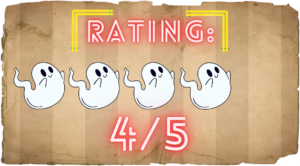 More Film Reviews
Who does not like a little bloodshed in their Halloween flicks? Well, Gabriel Carrer & Reese Eveneshen certainly deliver the goods in For the Sake of the Vicious, a film…