Director Quinten Dupieux has been building a catalog of films ever since his release of Steak back in 2007. (However, you could argue he defined his image starting all the way back in 1999 with his debut album Analog Worms Attack under the puppet moniker "Mr. Oizo".) Now on his 10th feature film (or 9th if you don't count Nonfilm in 2001), Dupieux has developed a particular style of storytelling that mixes eccentric characters, absurd situations, and equal amounts of horror into whimsy. His latest work, Incredible But True, certainly feels familiar, yet it still shows how Dupieux continues to evolve as a filmmaker without compromising the silliness that makes his films so joyful and endearing.
*This Review Contains Light Spoilers*
Incredible But True shows Dupieux's restraint and understanding of what truly makes up an exceptional absurdist comedy. Notably, by grounding it in certain human truths that pit the mundanity of everyday life up against a remarkable series of events. Alain (played by Alain Chabat) goes about his day with an emphasis on priorities instilled in the majority; work hard, make money, have a home, as well as be both a supportive husband and faithful employee. Pitting this against the ineffective time travel that is driving his wife slowly insane, and his boss's difficulties with his Japanese-manufactured robotic cock, Alain's calm reserve towards the strange events occurring is the central focus of the humorous notes landing.
Certainly, while Dupieux can be boxed into the role of absurdist, the way he guides his audience through the skill of the extraordinary show that is only improving with each subsequent film. Comparing this work to Rubber (2010) or Wrong Cops (2013), there are themes that stay consistent (awkward character interactions as a main component of horror), but Dupieux has certainly come into his own as a filmmaker in matching the absurd with marked improvements in creating lasting narrative stories. This is particularly true with Incredible But True, as the closing sequences offer a horrific scenario up against one of serenity. Details are purposely avoided for this review, but the stark contrast acts as the perfect summary of both the story but also Dupieux's approach to cinema.
Approaching the film on a technical level, the cinematography is rather soft and simplistic, feeling more in tune with a family drama than a sci-fi flick or comedy. This ensures the story narratively stays more in the realm of drama and feels purposeful in the vibe that Dupieux was looking to capture. The score also stays away from the harsh electronics of some of his more recognizable English releases and instead leans more into upbeat whimsy which has been more heavily favored throughout his filmography in his native French. While there is nothing overtly expressive in Incredible But True, it is a nuanced approach that serves the production well.
The performances are just as essential in keeping the tone of the film. Alain Chabat (as Alain) and Léa Drucker (as Marie) are the perfect couple to explore the themes of domestic life and how their respective roles, husband and wife, can be challenged by something extraordinary. In particular, Chabat plays things very straight-laced keeping his head down and burying himself in work out of a sense of duty to the vision of what makes up a 'family' as well as a productive member of society. His stoic demeanour to the events that occur around him is essential in ensuring the humorous beats successfully land. Benoît Magimel is a nice addition to the cast as the stern, womanizing Gérard, and the side story of his Japanese-built robotic penis is as equally enjoyable as the marital problems caused by Alain and Marie discovering time travel.
The likelihood of viewers stumbling into a Quienten Dupieux film like this without experiencing some of his prior work is slim, and admittedly my own excitement each time a new film of his is announced makes me biased in any critique. For those lucky to experience his work for the first time, there is a simplistic charm to Incredible But True that carries a slightly surreal edge in its approach to absurdist humor. For those that have seen all of the films of Dupieux, it is, in some ways, much of the same and feels like a natural progression from his last few feature films. At the same time, Dupieux appears to always be improving on his formula Incredible But True is one of his more perfectly balanced, and his comedic approach is only becoming more sharp and defined.
We Watched Incredible But True as Part of the 2022 FrightFest Lineup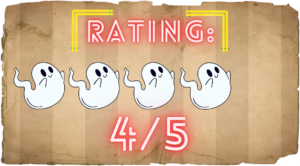 Past Festival Coverage
Meeting your partner's family for the first time can be a drag, having to find out how well you get along in the family dynamic or learn some truths you…