Black History month may end with February in the United States, but your awareness and exploration of black history and contribution shouldn't end there! In this four part series we will be compiling a survey of past, present, and future horror cinema written, directed, and acted by black artists that will give you content to learn and appreciate for months to come!
"Black history is black horror."
-Tananarive Due, Horror Noire: A History of Black Horror
A few black creators like Jordan Peele have been gaining a lot of critical and commercial success, leaving many people to claim that we are entering a Renaissance or "Gold Age" (as one reviewer put it) in black horror. However, black horror has deep roots in American cinema, and the success of creators like Jordan Peele was paved by those who toiled before them. Much of black horror has historically been ignored by critics, underfunded, slashed by white studio execs, and deemed a novelty not intended for white audiences. Many incredible films never got the mainstream visibility they merited, and many truly gifted directs and actors never got the spotlights they deserved.
When viewing the history of black cinema in this light it makes the current success feel like only the beginning, and in my opinion we have only gotten a taste of the amazing talent that such artists have to offer. As we go forward, anticipating such films as Peele's refresh of the Candyman franchise it is so important to appreciate black horror's history. For Part 1 of this series I have compiled a list of films I feel are important to appreciate this body of work. Also, they are just damn good films!
NOTE: There are many early films that I chose not to include because they portrayed harmful stereotypes and tropes, but if I have missed any worthy of attention pre-2000s please let me know!
Oscar Micheaux, Silent Era director – Films:
A Son of Satan
(1924),
The Brute
(1920),
Body and Soul
(1925)
,
many more
Image from Body and Soul (1924), starring Paul Robeson.
The history of black cinema began in the early days of film with Oscar Micheaux's The Homesteader in 1919. Though Micheaux continued to work and create into the 40s, much of his work are considered lost films, and those that are not are hard to find for viewing. Body and Soul is currently available from Criterion and perhaps with more public demand his other films will be made available to the public. He wrote and directed a variety of genres, but the film that I wish I could watch is the now lost A Son of Satan (1924), which is about a man's misadventures when he takes a bet to spend a night in a haunted house. The film met heavy censorship and banning for the violence and "offensive" content it portrayed. Let that sink in: In 1924 a film portraying violence, including a KKK member being slain and an actual cat death, was banned. Though the film is lost now, it is hard to imagine that it didn't have influence on creators who had seen it when it came out, or even that the idea of it gave power to future creators to push the blanket on what was acceptable.
Son of Ingagi (1940), written by Spencer Williams and directed by Richard C. Khan; starring Zack Williams, Laura Bowman, Alfred Grant, and Daisy Bufford
Elanor and Bob Lindsay inherit the house of doctor Helen Jackson who had just returned from her trip to Africa. Jackson also had returned with a missing link monster named N'Gina as well as African gold. When N'Gina drinks the doctor's potion, it puts him into a rage that makes him murder Dr. Jackson. The Lindsay family inherits Jackson's house where they soon find the presence of the monster.
Son of Ingagi has an all-black creator team and cast, but it puts a new spin on the horribly racist Ingagi creature to appear in another film, giving the name Ingagi another meaning and a new image devoid of white fears of Africanism. What would also likely stand out to a modern audience is its portrayal of the character Helen Jackson, who is a black woman scientist. I can barely name any modern movies that feature women of color as scientists (I see you Hidden Figures!), let alone films in the 40s!
Horror Noire: A History of Black Horror (2018), featuring a lot of great people
This film is a documentary exploring the history of black horror, as well as black cinema and the portrayal of black people in American cinema at large. It features a lot of the actors, directors, and scholars moving and shaping the industry, and they are all so much more knowledgeable and credible than me. Please, start here if you are interested in the history and would like it given to you from folks much more credible than myself. <3
Ganja + Hess
(1973) Directed by Bill Gunn; starring Duane Jones and Marlene Clark
Dr. Hess Green, a wealthy and respected African-American anthropologist, is assigned a new assistant, an intelligent but unstable man named George Meda. One drunken night, George stabs Hess with a dagger from the ancient African tribe of Myrthia and then kills himself. The Myrthians were cursed with a thirst for human blood, and by the time George's wife, Ganja, comes looking for him, Hess has developed a similar addiction to blood. Hess and Ganja fall in love, and they soon marry, but Hess infects his new bride with the Myrthian curse, which gives them eternal life, but at a terrible price.
I cannot begin to fully express what a collective cultural loss it is that this film is not more appreciated in the mainstream. The producers funded Bill Gunn expecting that he would make blaxploitation horror to follow the commercial success of Blacula, full of low budget effects and plenty of gore, and instead he gave the world a contemplative and beautiful vampire film devoid of trope pitfalls like fangs and capes. Every element of the film is expertly engineered to contribute to the whole; from the sparse but powerful use of the color red, to close up camera shots that induce both confusion and intense attention, a soundtrack that is disorienting and memorable, and monologues that explore the depths of the characters portrayed. Ganja + Hess is a surreal vampire film much ahead of its time, and is as haunting as it is beautiful. Please do yourself a favor and watch this film ASAP (now streaming on Shudder).
Night of the Living Dead (1968), starring Duane Jones
A ragtag group of Pennsylvanians barricade themselves in an old farmhouse to remain safe from a horde of flesh-eating ghouls that are ravaging the East Coast of the United States.
There are many more individuals that are much more qualified than myself who have spoken on this film and Romero's inclusion of a black man as the lead, and I recommend you turn to them for a full account of what a pivotal film Night of the Living Dead was and still is. However, I could never make this list without including it, and I want to emphasize that Romero himself has stated that he wasn't intending to be political, but had hired the best actor who auditioned. In reality, this is one of the most progressive statements made in cinema history. Duane Jones is incredible, and in the role he changed the base meaning of the story and gave black audiences a hero they had been deserving to see in theaters.
Lucky Ghost (1942), starring Mantan Moreland and F.E. Miller
Two down-on-their luck friends through a set of events end up owning a gambling den, only to find out it is haunted by the disappointed relatives of the former owner.
The movie had a white director, but entirely black cast. At times it does lower itself to stereotyped behavior and humor for its main characters, but overall it is still great to see an entirely black cast during this era and some of the scenes are genuinely funny.
Blacula (1972) and Dr. Black, Mr Hyde (1976) directed by William Crain; starring William Marshall and Vonetta McGee
An ancient African prince, turned into a vampire by Dracula himself, finds himself in modern Los Angeles.
Portraying a black vampire who is both educated and eloquent, Blacula setup the future success of the Blaxploitation era while also far exceeding its successors. It is not quite the art house film Ganja + Hess is, but it is beautiful and stylish all the same with some experimental shots that are scary and memorable.
Tales from the Hood (1995) directed by Rust Cunideff; starring Clarence Williams III, Joe Torry, David Allen Grier, and many others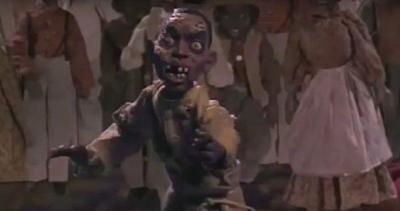 A funeral director tells four strange tales of horror with an African American focus to three drug dealers he traps in his place of business.
One of my favorite aspects of this anthology is that it doesn't just take place in an impoverished urban setting, and instead also looks at the suburban and rural, which are equally terrifying. The horror itself is very much derived from the black American experience, with much coded horror that likely went over this white girl's head. The things I did understand were no less horrifying; police brutality and corrupt authority, mental health and experimentation on black bodies, the monsters in our own homes, and Clarence Williams III (I kid, he is FANTASTIC).
Tales from the Crypt: Demon Knight (1995) directed by Ernest Dickerson and starring Jada Pinkett Smith
A man on the run is hunted by a demon known as the Collector. The square of in a little hotel in New Mexico, and the rag tag crew of inhabitants find themselves caught in the middle of the showdown for the fate of all humanity.
Dickerson created a wicked fun movie, full of 90s horror goodness like glowing green demons, exploding heads, and over the top monster transformations. What really makes this film stand about is that Jeryline (Pinket Smith) not only survives to the end of the film, derailing the black character dying first trope, but slowly overshadows the macho white male protagonist Brayker (William Saddler) to become the ultimate hero.
Eve's Bayou (1995), directed by Kasi Lemmons; starring Journee Smollett
What did little Eve see–and how will it haunt her? Husband, father and womanizer Louis Batiste is the head of an affluent family, but it's the women who rule this gothic world of secrets, lies and mystic forces.
Eve's Bayou is more often classified as a thriller/drama, but I wanted to include it because it does have magical and mystical elements, and some chilling undertones that feel more at home with the horror genre. Also, this is a movie directed by a black woman and lead by black women characters and actors. It does have problematic issues around the portrayal of voodoo, but overall it stands out as a depiction of strong black women.
Bonus!: Fans of Lovecraft Country will be thrilled to see baby Jurnee Smollett before she became Letitia 'Motherfucking' Lewis!
Candyman (1992), featuring Tony Todd
The Candyman, a murderous soul with a hook for a hand, is accidentally summoned to reality by a skeptic grad student researching the monster's myth.
Candyman is ultimately a problematic film, with its portrayal of white fears of the projects and of black male sexuality, but Tony Todd's performance is worth every second of viewing. His cooing and deep dulcet tones reverberate off the spine, and you'll soon find yourself under his sway. Candyman is alluring, repulsive, and ultimately sympathetic– though the sequels do a much better job exploring his backstory and character. Plus, make sure you check out this original before Jordan Peele releases his follow-up later in 2021!
More Lists:
H.P. Lovecraft's The Old Ones is a 2023 splatter/cosmic horror film, written and directed by Chad Ferrin. Known for his over-the-top special effects, Ferrin is the creative mind behind Pig…
As an Emmy Award winner, Richard T. Wilson serves as the President/Writer-Filmmaker of RTW Productions, Inc., home to the nationally recognized educational film company, Outreach Arts, Inc., and its award-winning,…
The Illustrated Guide to Monster Girls is a 4-volume, light-hearted horror/slice-of-life manga, written and illustrated by Suzu Akeko. A prolific manga creator, she has previously written and illustrated Nightmare Eater,…
Here at the Grimoire of Horror, we were excited to take a look at the second volume of Halloween Girl, entitled Dead Reckoning. You can see our thoughts on the…
Every year horror fans are inundated with a slew of holiday-themed horror, with a select few becoming instant classics. Even at Fantastic Fest, where we caught There's Something in The…
Mushrooms, originally known as Grzyby, is a Polish 2023 mystery thriller, written and directed by Paweł Borowski. Beginning his directorial career with the short animated comedy Love Gamestation (2001), Paweł…
Tammy lives a regular teenage life, with an overbearing bible-thumping mother-in-law who hates filth and a father who would do anything for her daughter, whether it be beheading a donkey…
Door is a 1988 Japanese psychological horror thriller written and directed by Banmei Takahashi with additional writing from Ataru Oikawa. Beginning his career in Pinku Eiga in the 70s, Takahashi…
Visitors (Complete Edition) is a Japanese 2023 Splatter horror comedy, written and directed by Kenichi Ugana. Beginning his theatrical debut in 2016 with the "Gal film" Ganguro Gals Riot…
Fishmonger is a 2023 Irish supernatural horror comedy, written and directed by Neil Ferron with additional writing from Alexandra Dennis-Renner. Not his first time behind the camera, Neil is known…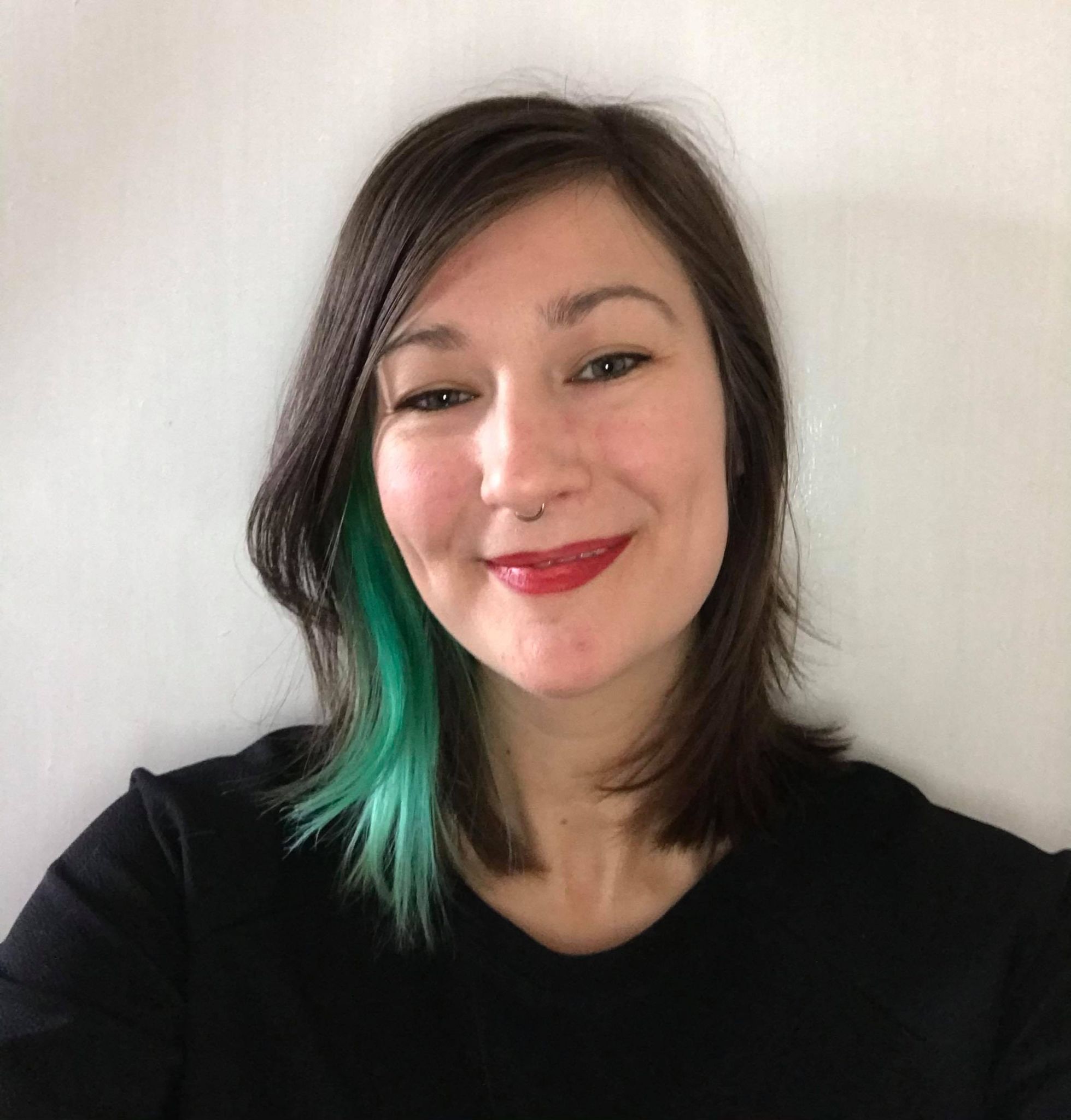 A study in contrasts, Aubry is a lover of knitting and rescuing strays, but also most likely the one cheering loudest during gory horror scenes.
Someday she's going to get too excited and accidentally stab herself with a knitting needle.