Here are four Japanese franchises of survival horror games demonstrating their extraordinary talent at crafting atmosphere, each one establishing a significant legacy for cult followings.
Besides mastery in constructing and elaborate lore to push an engaging background, the development teams twisted traditional rituals and manipulation of occult practices as maladapted folklore. Additionally, they utilized every element of design for fear; audio, music, animations, art, mechanics and aesthetic. The 90's, and into the early 2000's, were a Golden Era of Japanese horror in video gaming when many acclaimed horror series, still active today, first begun.
Forbidden Siren (PS2, 2003)
You are stranded in the village of Hanuda that seems displaced in time, the inhabitants are unruly undead termed 'shibito' who are impossible to kill. Their lives, along with the village they inhabit, seem to be in a cycle without end. You follow multiple characters as they attempt to escape and witness the summoning of a 'God', connected to the red waters, converting people into the undead.
Resident Evil (PS1, 1996)
You are investigating the disappearance of Bravo Team in Arkley Forest, a unit of the special forces STARS in the police department, -and are ambushed by monsters. As a result, you are forced to retreat safely into an extremely intricate mansion on the outskirts of any civilization. Inside, where you take the role of either Chris or Jill, you must survive and explore the mansion to uncover the explanations for all these monsters as a darker conspiracy looms.
Fatal Frame (PS2, 2001)
You must visit the derelict and haunted Himuro Mansion to investigate your brother's disappearance, with only a 'camera obscura' as your talisman to protect from malicious spirits. The mansion is site of a 'Strangling Ritual' that failed to be performed, opening a 'Hell Gate' for 'The Malice' to seep into the surrounding areas.
Silent Hill (PS1, 1999)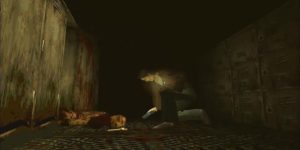 You must seek your lost daughter in the town of Silent Hill, which seems to undergo changes into another dimension full of danger. All is also obfuscated to your search; fog, locked streets and uncooperative people. Rife with occult symbolism, and creatures acting as distortions of the supposed inhabitants, you must investigate a cult in the town to reveal your daughter's location.
More Game Reivews:
"Nothing is what it streams to be…" The internet is a wild place, with corners so dark they can only be accessed using a VPN and The Onion Router (TOR)….
LSD Dream Emulator is a PlayStation video game released in 1998 by Asmik Ace Entertainment, based on an MS-DOS program created in 1992 by Osamu Sato. Basically, the game consists…
Maniac Driver is a 2020 Japanese horror thriller, written and directed by Kurando Mitsutake. Mitsutake has worked in many areas of film production but is most notable as director of…
Published while he was still in college, Bret Easton Ellis' debut novel Less Than Zero (1985) established themes of isolation and excess still present in his work today. The narrator,…
Once again, readers, my insomnia had come to call, and I needed a good read for the night. However, choosing the story took some time. I wanted something different from…
"I came out early, I couldn't take it""I hated it""I loved it and won't have a word said against it!"– Quotes overheard in the foyer, after having seen Skinamarink. Written…
Korean genre cinema has never shied away from violence; from the unrelenting stream of beatings in I Saw The Devil to the eye-wateringly graphic tooth extraction in Oldboy, blood and…
Despite being one of Japan's biggest film studios throughout the late 40s and 50s during the golden age of Japanese cinema, Daiei was struggling by the mid-60s and had…
Although the first thing that comes to mind would be to honour the classic camp slashers or creature-feature flicks, I decided to welcome summer with Barry Levinson's The Bay (2012)…
Eichi Sato, known better in the following years for his work on the live-action adaptations of Lychee Hikari Club (2016) and Miso Misou (2018), found his way to shock us…
Some say the countdown begun when the first man spoke, others say it started at the Atomic Age. It's the Doomsday Clock and we are each a variable to it.
Welcome to Carcosa where Godot lies! Surreality and satire are I.
I put the a(tom)ic into the major bomb. Tom's the name!