Here are four Japanese franchises of survival horror games demonstrating their extraordinary talent at crafting atmosphere, each one establishing a significant legacy for cult followings.
Besides mastery in constructing and elaborate lore to push an engaging background, the development teams twisted traditional rituals and manipulation of occult practices as maladapted folklore. Additionally, they utilized every element of design for fear; audio, music, animations, art, mechanics and aesthetic. The 90's, and into the early 2000's, were a Golden Era of Japanese horror in video gaming when many acclaimed horror series, still active today, first begun.
Forbidden Siren (PS2, 2003)
You are stranded in the village of Hanuda that seems displaced in time, the inhabitants are unruly undead termed 'shibito' who are impossible to kill. Their lives, along with the village they inhabit, seem to be in a cycle without end. You follow multiple characters as they attempt to escape and witness the summoning of a 'God', connected to the red waters, converting people into the undead.
Resident Evil (PS1, 1996)
You are investigating the disappearance of Bravo Team in Arkley Forest, a unit of the special forces STARS in the police department, -and are ambushed by monsters. As a result, you are forced to retreat safely into an extremely intricate mansion on the outskirts of any civilization. Inside, where you take the role of either Chris or Jill, you must survive and explore the mansion to uncover the explanations for all these monsters as a darker conspiracy looms.
Fatal Frame (PS2, 2001)
You must visit the derelict and haunted Himuro Mansion to investigate your brother's disappearance, with only a 'camera obscura' as your talisman to protect from malicious spirits. The mansion is site of a 'Strangling Ritual' that failed to be performed, opening a 'Hell Gate' for 'The Malice' to seep into the surrounding areas.
Silent Hill (PS1, 1999)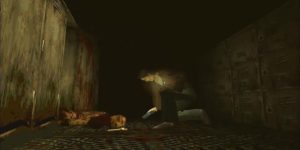 You must seek your lost daughter in the town of Silent Hill, which seems to undergo changes into another dimension full of danger. All is also obfuscated to your search; fog, locked streets and uncooperative people. Rife with occult symbolism, and creatures acting as distortions of the supposed inhabitants, you must investigate a cult in the town to reveal your daughter's location.
More Game Reivews:
With his OVA A Kite released in 1998, Yasuomi Umetsu would leave an indelible mark on the world of adult anime. Able to take a rare auteur approach by simultaneously…
In the realm of anime, one genre stands out for its ability to transport viewers to otherworldly realms and delve into the unknown—the supernatural genre. From ghostly encounters to battles…
Hello, fellow weirdos! Today, we are delving into the Kowai Shashin, a purportedly cursed Japanese video game with a fascinating marketing strategy that incorporates urban legends and exploits the naivety…
The film It (2017) surprised me. In fact, I saw it five times due to how much I enjoyed it! Unlike a majority of modern horror films, it focused more…
Note: This review covers Volume 1 What This World is Made Of is a three-volume psychological action mystery manga, written and illustrated by legendary mangaka Shin Yamamoto. Having created a…
Hey there, GoH friends! Dustin here again with some more Recent Reads coming at you. For this one, I'm giddy with glee as I tackle my favorite subgenre of horror yet again,…
La Petite Mort II: Nasty Tapes is a 2014 splatter horror film, written and directed by Marcel Walz with additional writing from Annika Strauss. The film is a continuation of…
Welcome, fellow weirdos, to another captivating exploration of Japanese culture. Prepare yourselves for a spine-chilling journey as we delve into a tale filled with possessed dolls, ancient curses, and the…
Island of Death (Ta Paidia Tou Diavolou) is a 1976 exploitation horror film written and directed by Nico Mastorakis. Most notable as the founder and owner of independent film studio…
"A rose by any other name would smell as sweet." The adage above—from William Shakespeare's play Romeo and Juliet—has stood the test of time, having been referenced in countless other…
Some say the countdown begun when the first man spoke, others say it started at the Atomic Age. It's the Doomsday Clock and we are each a variable to it.
Welcome to Carcosa where Godot lies! Surreality and satire are I.
I put the a(tom)ic into the major bomb. Tom's the name!