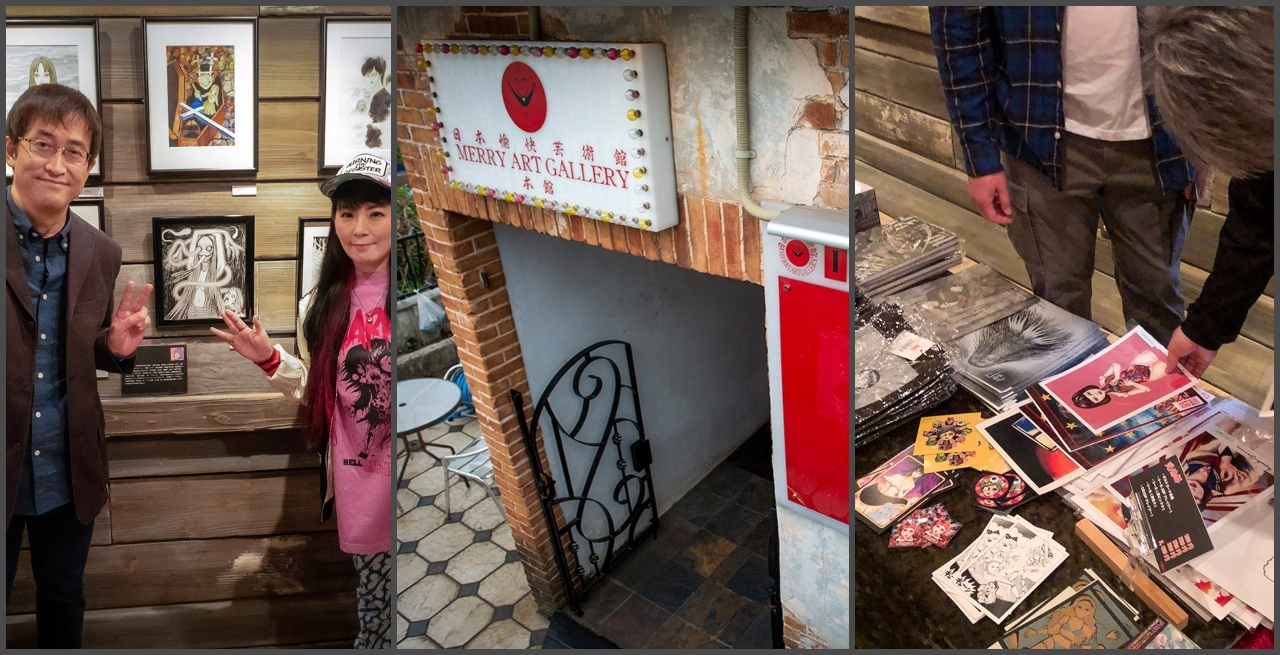 Opening 6 April 2022 and running until 15 May at MERRY ART GALLERY in Yokohama is "Showa Bizarre MANGA Syndrome," an exhibition organized by manga artist Miyako Cojima.
As is well known, Japan is home to some of the world's most outlandish and shocking horror imagery, much of which dates back centuries. More recently, when the modern era of manga began in Japan after the conclusion of WWII, horrific imagery and themes inspired by the trauma of war and the troubles rampant manufacturing inflicted on the nation's environment and its citizens began to surface in its domestic comic industry; even the more contemporary fallout from the bursting of Japan's bubble economy in the early 1990s has come to play a role in Japan's horror manga storytelling.
Shining a spotlight on this often-overlooked corner of the manga experience is Ms. Miyako Cojima, a manga artist specializing in what she calls "gag horror" (horror tales with black humor twists on social norms), who has gathered pieces from some of Japan's top horror illustrators and put them on display at Yokohama's MERRY ART GALLERY. Participating artists are a who's who of the genre, with the exhibition featuring works by such luminaries as Hideshi Hino and Junji Ito. (See below for a full list of contributing artists.) Both old and new pieces created explicitly for this exhibition are displayed, with several available for purchase. In addition, prints are on sale at the gallery, along with t-shirts, stickers, and other items.
Opening day (4/16) saw a large turnout for the rare collection. Organizer Ms. Cojima was on hand to speak and answer questions. "Horror manga is not very popular in Japan today," she told a pair of visitors who had come in from Osaka. "There are few today who will advertise themselves as horror manga artists. It was different in the '80s. Then, horror manga was popular, and many excellent artists such as Junji Ito and Noroi Mitiru debuted at this time, myself included."
Listening to Ms. Cojima, her passion for horror is clear, as is her desire to see horror manga receive the recognition she feels it's due. "Like E.C. comics in America in the 1950s," she explained, "horror manga has a history of being looked down upon and is often excluded from discussions about manga. And while there were dozens of manga dedicated to horror in the 80s and 90s, there are none now in Japan. This exhibition is my bid to show people what a horror manga could be like were it published today. In this way, I hope to continue the exhibition on a regular basis."
To date, none of Ms. Cojima's manga has been ported over to English, but this is about to change once Star Fruit Books releases her manga "Kaiki no Yakata" (English title to be decided). Handling the translation is Dan Luffey, who has brought titles such as "Umizaru" (Sato Shuho) and "Town of Pigs" (Hino Hideshi) to the English language.
For now, Ms. Cojima is busy with her "Showa Bizarre MANGA Syndrome" (a title she says contains a classic, postwar ring) and visits the exhibition regularly. Recently, artists Junji Ito and Michiru Noroi put in a surprise visit to the show. Both artists greeted fans and signed prints and books. Joining them was "Ring 0: Birthday" film director Norio Tsuruta and "Uzumaki" actress Hinako Saeki.
Here is a complete list of the participating artists: Hideshi Hino, Junji Ito, Shintaro Kago, Noroi Mitiru, Imiri Sakabashi, Ramu Murata, Hiroyuki Ohashi, Tatari Takayama, Senno Knife, Jun Hanyunyuu, Mizna Wada, Nawoki Karasawa, Tarou Kanafuro, Gentleman Nakamura, Toru Yamazaki, Uguisu Saehiko, Akita Ameya, Hiromi Morishita, Suehiro Maruo, and Miyako Cojima.
"Showa Bizarre MANGA Syndrome" will run until 15th of May, 2022.
MERRY ART GALLERY is open from noon to 8 pm every day except Mondays.
Admission is 500 yen
Webpage (Japanese only): http://merry-art.jp/
Gallery Address: 16 Suwacho, Naka Ward, Yokohama, Kanagawa 231-0863
MERRY ART GALLERY is a short walk from Motomachi-Chūkagai Station and just past the Yokohama Foreign General Cemetery.
More Reviews
Sadomasochism (noun) : the derivation of sexual gratification from the infliction of physical pain or humiliation either on another person or on oneself. The term "sadism" has its origin in the…