At Grimoire of Horror, we want to celebrate both Women in Horror Month and International Women's Day by celebrating female trailblazers within horror who are paving the way for women to have autonomy, both as creatives within the industry, and as characters within film! The goal of initiatives such as Women in Horror Month and International Women's Day is to create awareness of the underrepresentation of women in all aspects of horror
Female rage in horror is intrinsically linked with the female experience. Being a woman can be scary, terrifying, and anxiety-inducing due to the expectations of patriarchal norms. Yet being a woman is also powerful, empowering, and on some level, subversive. This International Women's Day it's important to celebrate both female directors' focus on depicting women's experiences and the leading ladies they choose to realise their vision.
For too long horror has fed into misogynistic and prejudiced ideologies against marginalised groups (we're all aware of the "slut" that dies initially in a slasher, a mother figure being demonised, or the BIPOC characters being brutally killed first). However, the films listed in this post have sought to, on some level, empower women and put forth a different perspective on the lived experiences of women and women-identifying people. Horror has always been used as a tool to explore societal issues and provide salient commentaries, and now thanks to those like the women listed here, it's used as a vehicle to challenge patriarchal norms and outline the exploitation of women.
Combining the interests and focus of The Banshee and The Yurei, here are 14 of the best female-led and directed Asian and Western horror movies:
Raw (2016)
Director: Julia Ducournau Actress: Garance Marillier as Justine
Stringent vegetarian Justine encounters a decadent, merciless and dangerously seductive world during her first week at veterinary school. Desperate to fit in, she strays from her principles and eats raw meat for the first time. The young woman soon experiences terrible and unexpected consequences as her true self begins to emerge.
The Love Witch (2016)
Director: Anna Biller Actress: Samantha Robinson as Elaine
Elaine, a beautiful young witch, is determined to find a man to love her. In her gothic Victorian apartment, she makes spells and potions, then picks up men and seduces them. However, her spells work too well, and she ends up with a string of hapless victims. When she at last meets the man of her dreams, her desperation to be loved drives her to the brink of insanity and murder.
The Babadook (2014)
Director: Jennifer Kent Actress: Essie Davis as Amelia
A single mother, plagued by the violent death of her husband, battles with her son's fear of a monster lurking in the house, but soon discovers a sinister presence all around her. It depicts in a storybook read between Amelia and her son the titular monster, the Babadook, a tall pale-faced humanoid in a top hat with taloned fingers which torments its victims after they become aware of its existence. Amelia is disturbed by the book and its mysterious appearance, while Sam becomes convinced that the Babadook is real.
Jennifer's Body (2009)
Director: Karyn Kusama Actress: Megan Fox as Jennifer and Amanda Seyfried as Needy
When a demon takes possession of her, high-school elite Jennifer turns a hungry eye on guys who seek to objectify and use her. Whilst the blood-thirsty possessed Jennifer satisfies her appetite for human flesh with the school's male population, her nerdy friend, Needy, learns what's happening and vows to put an end to the carnage.
Revenge (2017)
Director: Coralie Fargeat Actress: Matilda An Ingrid Lutz as Jen
Jen is enjoying a romantic getaway with her wealthy boyfriend — until his two sleazy friends arrive for an unannounced hunting trip. As tension mounts in the house, the situation abruptly and viciously intensifies, culminating in a shocking act that leaves Jen left for dead. Unfortunately for her assailants, she survives and soon begins a relentless quest for bloody revenge.
A Girl Walks Home Alone at Night (2014)
Director: Ana Lily Amirpour Actress: Sheila Vand as The Girl
In the Iranian ghost town Bad City, a place that reeks of death and loneliness, the townspeople are unaware they are being stalked by a lonesome vampire. Residents of the worn-down Iranian city encounter a skateboarding vampire who preys on men who disrespect women.
American Mary (2012)
Director: Jen and Sylvia Soska Actress: Katharine Isabelle as Mary Mason
Desperate for funds, surgical student Mary applies for work at a strip club. Billy Barker, the club's owner, is in need of a medical professional to patch up a man bleeding in his club's basement, the obvious victim of illegal dealings and offers Mary $5,000 to perform emergency surgery. Mary accepts the money but spends the next few days terrified that the criminal activity she got involved in will follow her home. American Mary is a 2012 Canadian body horror film in which Isabelle plays a destitute medical student who begins taking clients from the extreme body modification community to solve her financial troubles.
Saint Maud (2019)
Director: Rose Glass Actress: Morfydd Clark as Maud
The debut film from writer-director Rose Glass, Saint Maud is a chilling and boldly original vision of faith, madness, and salvation in a fallen world. Maud, a newly devout hospice nurse, becomes obsessed with saving her dying patient's soul — but sinister forces, and her own sinful past, threaten to put an end to her holy calling.

Titane (2021)
Director: Julia Ducournau Actress: Agathe Rousselle as Alexia
Alexia suffers a terrible skull injury and has a titanium plate fitted into her head. When she gets out of the hospital, she rejects her parents and embraces passionately the car that almost killed her. In the coming years, she has problems with her sexuality and meets Vincent. Vincent is a tortured man who tries to preserve his strength by injecting steroids into his aging body. Will they find a way to deal with their emotional problems?
Goodnight Mommy (2014)
Director: Veronika Franz Actress: Susanne Wuest as Mother
In a lonesome house in the countryside between woods and cornfields live nine-year-old twin brothers who are waiting for their mother in the heat of summer. When she comes home, bandaged after cosmetic surgery, nothing is like before. The children start to doubt that this woman is actually their mother. An existential struggle for identity and fundamental trust emerges.
Eko Eko Azarak: Wizard of Darkness / Eko Eko Azaraku (1995)
Director: Shimako Sato Actress: Kimika Yoshino as Misa
Eko Eko Azarak: Wizard of Darkness (エコエコアザラク -WIZARD OF DARKNESS-) is a 1995 Japanese horror film directed by Shimako Sato. The film is based on the manga Eko Eko Azarak, and stars Kimika Yoshino as a transfer student to a new school, who is secretly a witch travelling from school to school in order to dispel the work of the devil. One by one, thirteen students are picked up and disposed of in a horrific and graphic fashion. It's up to Misa to try and gain the trust of her fellow students so that she can protect them and stop the evil before it's too late.
Wolf Devil Woman / Lang Nu Bai Mo (1982)
Director: Pearl Chang aka Chang Ling Actress: Pearl Chang aka Chang Ling as The Woman
Wolf Devil Woman (Mandarin: 狼女白魔, pronounced Lang nu bai mo), also known as Wolfen Ninja, is a 1982 Taiwanese fantasy horror film starring, written, produced, and directed by Pearl Chang. A young girl is taken from the devil's region followers and raised in the wilderness of Cold Ice Peak. The girl is raised by the legendary White Wolf of a Thousand Years. "Legend of Cold Ice Peak" is the story of the wolf/woman that grows up in the snowy wilderness of the Cold Ice Peak, and her mysterious traits of monster and animal that become folklore.
Helter Skelter / Herutâ sukerutâ (2012)
Director: Mika Ninagawa Actress: Erica Sawajiri as LiLiCo
Top star Lilico undergoes multiple cosmetic surgeries on her entire body. As her surgeries show side effects, Lilico makes the lives of those around her miserable as she tries to deal with her career and her personal problems.
Ju-On: Black Ghost / Juon: Kuroi Shōjo (2009)
Director: Mari Asato Actress: Koji Seto as Tetsuya
Ju-On: Black Ghost (呪怨: 黒い少女, Juon: Kuroi Shōjo) is a 2009 Japanese supernatural horror film produced in honour of the tenth anniversary of the Ju-on series. Like most films in the franchise, Black Ghost is told through anachronistic order, with each vignette titled after a character central to the story. The sequel revolves around a hospitalised young girl who discovers that a cyst is found in her body, which is actually the physical remnant of her unborn twin.
More Reviews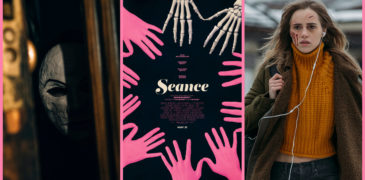 Two of the things I liked about You're Next (directed by Adam Wingard, written by Simon Barrett) is a crafty and feisty final girl and a quick-witted script. With Seance,…