Dad, I'm going to make big money. I'll get revenge on Uchiyama. I'll avenge mother's death! Mark my words.
The second movie from the Pink Films Vol. 3 & 4 set, apart from Abnormal Family: Older Brother's Bride (1984), is Kan Mukai's Blue Film Woman from 1969. Evidently, this particular motion picture greatly differs in terms of style and cinematography from Masayuki's Suo movie. Blue Film Woman is a very avant-garde piece that strives to treat itself seriously, in spite of an uneven screenplay.
The movie's significance becomes even more important due to its age. Released over 51 years ago, it is a miracle the 35mm negative (and a 1 inch mastertape soundtrack) survived to the present day and underwent a much-needed restoration by RapidEyeLab. The Blu-ray transfer is a pleasure to watch; however, it is not entirely free from the negative's shortcomings (discoloration in certain shots or spots of dirt).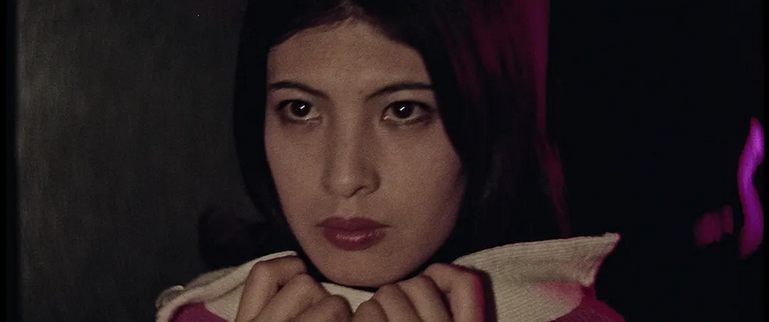 Blue Film Woman stands out of other productions of its time for being one the first all-colour pink movies. Indeed, this factor enhances the viewing experience but is also utilised as an important theme by director Kan Mukai throughout the story.
Because of bad investments at a stock market, a man finds himself in serious debt. He has to pay up at least 200,000 dollars by the end of a month to the loan shark called Uchiyama, but he is completely broke. The man and his wife plead and beg Uchiyama to give them more time, and the loan shark agrees on the condition that the wife will do sexual favours for him. Unfortunately, this deal indirectly leads to the wife's death. Mariko, the victim's daughter, is determined to avenge her mother and settle the score with Uchiyama.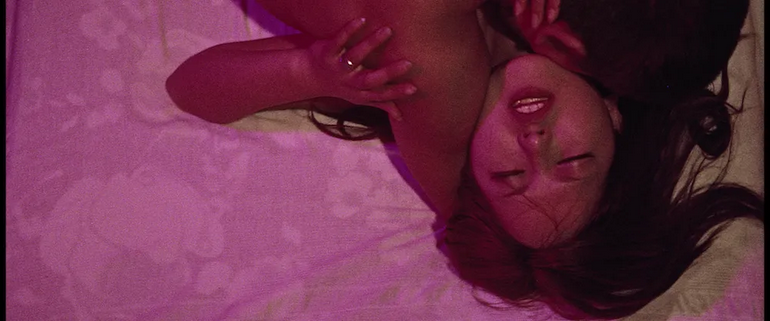 The premise of Blue Film Woman sounds like an ideal exploitation flick, but the reality is far from expectations. The movie starts off in a way that greatly resembles the famousBond opening sequences by Maurice Binder. Then, a very flashy content is thrown at the viewers in order to enhance the shock value. One would think that the heroine will take matters into her own hands and emerge triumphantly at the end of the film, but this is not the case at all. We just follow Mariko's nightly misadventures, which in no way contribute to her character development.
The message that can be inferred from this movie is that the fate of a Japanese woman is doomed from the start (and it is always accompanied by various shades of blue and red filters). Mariko actually records her sexual encounters with rich businessmen on film tape so as to blackmail them later on, yet she is the one who falls victim of an illogical ending.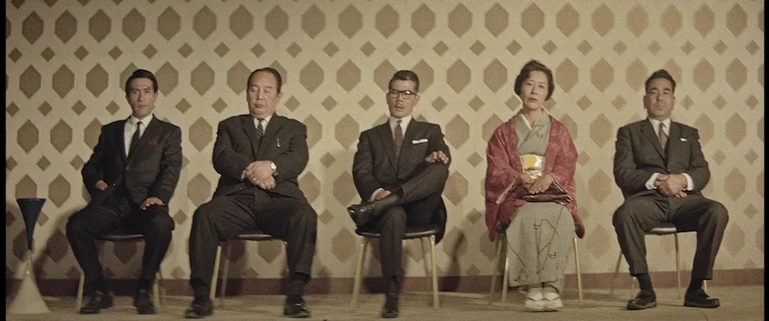 All things considered, it is definitely worth checking out Blue Film Woman for the technical craft of Ken Mukai, but the overall storyline is not that breathtaking. It is an interesting instance of an early pink production. Blue Film Woman is available in dual format Blu-ray from Third Window Films [Pink Films Vol. 3 & 4]. The remastered version also includes an additional film Abnormal Family: Older Brother's Bride (1984) and a video essay by film historian Jasper Sharp.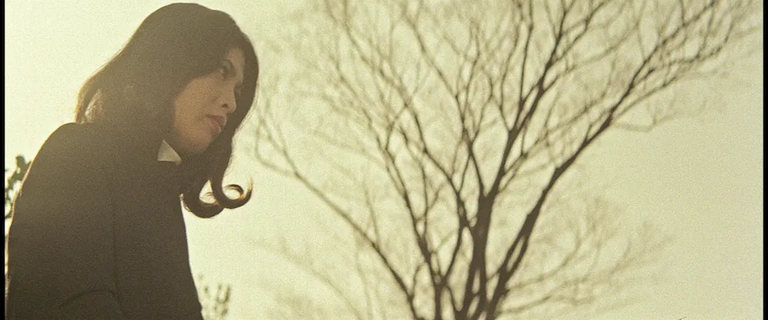 More from Third Window Films:
Confessions (Kokuhaku in Japan) is a 2010 revenge thriller based on Kanae Minato's critically acclaimed debut novel. From director Tetsuya Nakashima who also produced the visually bubbly 'Kamikaze Girls' and…
Oliver Ebisuno is a guy who likes watching (and reviewing) Asian movies. I have my own blog, Watching Asia Film Reviews, and I'm also submitting articles as well as editorials to MyDramaList, Kayo Kyoku Plus, and Asian Film Fans.