The Creeping (2022) is the cinematic homage to 1980s gothic horror that we've all been waiting for. Watching it will remind you of the first scary movie you watched as a child, clutching pillows to your face in the basement den while your parents thought you were watching Scooby Doo. It maintains the era's subtle build to action, but it's filmed with modern technology. Except for a few tells later in the film (special effects that didn't exist in the 80s), you might believe this is a remastered edition of your childhood nightmare. While most horror film creators in 2022 are focused on one-upping each other with over-the-top graphics and boundary-pushing, writer/director/producer Jamie Hooper had only one goal: to get under your skin the old-fashioned way. With the help of an outstanding cast and a brilliant production team, he does just that.
Riann Steele plays Anna, a woman who returns to her childhood home in the British countryside to help her Nana, Lucy Blakely, (Jane Lowe) who is suffering from dementia. Although Anna experienced a ghostly presence while living there as a child with her widower father (Jonathan Nyati), she struggles to understand whether what she's experiencing upon her return is supernatural or simply the stress of living with her ill grandmother. We understand that she is elderly and declining naturally, but she is also disturbed by something nobody else can see. Karen (Sophie Thompson) has been Lucy's housekeeper for years which leaves her opinion skewed because the decline has been so gradual, but Anna has been gone for a long time and already suspects there is something else going on in the house. She does her best to take care of Lucy, but between her grandmother's odd nighttime behaviour and the escalating poltergeist-like activity, she is exhausted. As it becomes clear that something is bothering Lucy that she cannot articulate, the viewer begins to learn more about events that took place when Anna's mother died many years before. Is Lucy acting out as a result of her illness and the secrets she carries, or is there a ghost? If so, who is it, and what do they want?
Steele's performance is A-list caliber; it is a flawless portrayal of a woman coming to terms with her shrinking family after the death of her father while uncovering the mysteries that he and her grandmother have kept buried since the day she was born. Her Nana's housekeeper Karen (Sophie Thompson) is a British Annie Potts, doting but unconvinced that anything is amiss until it just can't be denied. David Horovitch as Reverend Joseph brings a seriousness to the story that amplifies the idea that this is England in the 1980s, playing his role so convincingly that we had to check online to find out if he truly is a clergyman (he is not!). Jonathan Nyati as Anna's father Harry is shown in flashbacks that are meant to tell us the story of Anna's childhood years spent at the country estate. He is so genuine in his role as a young widower at the beginning of the story that his performance later in the film evokes a more emotional response from the viewer than the writers could have created without him.
The set is beautifully designed, the estate's rooms filled with the 1970s decor and knick knacks one would expect to see in a "grandmother's home" in 1985. It's all outdated, with mustard yellow and orange afghan blankets, cranberry glassware, and aging small appliances placed naturally in every scene. The colourist, Megan Lee, deserves a special mention for her contribution to the atmosphere in The Creeping. It is rare to see this amount of detail in any film, and her brilliance plays a large part in creating an authentic setting for the haunting to unfold. Co-writer/producer Helen Miles is also the Sound Editor, and she excels at building tension and mystery with carefully timed effects that erupt from within both ambient music and deliberate silences.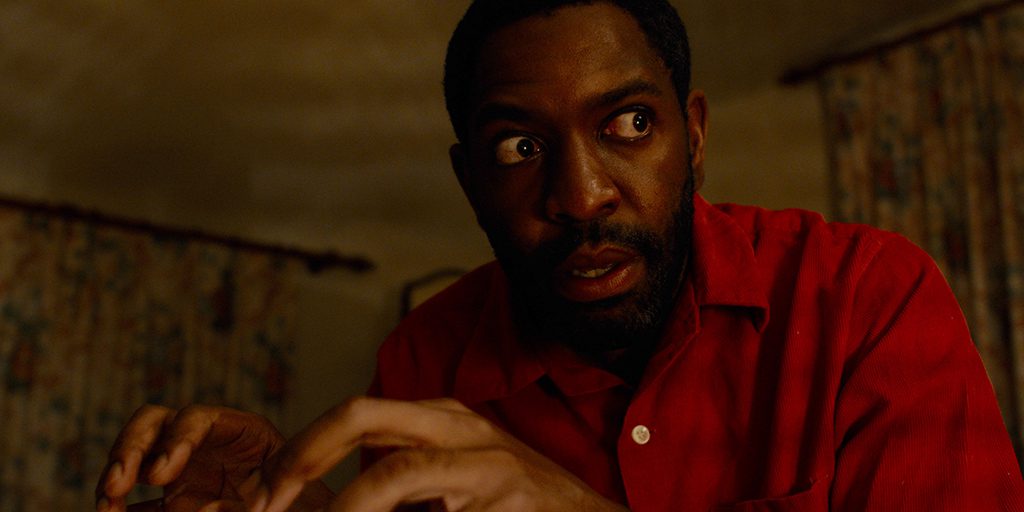 There are scenes in The Creeping that are candidly frightening. Hooper employs many horror tropes that were popular in the 1970s and 80s (slamming doors, faulty lighting/electricity, bedsheets sliding away on their own) which fits the narrative, but with the fresh lens of modern filming technology there are other scenes that give us insight into horrific events that we may have never seen before on screen (no spoilers, but watch the garage scene carefully!). Where the use of old scares works brilliantly for the film, though, there is some over-reach with special effects that don't quite fit the story. As a low-budget independent film, no one expects spectacular VFX, but it feels like someone tried and missed when the main antagonist is revealed.
Aside from a few misplaced effects, The Creeping is an authentic, nostalgic ghost story that is well-paced and well-told. It has everything a child of the 80s wants in a film that is meant to evoke memories of our first scares. Hooper and his team hit the ball out of the park with this one, and we can't wait to see what he brings to the big screen next.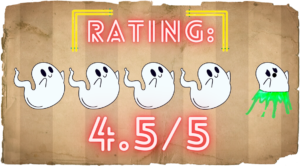 Past Festival Coverage
Struggling to quit smoking, Piotrek's fiancée signs him up for a course at an institute focused on providing help for men. However, after a room mix-up, he finds himself in…
Kate's love of all things dark began as a child and deepened when she realized what being an adult meant. She was born with a pencil in her hand and loves nothing more than writing horrific stories to tantalize her inner demons. Kate lives in Hamilton, Ontario Canada with her husband and her boys, stirring up trouble wherever she can.