Founded in 2020, Tenebrous Press is an independent publisher which aims "to deliver the finest in transgressive, progressive Horror […] from diverse and unsung voices". Their second anthology, In Somnio, features work from 25 women and non-binary creators: 18 Gothic horror stories with artwork from seven artists. Presumably a pun on 'insomnia' and 'somnio' (Latin for "I dream"), the title quickly establishes the collection's themes. Some writers and artists aim to keep you awake; others force you to imagine what horrors lie within, without, or beneath, in hopes that what you find may haunt your dreams. As is always the case with anthologies, the quality of the stories varies. Horror and fear are subjective, and under the Gothic umbrella, In Somnio collects as many horrors as possible: if missing toes and rotting corpses don't disturb you, china dolls or hooded figures may. A parent's death sprouting thorny grief will strike a chord with some, while a grasping, bloated personification of childhood trauma will horrify others. For those in need, the volume includes a list of content warnings toward the back.
Cover illustrated by Sally Cantirino
There are three clear standouts: Barbara A. Barnett's Self Storage, a story about obsessive collecting that opens with shades of Stephen King's Needful Things but develops into something wholly original; M. Lopes da Silva's A House Without Ghosts, which follows a woman convinced her house is haunted while slowly losing her memory and identity; and The Reaching Sea by Victoria Nations, wherein a boy rebels against his mother to collect strange and troubling flotsam. All three explore obsession to some degree, but each has a clear, unique vision and voice. In Self Storage, Mia and Steve's respective collections (namely dolls and baseball paraphernalia) drive them to take drastic action. Meanwhile, the narrator of A House Without Ghosts struggles to make herself heard while she fixates on troubling developments, though her husband seems unworried. Finally, Barry's mother cannot compete with The Reaching Sea, so decides to let her son discover for himself the reason for her worry. Of the 18 stories, these linger: Barry's trove in the basement, a smudge of skin where a nipple should be, the torn stitching of a leather ball – haunting images which bolster these inventive, memorable stories.
The anthology is illustrated throughout, and this duty is shared by a group of six talented artists. Like the stories, the illustrations are diverse and fascinating, with personal favourites being Echo Echo's mirrored artwork in After the Apples by Briana Una McGuckin, and Marisa Bruno's monstrous interpretation of the climax in We Named You After Her by Rachel Unger. Just as the diverse voices of the writers will appeal to a wide audience, the artists' styles are all different and compelling. Bruno works in ballpoint pen, for example, while Tammsle's expressive illustrations recall woodcuts and linoleum prints. Art, like horror, is subjective and therefore difficult to critique, though it must be said that one or two of the illustrations feel totally (and tonally) incongruous. However, there is certainly no lack of talent on display here.
Echo Echo's illustration in After the Apples
In Somnio: A Collection of Modern Gothic Horror comprises writers and artists who have interpreted the theme and genre as rigidly or loosely as they desire. There is dystopian horror in Silver Hands Against the Devil, grief and trauma filtered through the eyes of a fox cub in After the Apples, and a poem for the end of the world in the book's closing gambit, the breathlessly titled The Burning of Langston Flare's Haunted Masquerade and Seafood Restaurant Experience (For Love). The beauty of an anthology, of course, is that the stories mentioned here – in detail or in passing – may not be the ones that stay with you. In this writer's estimation, Barnett, da Silva and Nations pen the strongest offerings, with Self Storage as the clear highlight, and the collection is worth owning for this trio. Many of the other stories unfortunately flounder. Tones are inconsistent, and dramatic denouements feel unearned. While narratives differ, certain ideas reoccur throughout the book, and some writers lean heavily on styles that overwhelm substance, or perhaps serve to distract from a lack thereof.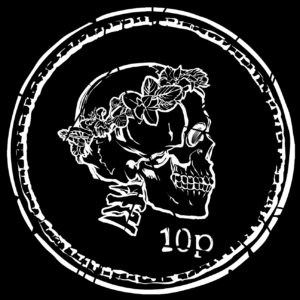 Tenebrous Press' logo
This Tenebrous Press release was edited by Alex Woodroe and introduced by Antonia Rachel Ward. It features words from J. A. Bryson, Mary Rajotte, Aster S. Monroe, S. E. Zeller, Julie Hutchings, Helen Whistberry, Taylor Jordan Pitts, A. P. Howell, Elou Carroll, Barbara A. Barnett, Harklin Ashe, Lauren Bolger, Rachel Unger, Jessica Lévai, M. Lopes da Silva, Victoria Nations, Briana Una McGuckin, and Lin Darrow, with illustrations by Tammsle, Echo Echo, Marisa Bruno, Daniella Batsheva, and Claire L. Smith. The cover was designed by Sally Cantirino. You can purchase a copy directly from Tenebrous Press, as well as their first anthology Green Inferno, for which Grimoire of Horror has a review forthcoming.
More Book Reviews
If you are not familiar with Danny Torrance, then you have inadvertently deprived yourself of experiencing an icon of the beloved horror genre, Stephen King's The Shining. As a fan…
Isabelle is a writer from the UK who enjoys alternative manga and horror films. When not writing, you can probably find Isabelle buying books or obsessing over Martin and Lewis.