Brandon Lutz is a screenwriter at Rogue Raven and the comic for Ascension is only one part of a much wider plan. He has worked on his development of a new Intellectual Property for several years and aims to create a highly successful television series. Early in his career, Brandon studied game design at the University of Advancing Technology, a private tech University based in Tempe, AZ, until 2019. He also studied Business Administration at Missouri Western State University. Mr. Lutz has also been deployed to Iraq and was medically retired.
For those unfamiliar with comics, these works can offer a wide range of genres brought to readers through the characters' experiences and their realities of the worlds created. Since the early 1900's creators have used comic books to allow a wide audience to be exposed to many themes, ideas, and messages to consider and discuss. Today, comics can be used to pitch ideas for possible T.V shows. Like comics, television shows contain bits and pieces of a much larger story. Due to its style of being relatively short and episodic, audiences may not understand or know what's going on if they haven't read or viewed the previous comics/episodes within the series. Comic books, similarly akin to television shows, tend to be produced on a regular weekly, or monthly basis.
Ascension is a comic created by Mr. Bandon Lutz and published by Final Impact Comics. It is also a screenplay adaptation of the beginning of Ascension, a show written by Mr. Lutz. At the time of my interview with him, he had created twenty screenplay episodes. The creation of the comic aims to introduce both readers and viewing audiences to a unique take on the "end of the world" trope and provide both publicity and options for the fan base to consume and enjoy his works.
In Ascension, readers meet Olivia and her husband, Landon, during a catastrophic and terror-inducing event of their lives. Gargantuan amounts people have suddenly died without warning. These people have died while sitting to eat, driving, walking, and going about their usual lives. The chaos that ensues from this apocalyptic event is deeply traumatic, and the audience is just as bewildered and anxious as the characters within the story. Readers are made to experience the events with Olivia and Landon as they occur. This style of writing gives the audience the ability to feel as if they are also a part of the journey, which is exactly what creator Brandon Lutz wants to bestow to his readers as he explains in his interview, "I treat the reader/viewer with great respect; the viewer is very smart, and they deserve to have a thrill ride." There is currently no narrative to explain or describe events that allow readers to have more knowledge than the characters in the first issue of Ascension.
The publishing company Final Impact Comics brought together a group of talented people, including Mike Clarke, Christian Abel Peña, Matt Soffe, Marco Daeron Ventura, Paul Gerrard, and Leonardo Rodrigues, to produce Ascension. With their creative powers combined, they create a modern-age comic that takes complex psychological themes and dark, extreme, apocalyptic events and pairs them with modern artistic techniques. These advances include, for example, giving extreme attention to detail, such as visual sound clues that are emboldened with thicker lines or a transparent appearance to determine the loudness or type of sound in a scene and the positioning of limbs to express emotion or states of being, implicitly to readers. The use of color and shading by the artists intensifies the atmosphere to give a sense of solitude and death or possible danger for the characters. These artistic elements work well to create the world of Ascension.
I believe Ascension has excellent potential in both the written and viewed media. Brandon Lutz breaks away from the usual end-of-the-world plot line to bring his audience an original story with realistic characters. It is guaranteed that there is an element in his work for everyone as Brandon says, "… it's not just a bombastic action thriller. There is heart and soul and pain and sorrow." Audiences will be held captive and be compelled to see what's in store. Although his story is aimed at more mature audiences, I highly recommend everyone who carries a love for horror mixed with thriller, drama, and a dash of mystery to watch and read Ascension. Brandon Lutz's Ascension promises to be the whole package.

Arlene:
Hello Mr. Brandon Lutz
Brandon:
Howdy, Arlene.
Arlene:
Oh, a country man, I see.
Brandon:
Possibly.
Arlene:
Don't take offense, country is the backbone of the USA and the setting for your comic, "Ascension."
Brandon:
Oh, I take no offense! Can't beat anything, the drill sergeant's said. It's a nice place until the end of the world.
Arlene:
It would seem so. From what you've just told me, you were or are a military man. Am I right?
Brandon:
You picked up on my morsel of information. Very good! Is it sunny in California?
Arlene:
It's blazing saddles out here.
Brandon:
I lived in Phx for four years; I remember that Western heat. The military had a big influence on the story/concept of Ascension. I wanted to incorporate my experiences and knowledge into making an apocalypse that was a metaphor for what it means to be a soldier.
Arlene:
Oh well, you've answered that question. Is there any specific reason you've chosen to use this medium for your story?
Brandon:
Comics?
Arlene:
Yes. Are you a long-time reader? What influences do you think have helped you develop your style?
Brandon:
Of comics? To be honest, no. I've never even read a comic. Everything was out of necessity, serving the ultimate goal of getting my screenplays green-lit, so I can also direct them. It's all about creating a television series that will reach new heights in the global market. My writing style is heavily influenced by Vince Gilligan; I adapted his page structure and formed a style on my own. Paul Gerrard/Mike Clarke further solidified that I write shooting scripts. Screenplays that are ready to film. I have developed this IP as a television show and have now completed 20 episodes/screenplays. (10 per 2 season) The show is planned for five.
Arlene:
What's the name of the show?
Brandon:
Ascension. Which, like everything I do, is a very specifically chosen title.
Arlene:
So is the comic a kind of publicity to aid with the show?
Brandon:
Exactly. In fact, I'm also heavily influenced by the manga/anime community and consider my IP to be a perfect balance of western/eastern media. I am also not a fan of spoilers and do not like the anime-only/manga reader dynamic that exists in that consumer universe. That's why I specifically didn't want to have a comic. But I have no other choice. I'd happily produce both alongside each other but do not want source material out that can separate my fan base in two.
Arlene:
So you're creating a kind of fusion style in your work.
Brandon:
It's extremely bold, but I would say I'm a modern-day child of John Carpenter and James Cameron. If they were somehow able to make a baby. That's me. I'm not going deep in the ocean, though, ha.
Arlene:
Does that mean the comic may change or move away from the scripted show?
Brandon:
I would rather tell one story/my story. I also don't believe that the comic/show needs to be different just to appease those who consumed the IP in a separate medium than the other. If that makes sense.
Arlene:
May I ask who your targeted audience is for your show and comic? TV shows have parental warnings and ratings, whereas comics are more readily available to anyone interested.
Brandon:
Based on the focus group's success, my target market is men/women above whatever age someone can consume mature content. I have already seen that it has mass appeal and covers a wide age range. One reviewer, an avid reader all her life, is in her 70s and doesn't read this kind of stuff but still calls it "page turning" and "Amazing". Kids probably should not be viewing/reading, but that's up to their parents.
Arlene:
Oops. Too late. My children have seen the first issue. I happen to be a parent that allows my children to discuss certain controversial topics that they find in comic books. They also tend to peek over my shoulder to see what I'm reading.
Brandon:
Right on!
Arlene:
You have caught their interest.
Brandon:
Luckily, I'm the kind of writer who rewards you for coming along the journey. I treat the reader/viewer with great respect; the viewer is very smart, and they deserve to have a thrill ride. If you all only knew what this IP was. The beauty if that under NDA, I've told Mike/Paul about the entire series, and they were impressed, or at least, that's what they expressed to me.
Arlene:
About the first major event. It reminds me of a biblical event in which two men are in a field, and one is taken. The other has no clue as to what's happened. Is there any other religious influence, or is this just art for the audience to think about?
Brandon:
Again, if you only knew… If I had to answer directly, I would say that the concept of religion is explored many times in the show/comic, but how religion ties into the overarching narrative, I can't say.
Arlene:
This is an event that I find so interesting. Neither the character nor readers know what's happened.
Brandon:
Anytime you can match those two experiences, such as this, that's a great thing for the audience from a writing standpoint. If I had to compare my writing style to a Mangaka, it would definitely be Hajime Isayama, the writer of 'Attack on Titan.'
Arlene:
It's working I need/want to know what's going on. It makes me feel like I'm there.
Brandon:
Just in case you were wondering! Ha.
Arlene:
Also, did you happen to create the team of talent involved with your work?
Brandon:
Mike did a really good job adapting the material. My goal is to make a show that blows people away for 50 episodes in a row. Do you mean, am I responsible for FIC's (Final Impact Comics0 production? Then, no. I merely met Paul Gerrard by pure luck and gave him my pilot. Then, we made a deal. He arranged all the comic talent for production. This first issue is half of the pilot episode.
Arlene:
Oh well, I would say they did a marvelous job.
Brandon:
I was really impressed; I put them on a tight deadline to match May 7th for the release. As the show/story/comic begins on May 7th. It's the same day my Dad died of cancer when I was 10 years old. So, I wanted the characters to be impacted by that day too. There were many other logistical reasons, but everything panned out for art.
Arlene:
I am so sorry for that loss. That gives it a much deeper meaning to those who really know you.
Brandon:
There really is a lot of depth to the story and these characters. This story is almost a character study at times; it's not just a bombastic action thriller. There's heart and soul and pain and sorrow. No matter if it's action or drama; you will turn the next page. I've surely got the bravado part down, right? Haha.
Arlene:
I did have a question about the art. It seems that there is a connection between the warmer tones and life, while the cooler tones are connected to death. The color scheme may give a bit of foreshadowing for the characters.
Brandon:
That could be a Paul Gerrard detail that went over my head. He is a genius artist, after all.
Arlene:
I apologize if I seem a bit slow I'm trying to think about how to put my questions.
Brandon:
You're doing great.
Arlene:
These characters are immediately relatable, such as the double shifts at the hospital and the exhausted workers of the healthcare industry.
Brandon
There is a whole lot going on with the cover that people won't understand the meaning of for a while. But, when you get it, you'll be wowed that it was staring you right in the face. I'm playing the long game narratively, and I'm sure Paul was doing the same thing with the art based on the knowledge he has of the story. Touché on the healthcare workers. Olivia is quite the character. Her story has many twists and turns; it won't be easy.
Arlene:
I, along with the readers, will likely try to understand your characters.
Brandon:
Some actors are gonna have a great time with these scripts. There is a lot for them to sink their teeth into; the arcs have been effective so far. According to the focus group. The comic is but a morsel of the feast to come!
Arlene:
It seems obvious that something traumatic has happened to Landon.
Brandon:
I'm glad you picked up on that. His story is one for the ages. Although, this show becomes more of an ensemble at one point.
Arlene:
I can see that. I have a habit of trying to analyze behavior, and I have theories and questions about these characters.
Brandon:
Questions are what brings you back. Questions are good! I'll give you some answers with a nice helping of new questions.
Arlene:
What kind of relationship does the married couple have? What are they hiding? Or are we just not seeing what's in front of us?
Brandon:
There is a scene that Mike wanted to cut for suspense. It takes place before the hospital, and it shows Landon making Olivia breakfast and her hurrying around for work; he puts her food in Tupperware and kisses her/sending her on her way. Then Olivia goes into her shift. Though, it may not tell the whole story. Cut to get right to the inciting incident.
Arlene:
I think it's the calm before the storm.
Brandon:
I can assure you that there will be many times the audience has all the answers but don't realize they're all right in front of them. I consistently keep the audience there until it's time for a major revelation. Whenever that may be.
Arlene:
But you kind of just threw your readers into the fray. Your audience is also made of detectives who are trying to put clues together
Brandon:
It works in both ways. But, I prefer my method of showing the couple BEFORE things went to shit, so you can get a baseline. Mike knows much more about comics than I do, and I value his judgment. So, I'm not bitter or anything. That's the best part for the audience. The clues and debating. That's why my show will be week-to-week and not some binge model. The binge model is not what I want for the audience. Week to week is pure suspense, far less prone to spoilers, and the entire audience is on the same playing field. You're gonna be pissed if you have to wait a week.
Arlene:
I would like to point out that you may develop a whole other audience with your work.
Brandon:
I'll take anything I can get!
Arlene:
Although your show will gain much from the publicity of the comic, some readers may enjoy taking more time to really think about what's going on and what may happen next.
Brandon:
It'd be great to have both the comic/show coming out at the same time; so you can choose how you want to consume it first. Options are great for everyone.
Arlene:
Oh, I agree entirely
Arlene:
I would love to see your show with my husband, but discuss the comic with my teenage son.
Brandon:
Options for Mom! Perfect.
Arlene:
Actually, your choosing to create a comic is a huge benefit for me. I use comics to help our young people with reading. I have to thank you for that.
Brandon:
I went to a library the other day, and a lady told me about how comics are being used for teaching. Even history comics and things of that nature. Really hitting big in the world. I appreciate you taking the time. Happy to have helped in any way.
Arlene:
There's been a debate going on for years over the benefits of comics and reading.
Brandon:
I might finally be at the right place at the right time. Ha. I hope it keeps growing for everyone's sake.
Arlene:
For some, the comics give creators the ability to grant more detail in events and characters than shows.
Brandon:
The possibilities are pretty bountiful, I would agree.
Arlene:
I think you may have found a great platform to get your ideas out.
Brandon:
I do feel like, despite how I initially felt about comics, I am very thankful that it all happened. Happy to have met Paul/Mike, and not just for the collaboration. Those guys took a chance on me, and I have been waiting for that to happen for a long time. Working hard to be ready. Now, I get to talk the ear off of people like you and Luke. Your computer's ear, in this case. Happy to have met both of you, too. Very grateful for all the opportunities that have come thus far.
Arlene:
How much of yourself do you think is in the characters?
Brandon:
They're all me. Bits and pieces. For better or for worse.
Arlene:
Are there any specific messages or conversations you hope your audience will have? Maybe about PTSD? Or Anger Management?
Brandon:
Yes, but I can't say what they are. Mental health is a major theme I have no problem saying that. But, there are things that I cannot allude to without spoiling the ride. Stay tuned.
Arlene:
Alright. You may keep your secrets for now.
Brandon:
Thank you!
Arlene:
May I ask about your service? Clearly, it plays a role here.
Brandon:
Sure. Was just shy of three years. Honor grad in basic for infantry. Deployed to Iraq. Medically retired. Nothing too sinister, though.
Arlene:
What led to the decision for you to create screenplays? Was it a way to process events in your life?
Brandon:
The military taught me a lot that I think hasn't really been explored enough in that type of story.
Arlene:
I think there is a lot that the military doesn't fully explore.
Brandon:
I chose screenplays because I, being the maniac I am, wanted to cut out the middleman. I could write novels that would be adapted, but I'm not a novelist. Going back and looking into my past, I found that I was always meant to write; and write screenplays. I'm concise and direct, and not wordy. You get what you need to see it, and then your brain takes over from there. I put you there; you bring it to life. Even just the accuracy of firearm safety. People in cop/military stuff are walking around with fingers on their trigger, well is the most common mistake I see. Accuracy is paramount for me.
Arlene:
What is your life like when you're working?
Brandon:
Borderline obsessive. Working at a job that's not writing?
Arlene:
Both?
Brandon:
Writing is life. Without it I would wither and die. Other jobs I can do well but I always end up at a point where I don't feel challenged anymore. Money doesn't matter to me all that much. All I care about is telling my stories before I die.
Arlene:
I, for one, love listening to stories
Brandon:
I want to impact as many people as I can. I want the world to think. Ponder on life. Question it all. Stories are great for us all. Telling and experiencing.
Arlene:
I'm sure your audience will experience much more than anyone has planned.
Brandon:
(rubs palms together maniacally)
Arlene:
Is there anything based on your life, specifically in your screenplay or the comic?
Brandon:
There are bits of backstories for characters that may have been me or someone I knew/know. So, yes, technically.
Luke Greensmith (Managing Editor at the Grimoire of Horror):
We're approaching the 90-minute mark, and it's a lot of material here! I'm going to have to be a spoilsport and call it. Got anything as a neat last hype statement, Brandon?
Arlene:
Awww.
Brandon:
Oh, you're not a spoilsport. All good things come to an end!
Arlene:
Oh, we'll talk much more, I'm sure. Either in person or through your work. It was great meeting you.
Luke:
We will hopefully have plenty of chances to check back in as Ascension develops!
Brandon:
The last little tidbit is that this story ties back to my childhood when I first watched Power Rangers. A show that was based on Super Sentai, which came into existence because of Japanese tokusatsu. Which dates back to the '60s. Can't tell you how that all makes sense. But, like I said, you'll get the answers some day; if you invest the time, you will be rewarded. I appreciate you all! Thank you so much for taking the time to hang out with me.
Arlene:
No problem at all.
Luke:
Thank you, Arlene, for bringing a great interview, and thank you, Brandon for letting us pick your brain for the Grimoire of Horror
Brandon:
Thanks for reading the book. Say hello to the family for me. Any time, Luke. Cheers! Hope your gang is doing well! Goodnight all!
More Interviews
Dick Dale is an Australian writer/director/producer with a strong focus on video nasties and splatter films. Dick is most notable for directing the short dark comedy Creamy Love (2001) and…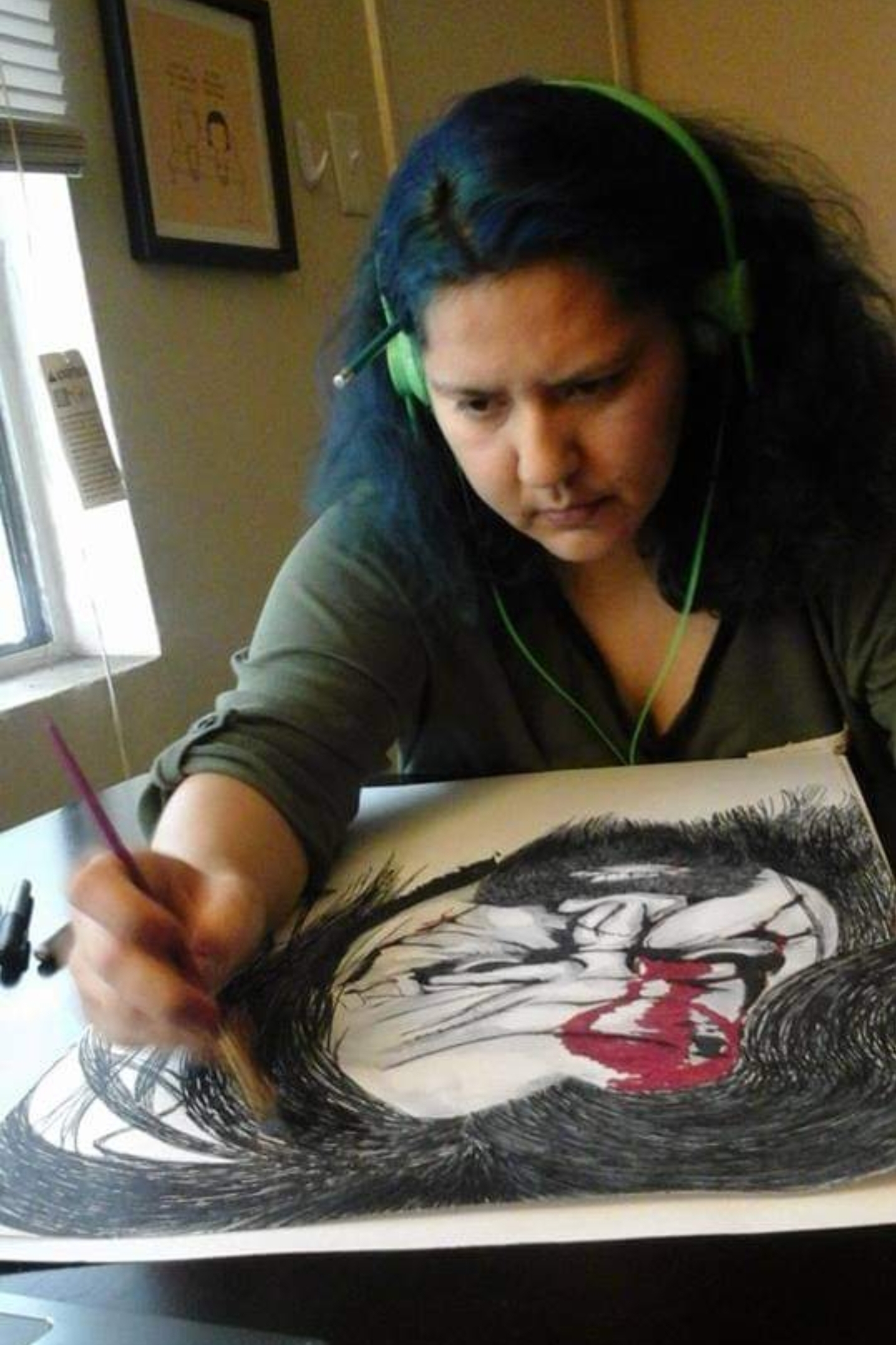 Arlene LeosPlasencia is a mother of two, a wife, and currently a college student. She is driven by her desire to become an elementary school teacher and let children know that reading is not only for work. It is also for fun and entertainment.