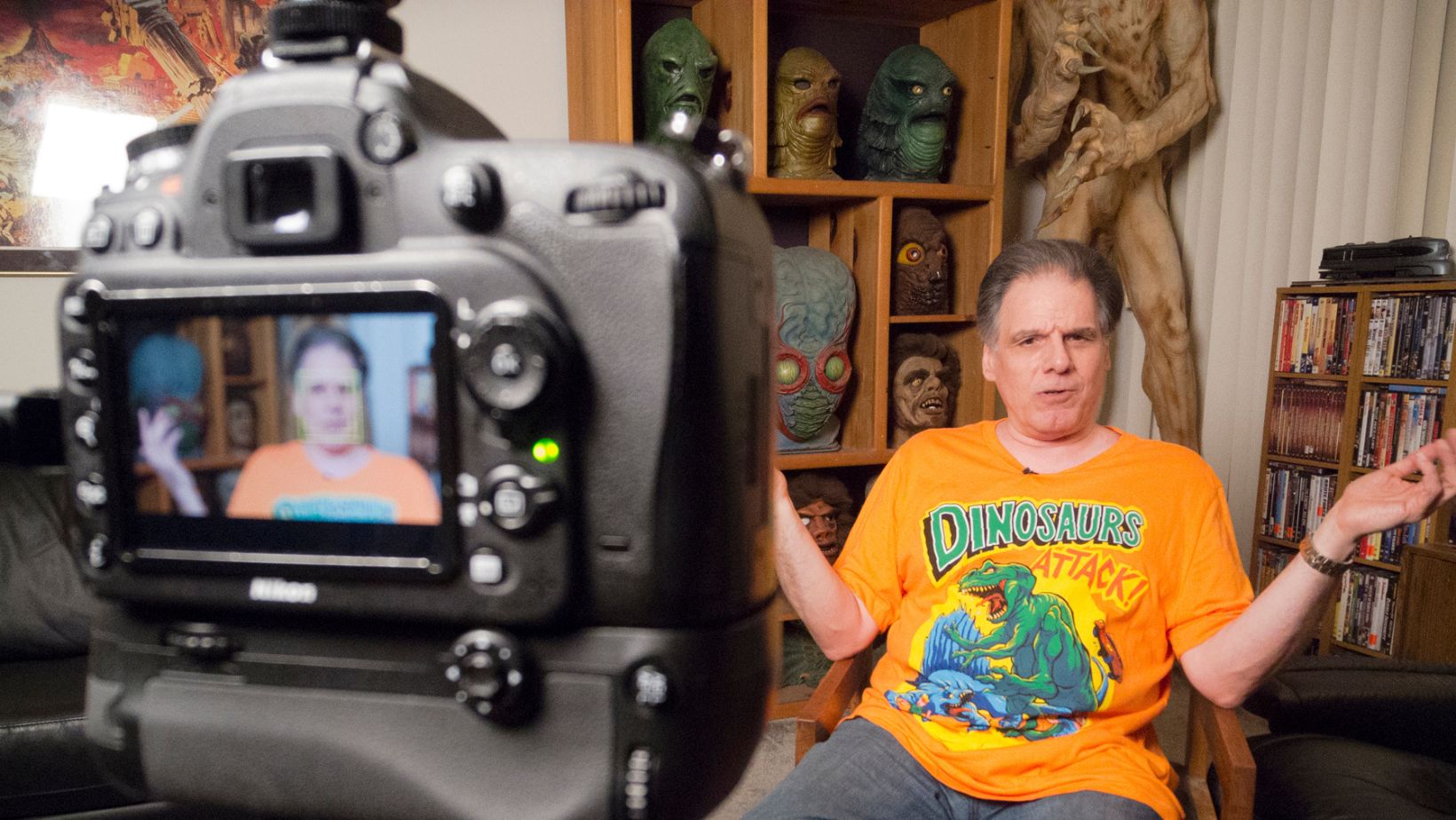 Gary Gerani is a professional fiction/non-fiction writer and film critic from Brooklyn, New York. As a screenwriter, he is best known for creating and co-authoring the screenplay for Stan Winston's Pumpkinhead (1988), a cult horror film starring Lance Henriksen that has spawned three sequels as well as won several Oscars.
Besides screenwriting, Gary has 35 years of experience creating, developing, and producing countless items for the youth market. He worked on staff at Topps for over 20 years, writing and editing all movie/TV-related products (including cards, books, and magazines), in addition to creating brand new franchises. In the early '80s, Gary designed the approved prototype for the phenomenally successful Garbage Pail Kids, and also helmed the sci-fi cult property Dinosaurs Attack!, which was later optioned for a movie property by Tim Burton and Joe Dante. His work has appeared in similar products published by various youth-oriented manufacturers, including Upper Deck, Artbox, Comic Images, Rittenhouse Archives, and Inkworks.
We were lucky enough to get the opportunity to speak with Gary and ask some questions we were dying to know.
How did you get involved in filmmaking, Gary?
I loved movies and TV ever since I was a kid growing up in Brooklyn. I'd make low-budget fan films with my friend, Mark Carducci… including one featuring our Demon of Revenge, long before he was called Pumpkinhead.
Could you tell us about writing the screenplay for the film "pumpkinhead"? How did the project begin?
Mark came to me one evening and said, "I just had a meeting with a producer who wants to do a movie with the title Pumpkinhead. What if we dust off our old Demon of Revenge concept, and make him a backwoods Terminator?" So that was pretty much it. The name "Pumpkinhead," and the poem, came from Ed Justin, aka "Honest" Ed Justin from the licensing field. Anyway, we began adapting and updating a storyline we can conceived almost twenty years earlier. Actually, it was derived from two of our fan film stories, Hell Mountain and The Seven Gargoyles of Satan. We always wanted Ed Harley to have the athletic, down to earth, All-American feel of an astronaut. Any one of the actors fromThe Right Stuff would have been fine. And we actually wound up getting one of them, Lance Henriksen!
Are you interested in occult subjects?
I used to be, when I was in my '20s. The writings of H.P. Lovecraft cast a spell on me, and I think some of that influence comes across in Pumpkinhead.
Were you satisfied with the final edit of Pumpkinhead?
Very much so. Director Stan Winston understood exactly what we were aiming for… There is a deliberately dry, uncompromisingly realistic, almost documentary-like flavor here, what I used to call an indifferent God's overview of a tragic event. It is not moist and emotionally melodramatic, which was a real danger with a tale about a loving father losing his son. The movie deals with that, but is saying something beyond the pain of parental loss and the reflexive need for vengeance. It's about misunderstanding different cultures, about how we're damned if we don't get involved with fellow humans in trouble, and how we may damned even when we do. Everyone in Pumpkinhead has something to feel guilty about. The only one with a clear conscience is the witch, because she's already turned her soul over to Satan, and gleefully watches as she guides others into losing their moral way.
Could you tell us about writing the screenplay for Vampirella? What was that experience like?
I wrote the Vampirella screenplay sort of on spec, and it made the rounds, even intriguing Tim Burton for a while. It wound up with Roger Corman, who really loved it. The resulting film was compromised by a low budget and some embarrassing special effects, although a few of my fanciful sci-fi notions managed to get through. I spent a month in Vegas where the picture was shot; we'd sleep during the day and film at night. It's like we became vampires ourselves. Despite the film's obvious shortcomings, there were definitely some memorable moments for me… Roger Daltrey, our extraterrestrial Dracula, wrote a great song, "Bleed for Me," and when I showed up on set, he was anxious to know what I thought of it. The legendary man of music Roger Daltrey anxious for Gary Gerani's opinion? Now that doesn't happen every day! (or night)
Please tell us about writing your book Fantastic Television in 1977?
My film historian career started in 1977, with the book Fantastic Television. It was the very first book to deal with sci-fi. horror, and fantasy on the small screen, and kind of put me on the map in that area. I've done many books since then, including some that boast reprints of trading card sets I helmed for Topps over the years. The TOP 100 movie book series for IDW has also been quite successful. Being a fan of these films, it was fun deciding which was "better" than the other. But every film of the Top 100 is an essential of sorts. Just recently, I wrote a book called Epic Art: The Art of Joe Smith, which explores the great Hollywood movie poster work of Joe Smith, who gave us iconic classics like the Ben-Hir campaign and Earthquake! I also wrote, produced, and directed my first feature-length documentary, Romantic Mysticism: The Music of Billy Goldenberg, all about the composer behind Steven Spielberg's early television work ("Duel," etc.), Night Gallery, Columbo, and others. The documentary is part of Kino's 2022 Blu-ray release of The UFO Incident starring James Earl Jones and Estelle Parsons. I provided the audio commentary for UFO as well, and have been doing film and TV commentaries quite a bit lately (12 Angry Men is due shortly!).
Could you tell us about creating the Topps trading cards "Dinosaurs Attack!"?
Ever since I started at Topps in the early '70s, I had wanted to create, edit and write my own original sci-fi card series, my own Mars Attacks. But the cost of such a painted project was enormous, and sci-fi didn't sell well at the candy counter, at least not the way humor products did. Finally, when dinosaurs became very popular with kids in the '80s (Barney, et al), Topps said "yes," and let me run with something I called Dinosaurs Attacks! It was basically Mars Attacks-style mayhem, but with satire, characters, themes, and even a twist ending. I conceived the story, wrote the cards, and drew pencil storyboards for every image. Herb Trimpe would tighten my pencils into finished pieces, and then either Chet Darmsteader or Earl Norem would paint the images. Although the set wasn't a commercial hit, it instantly became a coveted cult item. Filmmaker Joe (Gremlins) Dante optioned it in the '80s as a Warner Bros. movie, then Tim Burton did the same thing in the '90s. I wound up doing a bunch of comic books and graphic novel adaptations over the years for companies like Eclipse and IDW. Topps still revives the property from time to time, and even asked me to sign some cards connected to a Dino-Mars crossover set they recently put together. Who knows? Maybe some day the DA! movie version I envisioned will indeed see the light of day…
You have also created a graphic novel called Bram Stoker's Death Ship. Could you tell us about this?
In the early '90s, I went all over Hollywood trying to sell a movie called The Last Voyage of the Demeter. I took a single memorable chapter from the original Dracula novel and enhanced it, building a whole story around what happened during that nightmarish ocean voyage from Transylvania to England. Every night, the vampire rises from his crate of native soil to prey on the ship's crew… one by one, the seamen are attacked and vanish, until only the captain remains. Sadly, I was never able to sell the concept to Hollywood. But I did sell it to IDW Publishing as a series of comic books and a graphic novel in 2010, re-naming it Bram Stoker's Death Ship: The Last Voyage of the Demeter after IDW decided to have the project legally sanctioned by the Bram Stoker estate. Anyone, of course, can do a Dracula adaptation, because the novel is in the public domain. As a result, Steven Spielberg will be releasing his own The Last Voyage of the Demeter on the big screen in 2023, using the title I originally created and used. I'm looking into the legal aspects of this situation even as I type.
What are you currently working on?
I'm preparing a series of five books, decade by decade, called The Card King Chronicles. I started developing products for Topps in 1973, and spent close to half a century doing this kind of unique work. The hundreds of products I either created or worked on for Topps, Upper Deck, etc., will be covered in these illustrated volumes. Although Abrams reprints my classic card sets in book form all the time, and I contribute "making of" intros and card-by-card commentaries, these Card King Chronicles books will cover everything… and I do mean everything! Figured I better get this particular project finished before my brain cells pop away… I'll be 70 next year, after all.
This interview was provided to Grimoire of Horror by John Wisniewski.
More Interviews
Born in Houston, Texas, Teri McMinn is an American actress most notable for her role as Pam in Tobe Hooper's exploitation slasher The Texas Chain Saw Massacre (1974). When Hooper…