Food often plays a special role in horror, whether it is as a gross-out, a sentient adversary to be tackled, or the means by which a virus or alien mind control is disseminated. That's why the team at Grimoire of Horror has compiled our list of the scariest and most influential food in horror movies, so grab a fork and dig in!
Pizza –Terrifier
There's nothing better than a hot slice of 'za when you're having a wild night out on the town. Tara and Dawn have the wildest of nights ahead of them that will require lots of energy, so thankfully they kick off things with a nice big slice!
Toast – Drifting Classroom
A classic staple of breakfast foods, the humble slice of toast has had a lot of representation over the years in film. However, its best representation is in Drifting Classroom, even including the toast in mouth late for school anime trope!
Long-Grained White Rice – How To Disappear Completely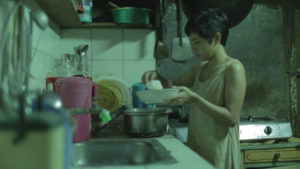 Rice – Good stuff.
Popcorn – Scream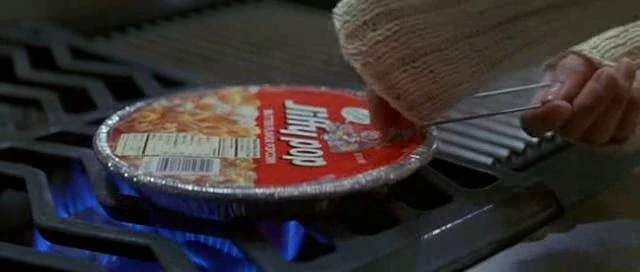 Appearing in the iconic opening sequence of Scream, and the famous brand of "Jiffy Pop", it is unique as popcorn prepared on the stove to pop those kernels freshly – a novelty as a staple of the 90s! As her parents return home and witness these still popping, with no supervision whatsoever, the popcorn delivers a standout performance for a nonchalant existence signifying danger – oh boy! Here's a live, edible prop to embolden a scene – it pops and steams for the duration!
Twinkies – Ghostbusters
The most audacious product placement until Zombieland, where Twinkies again assert a corporate dominance in marketing through cinema. Twinkies prove indispensable as a central plot focus and carrying the movie! The confectionery itself evolves beyond snack size and takes to the streets of New York as a sapient "kaiju" (ops, pedantic debate time) in an unexpected precursor to Cloverfield! Who would ever expect Twinkies to become a major antagonist and existential threat to cosmopolitan life? As fun trivia, Twinkies even released a themed Twinkies in tribute to Ghostbusters – stuffed with 'ectoplasm' opposed to the usual cream!
Spaghetti- Se7en
We all have our comfort foods. But what if that food is forced upon you until you die as a way to represent one of the seven deadly sins, and you get to be gluttony? Maybe not so enjoyable… This film ruined spaghetti for quite some time for many viewers. Now, where are those meatballs?
Candy Bars- Trick r' Treat
Not only featured in Trick r' Treat, but also with a cameo appearance in Krampus, the Hollie-Ho bar is now iconic to horror fans. Representative of the rules of Halloween, don't forget to check your candy. You never know what dangers might be lurking within the sweet caramel or nougat. Unless you deserve it, that is… If you've broken Sam's rules, who are we to intervene? I think I need to go grab a candy bar now.
Apples- The VVitch: A New England Folktale
Apples play a symbolic role in The VVitch, appearing several times. Do you dare to give into the temptation of the forbidden fruit? I hear they are key to living deliciously, by the way of pies, tarts, struedal and more. They may even keep the doctor away, you know, if you're immortal. All it takes is signing away your soul. Who needs that?
Cake – [REC]3: Genesis
Everyone loves cake (unless you're diabetic, I guess), and what could be better than a multi-tiered wedding cake? Enough for hundreds of people and sliced with a sword, who doesn't love food and a show?
Doughnuts – The Flu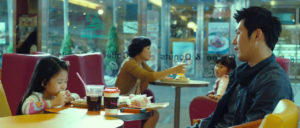 Doughnuts combined with a fresh cup of coffee is one of the best ways to catch up with an old friend and talk about the good ol' times.
Honourable mention
McDonalds – The Stuff
More Lists
Born in Ft. Smith, Arkansas, USA, Justin Powers is a versatile filmmaker who has worked on multiple aspects of the film creation process. Beginning his career as a grip, Justin…

Todd Keisling was born and raised in a small town in rural Kentucky; those of you who've read Devil's Creek were treated to a dark mirror image of the town…

It's beginning to look a lot like MURDER… Coming just in time for Christmas, December 12th on Blu-ray / DVD Combo… AUGUST UNDERGROUND's PENANCE! The third film in the series….

Medium-Sized Horror Bites From BITS 2023 We are thrilled to be reviewing features and shorts for the Blood In The Snow film festival again this year, and offer here our…

Tales from the Rez is a captivating look into the ghost stories of the Blackfoot Nation, presented in a format that's instantly familiar to lovers of horror anthologies! Director Trevor…

Finders F*ckin' Keepers! Calling all low-budget sci-fi/horror comedy cinephiles! Do you enjoy scouring Tubi and YouTube for the most bizarre films to binge and brag about watching? Then, oh boy,…

Back in the 1970s, the names of Reiko Ike and Miki Sugimoto were on everyone's lips. Hailed as the "queens of porno", they not only became exploitation cinema royalty but…

Romi is a 2023 Canadian sci-fi horror, written by Susie Moloney, and directed by Robert Cuffley. Susie is most notable as a writer on the TV shows Blackstone (2015), and…

Ronald Kelly hails from small town Tennessee, where he was born on November 20th, 1959. Having grown up on a steady diet of EC Comics and the old Universal Monster…

Tetromaniac: 61 – Scorecard Killer is a 2023 Italian extreme horror, written and directed by Domiziano Cristopharo and Poison Rouge. Domiziano is known as the writer and director of such…