In 2009, House of Wax's Jaume Collet-Serra gave us the modest hit Orphan starring a pre-Conjuring era Vera Farmiga as a mother who, after the death of their unborn child, agrees to adopt a nine-year-old girl from an orphanage who turns out to be a psychopathic woman posing as a child. Years later, the film would find renewed interest from fans, eventually giving it a strong cult following. Fast-forward to 2022- more than a decade after the first film, and we now have its prequel, this time helmed by The Boy's William Brent Bell.
In a surprising twist, the now 25-year-old Isabelle Fuhrman returns to reprise her role as the maniacal child from hell in this prequel. Set in 2007, the film begins in Estonia, where we meet Leena Klammer (Fuhrman) being held at the Saarne Instituute. It's no longer big news that she has hypopituitarism, a rare hormonal disorder that stunted her physical growth and caused proportional dwarfism. According to her doctor, Leena has spent most of her life posing as a little girl, occasionally stealing from the families that adopts her or worse, killing them.
After her crazy escape from the facility (leaving a dead body or two on her trail), she finds herself a new family to worm her way into: the Albrights. The Omen's Julia Stiles stars as Tricia Albright while Possessor's Rossif Sutherland plays her husband Allen. The couple, particularly Allen, has been depressed since the disappearance of their daughter Esther four years ago. They tried focusing their attention on their son, Gunnar (Matthew Finlan). Things start to change upon the arrival of Leena, now posing as their long-lost daughter. But Tricia immediately senses that something's wrong with Esther. Even her son notices it too. "She dresses like Lizzy Borden now," he tells his friends. And just like any mother, she'd do anything to protect her family from this imposter.
Penned by David Coggeshall, this prequel is admittedly breezily paced as compared to its predecessor. Clocking at a mere 99 minutes, this film wastes no time at all. What makes this film unique is how it tries to set itself apart from the first film, delivering a whopping hell of a twist as crazy as the final revelation from the 2009 movie. What turns out to be a simple recycling of the concept in the first movie becomes quite a fun mind game between Esther and Tricia. The film reveals its cards pretty early in the first hour, but this gives it a whole new flavor, following the recent trends in other horror flicks. New decade, new rules.
What disappoints me, however, is that its finale fails to match up with its predecessors. It came in without a warning and lacks enough tension or buildup. The stakes don't feel high here because its climactic moment feels awfully rushed. There's also no real sense of danger here for the characters. Nevertheless, the performances are decent, Julia Stiles giving a notably convincing turn as Esther's new mother. But, it is Isabelle Fuhrman who shines the most prominently here, delivering a delightfully fun portrayal of the titular character. Still, I can't help but notice how awkward she looks like whenever she appears on a frame with the rest of the cast, especially when she is seen walking (feeling like she's simply on her knees the whole time).
It does suffer from its weak and anti-climactic ending, not to mention the overall quality of the picture that screams streaming, which provides the feeling that it belongs to the small screen. Regardless, it gives fun moments, and it is never short on blood. It also has something to say about how America has treated immigrants in the past. So, if you are an undemanding viewer or fan of the first film, and you're simply looking for a demonic child from hell, then you're in for a treat, as you're going to get a little more than just that. However, don't set your expectations way too high, or you might get disappointed…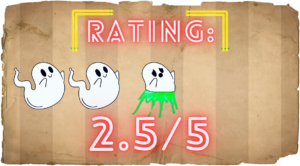 More Film Reviews
After screening at the 2021 Fantasia Film Fest, Ruth Platt's Martyrs Lane was scooped up for distribution on Shudder. With the streaming service having recently picked up standouts in nuanced horror…