Horror-Themed Bookstores to Visit in 2022
Snow is starting to fall here in Canada, which means it's time to get crackin' on my holiday shopping list. In my house, the days of filling up a Walmart shopping cart with toys are long over. My early adult children now send me shared Google docs with hyperlinks to the specific t-shirts, books, and merch they want each year, and I have to tell you: it's as sad as it is helpful. I love giving them exactly what they want, but I miss the magic of surprising them with oddball things they never knew they needed in their life. I also prefer to support local shops in our current economic climate, not the soul-eating online megastores we all swear we're never going to patronize again. This holiday season, I'm trying the 5 Gift Rule, and as avid readers of horror and science fiction, I'm going to buy their "something to read" gifts at independent bookstores near me. They're not hard to find, but my kids are partial to horror/obscure, so I went on a mission to find themed bookstores that offer great selections and potential surprises.
I scoured the internet for brick-and-mortar horror-themed bookstores to start with, and while they seem to be limited to North American locations, I was thrilled to discover that there are some close to me! Indie/small press horror and obscure/used books, in particular, are rising in popularity this year, and these shops are seriously packed to the rafters with the best of the best:
Little Ghosts Books – Toronto, Ontario, Canada
https://www.littleghostsbooks.com/
Owners: Chris and Jason Crawczyk
Sells: new books and merch, features indie horror authors
Address: 930 Dundas St W, Main Floor Toronto, Ontario M6J1W3
Little Ghosts Books was the first hit in my search because I'm basically down the street (ok, 45 minutes south on the QEW), and I was lucky enough to spot their table at the Toronto Horror-Rama con this year! These lovely people are not just your average nice Canadians, they fully support the indie horror author scene as well as the bigger names most people are familiar with. Within their stacks, you'll find every horror sub-genre, from classics like Ghost Story by Peter Straub to the insanity of House of Leaves by Mark Z. Danielewski and even darker extreme books like Woom by Duncan Ralston (also a great Canadian from Toronto!).
If you live nearby, there's a patio/social lounge out back where you can order horror-themed beverages to sip while you read, with names like Wolfsbane and Swamp Creature filling the menu. If you're not so lucky, their website offers online shopping and a cool Monthly Horror Book Subscription that ships worldwide.
The Monkey's Paw – Toronto, Ontario, Canada
Owner: Stephen Fowler
Sells: unusual/rare/old used books
Address: 1067 Bloor St. W, Toronto, Ontario M6H 1M5
Toronto has another cool bookstore for lovers of the dark and arcane, and this one has a bizarro vending machine that dispenses random antique books for a $5 token! Curious book lovers flock to the Monkey's Paw to experience the excitement of antiquarian book hunting, where the shelves are stocked with "a diverse variety of 20th-century printed matter, with special emphasis on visual culture; obsolete opinions and technologies; earnest works on highly specific topics; books as artifacts; and pop detritus." They don't just have horror books, they have weird, old, hard-to-find, obsolete horror books! If someone on your list appreciates odd gifts, you need to visit this shop and browse.
The Biblio-Mat was designed and constructed for the Monkey's Paw by animator Craig Small. Curious about the weird old vending machine? Check out a video of the bibliomat on Vimeo here!
Books Around the Corner – Gresham, Oregon, USA
https://www.booksaroundthecorner.com
Owner: Stephanie Rose
Sells: new and books, merch
Address: 393 NE Kelley Ave, Gresham, Oregon 97030
This place is now on my Bucket List. It's a spooky horror-themed bookstore that also sells Halloween candles, art, stickers, pins, surprise bags, and more! But that's not the best part…it's also an Airbnb! That's right, you and 3 friends can rent the store out for the night and party like it's October 31st with the resident cats! The store is open to shoppers by appointment only, Tuesday to Saturday noon to 10pm, which means you get the whole place to yourself for an hour at a time. Stephanie Rose has a lot going on in this little shop, offering a monthly book club, a subscription service, a credit exchange program for used books, and an on-site Little Free Library. Not in the neighbourhood? Her website is a full-service shopping portal that I'm sure you'll have fun exploring.
Curious about the AirBnB? Here's the ad: Halloween Themed Spooky Horror Bookshop on AirBnB
Bucket o' Blood Books and Records – Chicago, Illinois, USA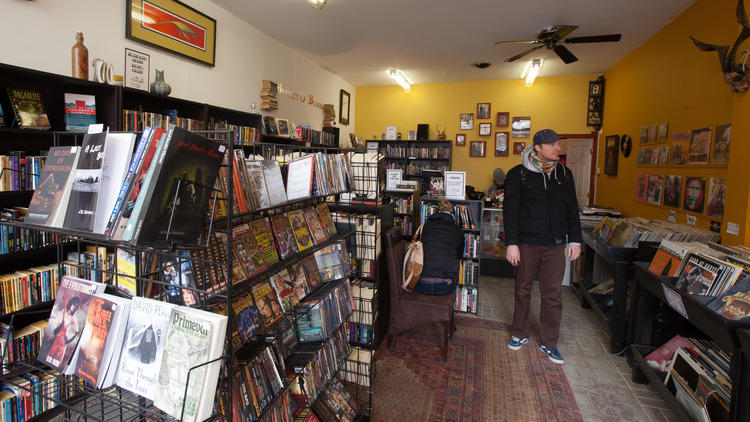 Owner: Mark Ruvolo
Sells: new and used books, movies and music, merch
Address: 3182 N Elston Ave, Chicago IL 60618
Bucket o' Blood offers high-quality new and used Speculative/Science Fiction, Fantasy, and Horror books and new and used Punk, Indie Rock, and Metal vinyl at low prices. Their website doesn't offer any history or images of the inside of the store, so I'm not sure what you can expect if you pay them a visit. To shop online, you'll be redirected to Discogs or Bookshop.org, but I'm a diehard #shoplocal girl so pop in, if you're in the area, and send us pics!
Butcher Cabin Books – Louisville, Kentucky, USA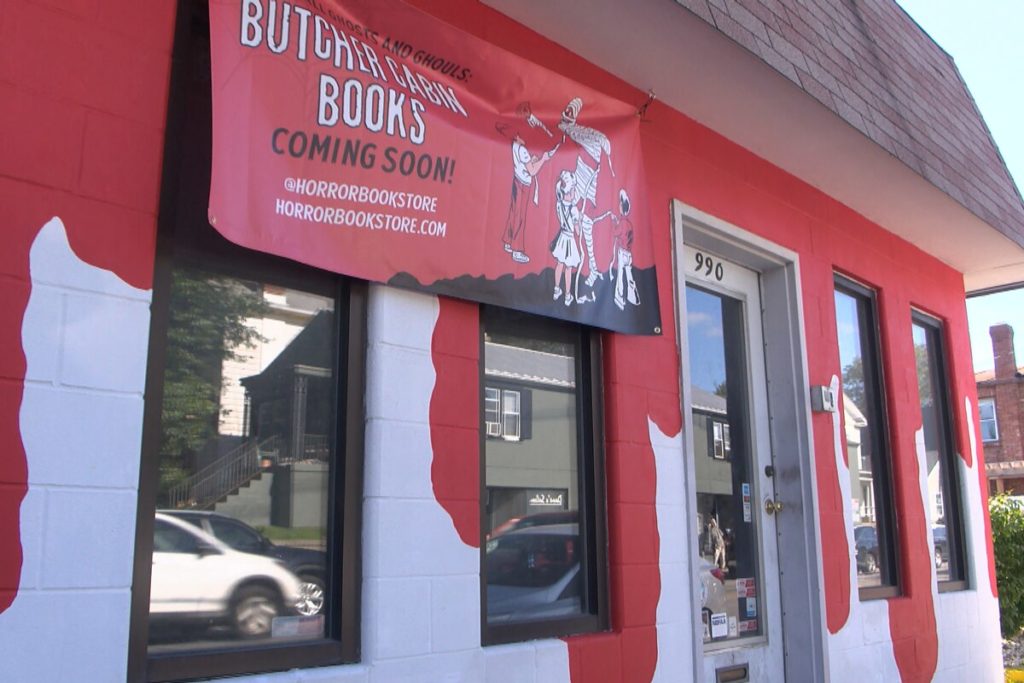 www.horrorbookstore.com
Owner: Jenny Kiefer
Sells: new books, specializing in indie horror
Address: 990 Barret Avenue, Louisville, Kentucky 40204
Butcher Cabin Books is the newest horror-themed bookstore on the block, and the indie horror community is in love! It just opened last month, and customers lined up around the block all day for their chance to shop at the coolest place in town. In an interview with Leo Weekly, owner Jenny Kiefer explained why she opened this amazing space. "I think the horror community is one that is welcoming and supportive. And they want it to grow. There are lots of interesting releases coming out of small presses that don't get shelf space in big stores or even sometimes general indie stores. There's only so much shelf space to be had, and I get that. But that's why we're here. To try to give shelf space to those indie voices that are putting out lots of amazing books."
Their event calendar is filling up with book release parties and author signings, and the internet is buzzing about this little shop's future. The website is a fully functioning shop for those who would like to support this small business from a distance, but if you're anywhere near Louisville you need to stop in for a browse.
Borderlands Books – San Francisco, California, USA
Owner: Alan Beatts
Sells: new and used SF, Fantasy, and Horror
Address: 1740 Haight Street, SanFrancisco, California 94117
Borderlands Books has a deep history in California and has overcome a lot of obstacles that threatened to close its doors forever. It seems, however, that Alan Beatts and his bookstore dream were more powerful than obscene rent increases, the 2015 rise of the minimum wage, lease expirations, and the Covid-19 pandemic combined. The people have spoken, and Borderlands is still alive and thriving after 25 years and four location changes. Their current address on Haight Street is temporary (their permanent location is under construction), but the store is proudly clean and organized with plenty of seating, and the staff wants you to be comfortable while you browse. They only sell Science Fiction, Fantasy, and Horror, but with more than 40,000 titles on their shelves, it would be impossible to walk out empty-handed. If you prefer to shop online, they sell their books through Biblio and Libro.fm.
This bookstore offers a sponsorship program, established in 2015 to help them stay open when the US minimum wage increased. Their current business model requires 300 sponsors each year to keep the doors open, but for only $100 per year, the perks of sponsorship are pretty incredible. You can read all about the program and its benefits here. Any philanthropists in the house?
Horror-Themed Box Subscriptions Around the World
I was disappointed that I could not find any horror-themed bookstore listings outside of Canada and the USA, so I've compiled this list of book box subscriptions that would also work as a fantastic gift for any horror lover on your list:
Book Box Canada
Cost: $64.99/single book box or $120.00/full-sized box
Ships to: Canada only
Includes: one book and 3-4 Canadian-made treats (single box) or 3 books plus treats (full-sized box)
My Thrill Club
Cost: $19.99 USD
Ships to: USA only
Includes: 2 new hardcovers, a code for an e-book, plus occasional surprises
LootFright (Loot Crate)
Cost: $44.99 USD
Ships to: International
Includes: 4-6 horror collectibles, apparel, movies, home decor
Spooky Box Club
Cost: approx $42 CDN
Ships to: International
Includes: it's a different theme each month, and the boxes are filled with items designed by the Spooky Box Club artists. You might receive jewelry, patches, pins, buttons, stickers, bigger fashion accessories such as bags, scarves, and hats as well as homeware pieces.
**Note: there is a warning on the website that shipping times can be very delayed, so check before you order for the holidays!
Night Worms Book Club
Cost: $44 USD
Ships to: USA and select countries (check the website)
Includes: At least 2 books (sometimes signed by the author), a goodie bag with things like custom, collectible bookmarks, stickers, magnets, and usually something yummy to drink (coffee, tea, or cocoa)
ParaBox Monthly
Cost: $20 USD
Ships to: International
Includes: "ParaBox is a t-shirt subscription box, with a twist! Each month you will receive a new paranormal soft-style tee & info card about that month's theme. The shirt & card will contain clues to finding a hidden password for use on our website. On our site, you will find clues to next month's theme. Correct entries are in a raffle for free merchandise!"
Down the Rabbit Hole Book Box
Cost: $56.99 USD
Ships to: International
Includes: a dark book, custom playlist, bookmark and a combination of 4-6 gifts connected or mentioned in the book
Stephen King Thrills Crate
Cost: $45 USD
Ships to: International
Includes: 4 first edition novels by Stephen King/Richard Bachman
Is there a horror-themed brick-and-mortar store near you that we didn't find listed online? Let us know, and we'll add it to our list!
More Book Reviews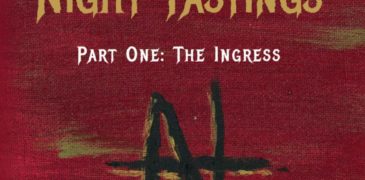 Night Tastings: Part One: The Ingress is the first part of a trilogy of books by new author, Bervi Adams. Set in the 19th century, Night Tastings: Part One introduces…
Kate's love of all things dark began as a child and deepened when she realized what being an adult meant. She was born with a pencil in her hand and loves nothing more than writing horrific stories to tantalize her inner demons. Kate lives in Hamilton, Ontario Canada with her husband and her boys, stirring up trouble wherever she can.