In addition to those that played ahead of the main features, the Toronto After Dark Film Festival screened eight more Canadian shorts in a dedicated showcase. From stop-motion animation to Lovecraftian horror, these films cover a variety of genres, subgenres, and tones. Some are pure horror; others offer no scares at all. Here are our thoughts on the Canadian Shorts After Dark Showcase.
The Flying Sailor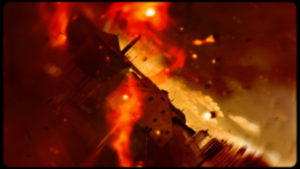 First up, we have an animated short directed by Amanda Forbis and Wendy Tilby. The Flying Sailor depicts the Halifax Explosion of 1917, focusing on one sailor in particular: Charlie Mayers. Mayers was caught in the explosion and, according to the filmmakers, landed two kilometers away. Other sources claim it was only one kilometer, but either way, Mayers astonishingly survived. As he soars through the air, his life flashes before his eyes. The score swells beneath him, performed by nineteen musicians playing thirteen instruments, including a trombone, euphonium, and ukulele courtesy of the composer, Luigi Allemano. William J. Dyer's animation looks at times like moving paint, every inch of the titular sailor rendered lovingly, from his clothes torn away by the force of the blast, to his penis flapping around as he rolls over and over in the air. Flashes of real cats and bottles and other objects heighten the sense of unreality. The Flying Sailor is a very simple film and a little repetitive, but at its core is a fascinating true story.
Black Forest Sanatorium
One of the strangest offerings, Diana Thorneycroft's Black Forest Sanatorium is a dark, abstruse stop-motion tale, featuring anthropomorphic animals and severed appendages. A creature arrives at the gates of the titular hospital to collect arms and legs and tongues to add to their trolley. Thorneycroft has designed and constructed some of the weirdest creatures, props and sets this reviewer has ever seen in stop-motion. An air of dread and discomfort hovers over the film, and the nameless protagonist's aim is never fully explained. Mike Maryniuk has captured some truly bizarre imagery, while Christine Fellows' sound design further heightens the sense of impending doom. The creatures seem incapable of speech, so they grunt and mewl and gesticulate their way from scene to scene. Corridors are lined with dripping human tongues and other bits of flesh. Black Forest Sanatorium never fully comes together as a film, but as a series of strange images, it absolutely lingers.
The Temple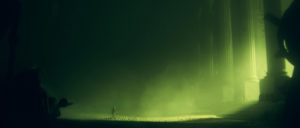 Based on the H.P. Lovecraft story, The Temple concerns a group of German seamen aboard a submarine. After the corpse of an enemy soldier is found clinging to the ship, fear and distrust spread through the crew. As in Gou Tanabe's manga adaptation, Alain Fournier has transposed The Temple's First World War setting to the Second, though in both cases, the reasoning is unclear. The highlight in Fournier's take is the animation from Gabriel Beauvais. While not perfect, the CG is often incredibly detailed and realistic. Some choices are strange, though. For example, our German protagonist (voiced by Jean-François Beaupré) narrates his account of the strange events in French, and the seamen communicate in a mixture of both languages. Unfortunately, The Temple is not one of Lovecraft's strongest offerings, and this adaptation suffers from poor pacing and a lack of threat. Cosmic horror should evoke existential dread. It is clear that Fournier is aiming for that, but his film feels detached. The adaptation removes the ivory charm and replaces it with Cthulhu imagery, despite the fact that The Temple was never part of the Cthulhu Mythos. Overall, aside from its impressive visuals, the short is rather disappointing.
The Fore-Men
Adrian Bobb's The Fore-Men is undeniably ambitious, but it sadly never quite comes together. Samantha (Sophia Walker) and Roger (Gabriel Darku) are seeking shelter and survival after a cosmic disaster. Timelines have merged, bringing the past into the present, and now Roger believes that the future has joined, too. Walker and Darku have great chemistry, and Walker's performance especially raises the legitimacy of the piece. Whether she is shooting a feathered pre-historic monster or confronting a futuristic enemy, Walker sells the role. Also compelling are the people from a theoretical future. Bobb supervised the VFX, and offers us strange, imposing enemies. There are some clichés here and there – mad theories scrawled in a notebook, characters coughing to reveal blood in their hands or handkerchiefs – and the reveals towards the end are not quite as effective as they need to be. Overall, though, there is real strength in this film.
Nude
Olivier Labonté Lamoyne's film follows Will (Étienne Gallay) and Cath (Roxane Tremblay-Marcotte). In a bid to spice up their sex life, they drive deep into the woods to find a private place to park. Then Will spots someone lurking in the trees. Playing on the classic "sex=death" horror trope, Nude is an uneven but ultimately fun piece. Gallay and Tremblay-Marcotte have real chemistry, and the shadowy nakedness of the voyeurs in the woods offers a real threat. The aim of the film is somewhat murky. Will and Cath discuss a coworker's sexual experimentation, and joke about attending a swingers' party. Cath is positioned as the more sexually adventurous partner; Will is more than happy to try something new but is presented as a follower, rather than a leader. There is a sense of sweetness and awkwardness to the sex itself, so the inevitable punishment (if, indeed, it is a punishment) feels even harsher. The ideas are here a little messy, but the film is carried by its actors.
The Trunk
When Marco (Craig Mark) and his teenage daughter Cass (Ashleigh Morrison) discover a chained-up trunk in the woods, Cass is convinced it houses something valuable. After her dad falls asleep, Cass sneaks into the garage, determined to break into the trunk, and unleash something terrible. Travis Laidlaw's short is simple, and all the better for it. People finding weird objects and messing with them is a staple of the horror genre, and this is a brilliant example. The build of tension, from the moment Cass decides to break the lock to a shocking moment of gore (SFX makeup courtesy of Rhonda Causton), makes this a compelling watch. What lies within the trunk is only made clear in the credits, and the eventual confrontation is a little disappointing, but all in all, The Trunk is a tight, memorable horror film.
In The Shadows
Probably the strongest short in the Showcase, In the Shadows depicts a mother's desperate attempt to protect her son: first from the truth about his parent's marriage, and then from a supernatural threat. In the lead role, Myriam Fournier is deeply convincing. She slots perfectly into the ranks of protective mothers in horror films. David Edmond-Ferrat's film is strongest when Fournier is onscreen, switching from reassurance to frustration to fear with ease. The horror is hit-and-miss. When François Pesant's camera quietly frames figures in the shadows and trusts us to see them, it works. When Pierre Desmarais' music leaps to life to highlight a movement or spectral appearance, it doesn't. Narratively, however, this is a subtle film, withholding answers and forcing us to question everything.
The Community
The Community is a four-minute comedy short that has one joke. The film's success hinges on how much you enjoy that joke. Two men (Adam Brooks and Milos Mitrovic) meet at a holiday camp. They bond over baseball, mini-golf, and go-karts. One of the men claims to have something special hidden deep in the woods. There, the friends discover something else. Co-director, -writer, and -editor Milos Mitrovic also worked on The Horse Brothers, one of the pre-feature shorts. This film has the same absurdity and fun to it, with Jesse Derocquigny's bright and sunny cinematography perfectly complementing the plot. However, The Community lacks the inventiveness and psychedelic charm of The Horse Brothers. This is a fun short, if a little shallow, and it never outstays its welcome.
We Watched Canadian Shorts After Dark Showcase as Part of the 2022 Toronto After Dark Film Festival Line-up.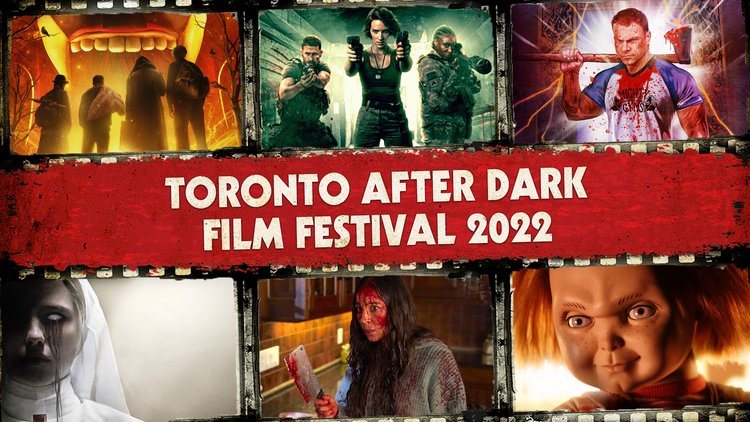 More Festival Coverage
"You become what you believe" seems to be an enthusiastic phrase until you watch Josh Stifter's black comedy horror Greywood's Plot. Born out of a low-budget production and undying devotion…
Isabelle is a writer from the UK who enjoys alternative manga and horror films. When not writing, you can probably find Isabelle buying books or obsessing over Martin and Lewis.