American comics have been in a slump, the mainstream dwelling in mundane content heavily focused on appeasing a small percentage of the fanbase. The result, mainstream/major companies struggling with sales and having to lay off staff in the process. Consequently, many fans have flocked to manga that offers both variety and freedom of expression. It is a sad state of affairs, I certainly miss those days of excitement of waiting for comic book day to grab a stash of single issues – thankfully all is not lost!
The underground and independent scene is staying strong in this day and age with small publishers and individuals dedicated to the cause of free artistic expression – unapologetic and committed to their vision. Eibon Press is one such publisher that gives me hope in Western comics, high quality releases packed full of goodies and willing to indulge in extremes. As such, I was excited to dig into their recent black and white release of Bottomfeeder, a title with an intriguing history tied to a tragic death and love of horror cinema.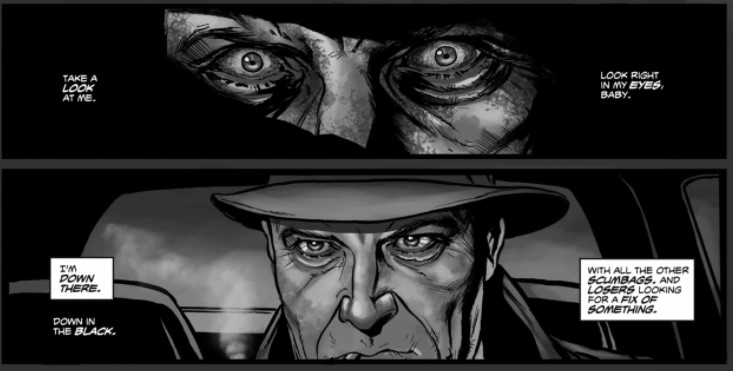 What Is It?
A creature intent on breeding with anything that crosses its path is born from the toxic waste dumped illegally into the city. Joe, A broken cop, find himself at the center of the violent acts taking place around town, causing his already edgy temperament to explode into madness.
Bottomfeeder was originally intended to be a feature length film before the tragic passing of cult darling Joe Pillato. The release includes the original script for the planned movie with the black and white edition reflecting the actors joyous embrace of the project and shaping it around his character.
"We had wanted to shoot the film in black and white because Joe Pilato thought it would be cool. I will never forget Joe's first comment after reading the film script, he said 'this thing reads like Chinatown meets The Creature From The Black Lagoon we gotta do this old school and shoot it in black and white!" – Series Creator Shawn Lewis
What Worked?
The presentation is impeccable, from the release itself to the amount of 'bonus features' packed into the limited release. The edition I received included an original soundtrack (a lovely piece of atmospheric synth horror), gorgeous slipcase to keep the book safe and a nice two-sided mini poster. For those who opted for the "Black Box" version, additional goodies including cards, stickers, original art and a copy of the film script were included in the package. Another reflection of the current failure of mainstream comics, these editions are fairly priced for what you actually receive.
Digging deep into the filthy innards, the book is wonderfully unapologetic in its portrayal of violence – shocking imagery that is gloriously detailed. From the first impression of flipping through the pages, readers will be enchanted by the quality of print and art. Pat Carbajal's art is devious and disturbing, a true knack for capturing horror in the cinematic sense. Furthermore, the transition into black and white by Javi Laparra and Fatboy injects the film noir aesthetic while not muddying out the ultra-violence of Carbajal's work. Overall, Bottomfeeder acts as an example of how black and white can enhance the medium – it excels where others fail.
The story, admittedly serviceable, really leans into the sense of capturing the cinematic experience – not just because of notable actors or film script origins. Essentially, the books wears its influences on its sleeve, aiming at horror audiences who love practical effects punctuated by gory over-the-top fatalities. Readers can expect: exploding intestines, heads ripped clean off, stomach bursting with evil spawn and nightmares of being paralyzed with rot – the good stuff!
Joe R Lansdale, bless his rotten soul, gives a kick-ass intro to the work – one that instantly catapults you into the proper mindset to dwell in the filth. Calling the work "Full flavor exploitation with a side of rancid butter.", the author taps into our primal desire for extreme content and why it is okay to indulge. Ultimately, Joe understands the cathartic nature of the work and the importance of art to explore unhinged – never compromising artistic vision in worries of being offensive.
What Did Not Work?
To do some nitpicking here, the dialogue can be a bit too edgy for its own good (so many eff's and jeffs being thrown around). While the book does go for a 'Bad Lieutenant' vibe in dialogue, presenting a perverse mental instability, the approach is better suited for cinema where an actor can play around with delivery. Unfortunately, in the written word, it comes across as slightly lazy. Personally, I was able to forgive the redundant dialogue knowing the background while simultaneously acknowledging it kept the experience from being truly 'perfect'.
Where Can I Get it?
Bottom Feeder is available through Eibon Press, they have many great titles (both original and adapted) including Zombie, New York Ripper, Maniac and Wasteland 1989. Every single release is loaded with goodies that are limited by run. So, make sure to check out their site for more titles and see what pierces your eyes – get while the getting is good!
Overall Thoughts
I felt like a filthy tourist, watching a broken city being consumed by these primordial abominations crafted through human waste. It made me feel uncomfortable, disgusted and repulsed – I loved every moment of it. If you are a fan of extreme narratives in horror and have a love of comic books, this one is a no-brainer. You will want to dive deep into the putrid muck to see what it holds.
Boasting impeccable presentation with a lot of wonderful goodies and you have the idyllic collectible for the hardened horror fan. Strong recommend – guaranteed zero regrets!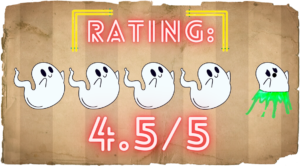 More Comic Book Reviews:
As they get older, many people decide to cut parents and other relatives out of their lives. No matter how justified their decision, they will inevitably encounter those who cite…