Bramble: The Mountain King is a single-player dark adventure video game, developed on the unreal engine by Swedish game developer Dimfrost Studio and published under Merge Studio. The game is set to be released in 2023 for PC, Nintendo Switch, Playstation5, and Xbox X/S.
Bramble takes you on a gripping and unsettling journey through stunning environments. Take on the role of Olle, a young boy setting off to rescue his sister, kidnapped by a dreaded troll.
*This review is based on the short preview demo. May not be representative of the final product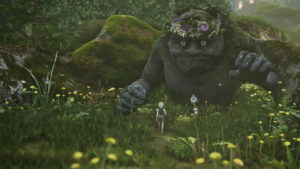 However, not everything in Bramble is exactly how it seems – in this strange land with creatures big and small, you must be careful when to approach and when to hide. Many hungry and spiteful beasts lurk in these forests and caves. Call upon the Spark of Courage, an enchanted fragment granting the gifts you need to endure the pitfalls and trials in your path. Defeat the horrid creatures you encounter in different and unique ways. Be warned, courage without kindness can take you down a dark path.
Delivering some beautiful visuals from the get-go, Bramble: The Mountain King utilises its fairytale setting to create some incredibly fantastical environments to traverse. Set in an oversized mystical forest full of giant mushrooms, imposingly large trees, and a luscious carpet of moss and grass; the game constructs an astonishingly energetic locale full of life. Brimming with creatures, both mythological and otherwise, the locations truly feel bustling and alive with creatures from Swedish folklore.
The likes of gnomes, golems, and not-so-friendly swamp hags are among the few featured in the short demo's bestiary that calls this alluring habitat their home. Moreover, the implementation of a fixed camera perspective makes use of these environments to create some gorgeous establishing shots – a mix of camera manipulation and environmental storytelling fully enforces an altogether fleshed-out world to explore.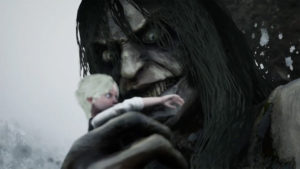 Although touted as an adventure game, the gameplay featured in the demo was entirely linear in design-featuring very little reason to explore off the intended path. Despite this, Bramble is full of platforming and puzzle-solving elements to lead this exploration from one location to the next. These elements feel well designed, flowing well with the general exploration rather than slowing down the player. Furthermore, the lack of a health or life system reintroduces the retro one-hit death states (that in certain instances are quite horrifying), resetting the player back to the most recent checkpoint – of which the game is plentiful.
Featuring a tranquil score of forest sounds to accompany gameplay, Bramble also features some hauntingly beautiful Swedish Folk music. These dulcet tones paired with powerful singing undoubtedly strengthen the game's connection to its fairytale roots. Additionally, the use of rising and falling strings during tense moments
Bramble: The Mountain King's demo is available to download via the game's steam page here. Recommended specs – Processor: Intel Core i7-3770 | AMD FX-8350, Memory: 4 GB RAM, Graphics: Nvidia GeForce GTX 760, 2 GB | AMD Radeon HD 7870, 2 GB, DirectX: Version 11.
An intriguing yet short look at the upcoming game, Bramble: The Mountain King is an exceptionally dark tale despite its appearance. Its in-depth world as well as the lack of story in the demo has only whet our appetite for the final release, instilling a want to discover more about this dark fantasy.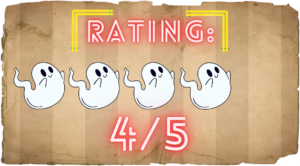 More Game Coverage
Maniac Driver is a 2020 Japanese horror thriller, written and directed by Kurando Mitsutake. Mitsutake has worked in many areas of film production but is most notable as director of…

Published while he was still in college, Bret Easton Ellis' debut novel Less Than Zero (1985) established themes of isolation and excess still present in his work today. The narrator,…

Once again, readers, my insomnia had come to call, and I needed a good read for the night. However, choosing the story took some time. I wanted something different from…

"I came out early, I couldn't take it""I hated it""I loved it and won't have a word said against it!"– Quotes overheard in the foyer, after having seen Skinamarink. Written…

Korean genre cinema has never shied away from violence; from the unrelenting stream of beatings in I Saw The Devil to the eye-wateringly graphic tooth extraction in Oldboy, blood and…

Despite being one of Japan's biggest film studios throughout the late 40s and 50s during the golden age of Japanese cinema, Daiei was struggling by the mid-60s and had…

Although the first thing that comes to mind would be to honour the classic camp slashers or creature-feature flicks, I decided to welcome summer with Barry Levinson's The Bay (2012)…

Eichi Sato, known better in the following years for his work on the live-action adaptations of Lychee Hikari Club (2016) and Miso Misou (2018), found his way to shock us…

In the Fall of 2022, the horror movie community got a jolt when the trailer for director Gerard Johnstone's and screenwriter Akela Cooper's sci-fi/horror film, M3GAN, dropped. The trailer's…

After File 01 went off with a bang, Koji Shiraishi's Senritsu Kaiki File Kowasugi! File 02: Shivering Ghost (2012) tries something different and turns out unexpectedly good. The first…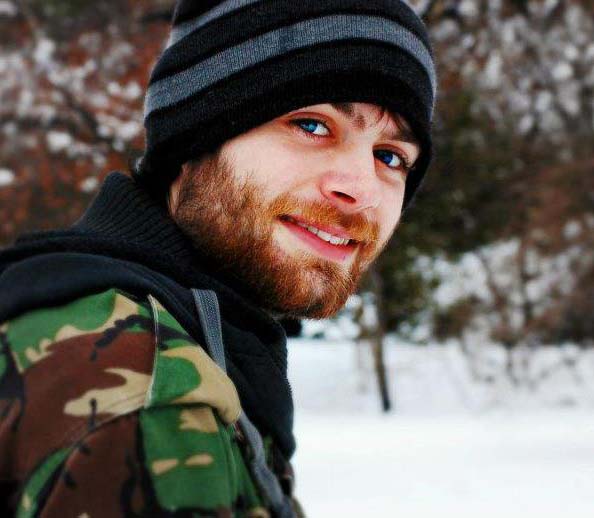 Hey there, I'm Jim and I'm located in London, UK. I am a Writer and Technical Director here at Grimoire of Horror. A life long love of horror and writing has led me down this rabbit hole, allowing me to meet many amazing people and experience some truly original artwork. I specialise in world cinema, manga/graphic novels and video games but will sometime traverse into the unknown in search of adventure.